Top 5 Favorite Nintendo Switch Games of 2018
The Nintendo Switch definitely didn't suffer from a sophomore slump. After a stellar first year that saw some of the best games of the year, of any platform, 2018 delivered some fun and necessary titles.
From ports to console debuts, the Nintendo Switch had some great titles this year from its first and third-party partners. If you're looking for some indie love, check out our list of our favorite Switch indie titles of this year.
There's been a lot of games released on the Switch this year, but we've managed to cut it down to five of our favorite titles of 2018.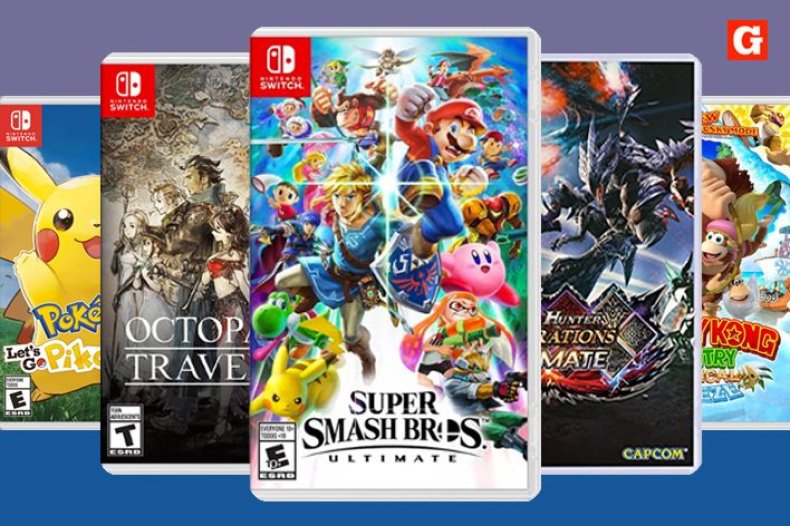 Monster Hunter Generations Ultimate
Monster Hunter finally made its way onto the Switch in 2018! Yes, it's not Monster Hunter World but Generations Ultimate brings everything great about the franchise to a console that really benefits from its on-the-go functionality.
Switch owners were treated to exquisite hunts, quests and RPG elements that have made the Monster Hunter franchise one of the most profitable in recent years. This installment is a great primer for anyone unfamiliar with the series and how it plays so when Capcom makes more in the future, Switch owners will be ready. Get it here.
Donkey Kong Country: Tropical Freeze
It's a shame so many gamers didn't get to experience some of the Nintendo Wii U's best titles. But in 2018, the Switch brought over some great ones including Donkey Kong Country: Tropical Freeze.
This side-scrolling platformer brings all the fun and difficulty of past DK games with beautiful levels and music. Co-op is fun and there's even a Funky Kong mode for kids or anyone who wants a more casual experience. Get it here.
Pokémon Let's Go Pikachu and Eevee
When Pokémon Let's Go Pikachu and Eevee were announced many fans of the franchise were excited to see it come to a next-gen console. As time moved on and more information was revealed, Pokémon fans became split on what to make of it - myself included.
However, when Let's Go finally released it was a gorgeous and fun return to the Kanto Region. While there isn't much difficulty to speak of, and many of the core strategies like Abilities were eliminated, Let's Go was a Pokémon game at heart and it's almost impossible not to love it for what it is — a bridge between the Pokémon Go and the main Pokémon audience. It even brought some much-needed mechanical changes that I hope to see when Gen 8 comes in 2019. Get it here.
Octopath Traveler brings the classic Square Enix-style turn-based RPG to the Switch and delivers a great game in just about every way.
In a time where RPGs are becoming more action-based and grand in scale, Octopath is completely 16-bit and story-driven. It's a love letter to the old days of the RPG and works in a way only Square Enix can deliver.
Voice acting aside, the mechanics are simple yet deep and the environments, music and atmosphere of this game really shine. It's also the perfect couch game for exploring and talking to every NPC you can find. Not much more to say, but it's a game that needs to be experienced to really understand. Get it here.
Nintendo put a bow on its 2018 with one of its best franchises, Super Smash Bros. Ultimate.
Smash fans are some of the hardest to please and after a lackluster Wii U installment, Sakurai and Nintendo had something to prove with Ultimate and they knocked it out of the park.
They brought every character from the past, introduced new ones, tweaked characters to feel different, made the gameplay faster and flashier, and added single-player content up the wazoo including a new adventure mode. There's so much to love about Smash Ultimate that anyone can pick up and have fun with. It's the ultimate - pardon the pun - Smash experience and whether you're playing on your tv or couch, you'll find yourself lost in it. Get it here.
What do you think of our list of Nintendo Switch games? What title should we have included? Let us know in the comments section below.
Newsweek writers independently curate their picks. We have affiliate partnerships so if you make a purchase using our links, we may earn a share of the sale.