The Best Free Tax Software: H&R Block, TaxSlayer and More
If you're not happy with the tax software you used previously and are looking for a new one to try, then you've come to the right spot. There are several free tax apps available for you to use. Filing taxes in the United States can be challenging. No one is really making it too easy or painless, but these free and low-cost services may help make it bearable by not costing much—or anything at all.
While these apps and services offer free tax filing, there may be some fees for more complex tax returns. The free editions usually include filing your federal returns but don't always include filing for the state.
Depending on your tax needs, you should be able to prepare your own return in a lot of cases. Many people should be able to take advantage of a free option. If you've tried and are having problems, or are confused with big-ticket items such as home rentals, electric vehicle tax credits or other recent changes, you may want to seek out professional assistance. If, on the other hand, you're single and only have one source of income, then using a free pick from this list could suit you just fine.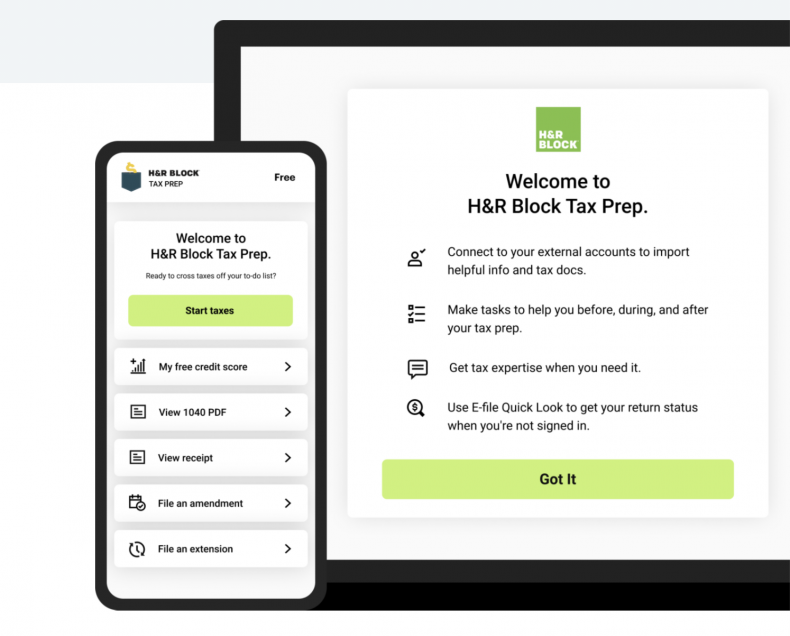 H&R Block is one of the most well-known pieces of tax software—a reason why people turn to it year after year. H&R Block's free edition is great for simplified returns that consist of W-2 incomes, 1099-INT bank interest, 1099-DIV dividends and 1098-E student loan interest. If you fall into this category, then filing for both federal and state won't cost you a penny. Your simple tax return should be free for these forms. On the other hand, if you're self-employed or have itemized deductions, then there will be a fee. Even for self-employed folks, the cost starts at just $109.99.
Try at H&R Block.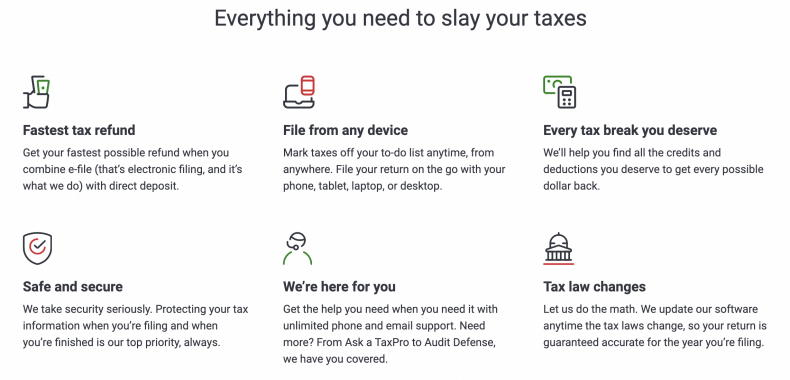 TaxSlayer definitely has the most aggressive name of the bunch, but don't let that keep you away. It provides free filing for both state and federal income taxes. This entry-level, no-cost option includes W-2 and unemployment income, student loan interest and education expenses. Even though TaxSlayer doesn't have quite as many options in its free service, if you do need more help, TaxSlayer may be one of the cheapest options.
For just $24.95, it includes all tax credits (such as the child tax credit), all deductions and adjustments to income, and all income types (no restrictions on form or schedule). The most expensive self-employed tax-filing option is just $54.95, which beats many other choices out there.
Try at TaxSlayer.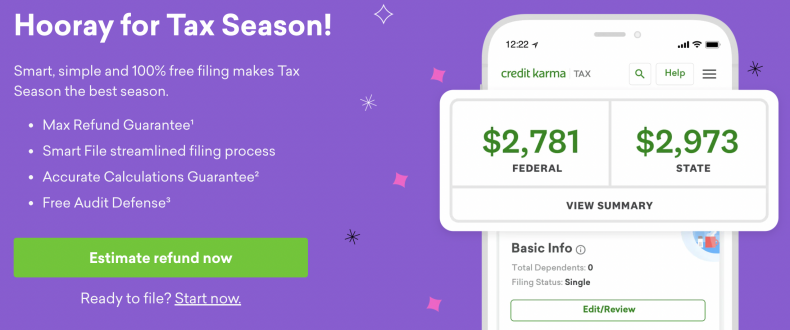 Credit Karma may be a newer name in the tax space, but it has been around enough time to have its fans. Credit Karma advertises certain features like a Max Refund Guarantee, easy filing, Accurate Calculations Guarantee and a Free Audit Defense. Of course, all those things come with a few strings attached, but it's nice to know they're available.
Through its affiliate-style business model, Credit Karma may actually be the cheapest of the free options, with no higher-priced service beyond free even available. It will handle both state and federal without upcharges and can handle all of these forms and situations: 1099-INT, 1099-G, 1099-C, 1099-MISC, Schedule A itemized deductions, Schedule C business losses or profits, Schedule 8812 for child tax credits and Schedule EIC for earned income credits. Overall, it's a very compelling option.
Try at Credit Karma.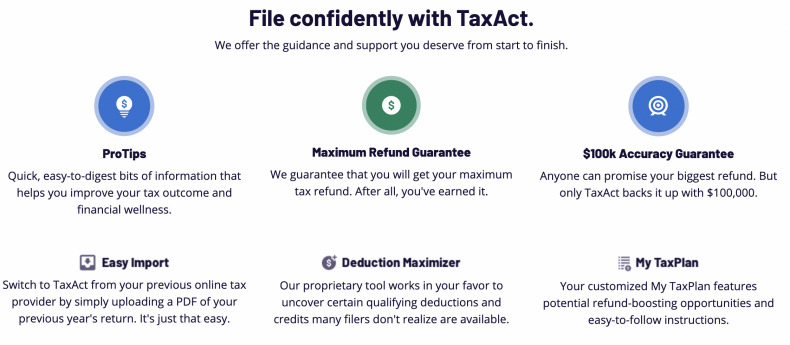 TaxAct is a worthy free option to consider. The tax software can handle all these types of incomes for free: W-2 filers, unemployment income, retirement income, child tax credits, earned income credits and stimulus credit. To get started, it will also allow you to import your prior year's return for free.
If you're a homeowner, TaxAct's Deluxe option will be a better fit. It includes all the free options, plus expenses like itemized deductions, adoption credits, child and dependent care, student loan interest, mortgage interest, real estate taxes and HSA health savings accounts. The Deluxe plan costs just $44.95; Premier is $69.95; and the most expensive, self-employed option is just $79.95. TaxAct may be the best way to get everything done for under $100.
Try at TaxAct.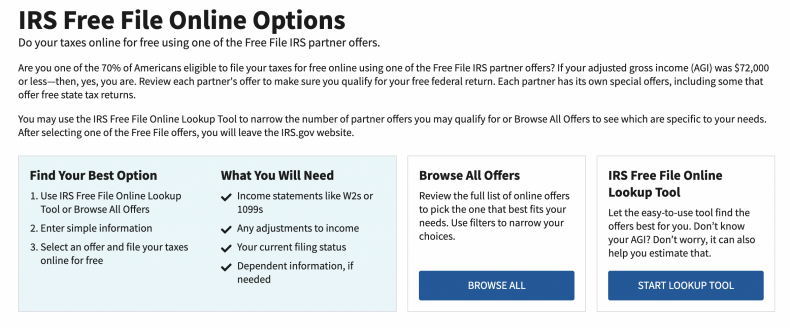 Did you know that you can file directly, for free, with the IRS? It can be a little spooky voluntarily heading to the IRS website, but for people with minimal forms and deductible expenses, this may be the best and cheapest way to give Uncle Sam his due.
The IRS will help connect filers with tax-filing options based on their tax needs. When you head to the site, you'll pick your income level, answer a few questions about your financial situation and then be directed to the best way to file your taxes with the IRS. Going through the IRS may provide you free access to a service that normally charges. It's definitely worth the few minutes to give the site a look.
Try at the IRS.
Newsweek may earn a commission from links on this page, but we only recommend products we back. We participate in various affiliate marketing programs, which means we may get paid commissions on editorially chosen products purchased through our links to retailer sites.