'Best Game of Hide-and-Seek Ever': Body-Cam Footage Shows Police Hunting For Trespasser at Shuttered Disney Park
The hunt for a man camping out in a shuttered Disney World island resort turned into a thrilling game of hide-and-seek for some Florida officers.
The suspect, 42-year-old Richard McGuire, was eventually nabbed by police in April for turning Disney's former Discovery Island zoological park into his personal campground. However, body-cam footage obtained and released by Florida's 6 News on Monday, revealed how difficult it was for officers to finally find and capture McGuire.
Authorities were first contacted by Disney World security after spotting McGuire trespassing at Discovery Island on April 30, when parks across the globe were closed due to the coronavirus pandemic. The 11-acre island, located in the middle of Disney's Bay Lake and only accessible via boat, has been out of operation since 1999. It closed one-year after the Disney's popular Animal Kingdom theme park opened.
Body-cam footage taken by two deputies searching the island captured them holding guns while walking through the park's grounds, which now houses nothing but crumbling buildings and vine-covered trails. One officer is heard on the video saying, "He's got to be somewhere here," before eventually putting in a call for more officers to be deployed.
Although more than a dozen more deputies arrived, the search for McGuire didn't necessarily get easier. Video footage of the hunt revealed officers chopping down vines and dense brush with machetes, encountering collapsed boardwalks and the zoo's ghostly animal cages as they look for McGuire. A helicopter search ensued and there were even officers searching the waters surrounding Discovery Island for a sign of McGuire. At one point, an officer giddily claims, "This is the best game of hide-and-seek ever."
His partner responded: "Dude, this is sketchy."
When the search proves to be unsuccessful, another deputy said, "We probably walked right past him."
After a few hours, the search was called off. However, Disney security team continued to monitor the island on surveillance cameras from the mainland. When they spotted McGuire attempting to cross Bay Lake in a motorized boat, authorities were called in again and he was finally captured.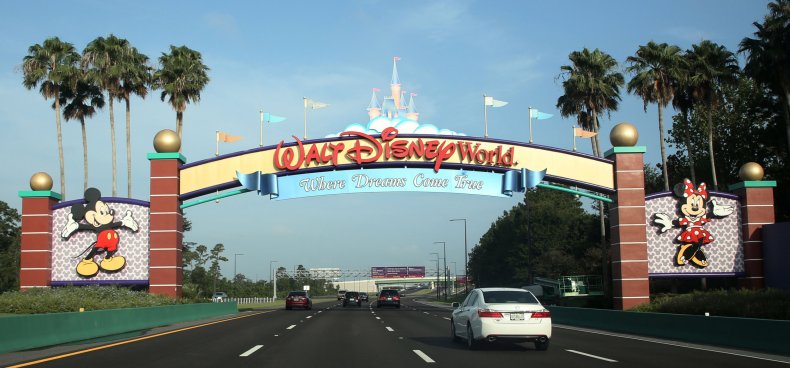 McGuire was charged with trespassing and was banned from visiting Walt Disney World properties. According to a police report, McGuire told officers he was unaware camping on the island was prohibited and claimed he only planned to spend a few days on the "tropical paradise."
McGuire isn't the only person to turn an off-limits area into a quarantine bunker. Back in August, a 39-year-old man was arrested after he was discovered squatting in a luxury suite at the Al Lang Stadium—home of the soccer team, Tampa Bay Rowdies—in St. Petersburg while the stadium was closed because of the pandemic.