The Best Golden Globes Memes, Including Al Pacino's Nap and That Jamie Lee Curtis Dress
The 78th Golden Globes was a bizarre part-virtual ceremony that provided an array of both awkward and touching moments and of course spawned thousands of memes, hot takes and reactions from bemused viewers.
When before award ceremonies biggest issues were falling over or reading out the wrong title for Best Picture, now we have slow Wi-Fi, lagging Zoom connections, muted audio and wardrobe quandaries to contend with.
Big wins on the night include Netflix's The Crown and Ma Rainey's Black Bottom, which saw the late Chadwick Boseman posthumously awarded Best Actor for his role in the film.
While Daniel Kaluuya won Best Performance by an Actor in a Supporting Role for Judas and the Black Messiah, and John Boyega won Best Supporting Actor in a TV Series for his role in Steve McQueen's Small Axe.
Schitt's Creek, still riding high from cleaning up at the Emmy Awards, netted wins for best series and best actress for Catherine O'Hara.
For the controversial Borat 2, Sacha Baron Cohen took home the top comedy accolades—and he made sure to thank his co-star Rudy Giuliani.
The Queen's Gambit, the platform's most-watched miniseries to date, took home the top prize for limited series and delivered star Anya Taylor-Joy her very first Golden Globe.
There were several delightful and awkward moments that viewers latched on to on Twitter, rewarding social media users with hilarious memes.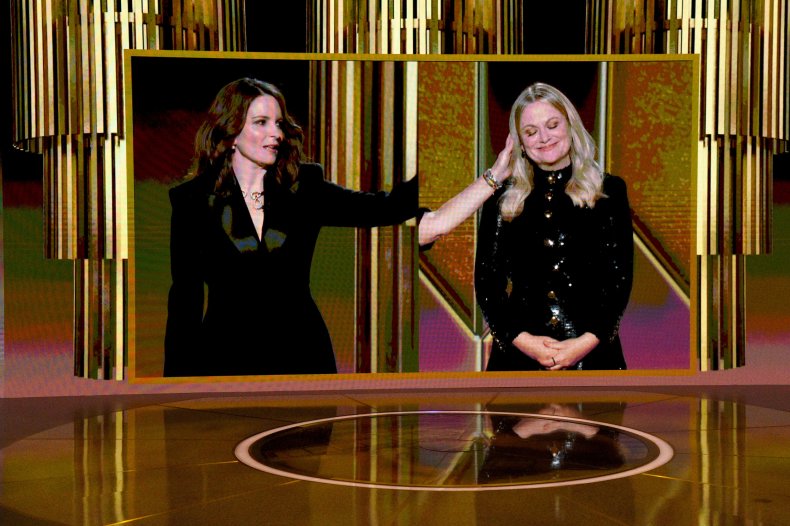 Fans couldn't keep their eyes off Jamie Lee Curtis who looked stunning in a golden dress to present the Golden Globe for Best Supporting Actress in a Motion Picture.
"Jamie Lee Curtis looks so good ... pass me the Activia," joked Twitter user Matthew Rodriquez, making reference to actress' health food endorsements.
While author Sophia Benoit added: "Jamie Lee Curtis is going to help bring titties back in a big way."
"me on my way to the store to get me some activia after seeing how good jamie lee curtis looks at the golden globes," joked another.
Meanwhile, Al Pacino appearing to fall asleep while on camera saw Twitter erupt with jokes.
The legendary actor was nominated for the Nazi hunting show Hunters on Amazon Prime, but at one point the camera caught him seemingly having a little snooze—and viewers loved it.
"yall just had to wake al pacino up from his nap huh," one viewer tweeted.
While another joked: "Al Pacino sleeping at the #GoldenGlobes is the most I've ever related to a celebrity."
"Imagine telling Al Pacino he *has* to do this Zoom call," joked another.
Jared Leto was nominated for Best Supporting Actor in a Motion Picture but his large flower brooch got plenty of attention, as one fan tweeted: "If Jared Leto is not squirting people in the face with water out of that flower, we riot. #GoldenGlobes."
"Jared Leto looks like the love child of Gucci designer Alessandro Michele and Carrie Bradshaw. It's a look!" said journalist Tony Bravo.
Jodie Foster, dressed in glamorous pajamas, warmed fans' hearts when she celebrated her win for Best Supporting Actress in a Motion Picture for The Mauritanian with her wife Alexandra Hedison and their dog Ziggy.
"Jodie Foster kissing her wife at the #GoldenGlobes when she's been very, understandably, guarded about her personal life, is a huge moment," said one tweet.
While another added: "jodie foster accepting her golden globe alongside her wife and dog... she has what i want."
Many fans were surprised to see that Ben Stiller is now a silver fox, with many Twitter users commenting on his new head of grey hair.
The comedian was there to present an award and arrived with a baked banana bread version of the trophy in a nod to everyone's former favorite lockdown hobby.
"Ben Stiller thriving during the pandemic lockdown," reads one fan. "He read a book, dyed his hair gray, and baked banana bread in the shape of the award."
"Ben Stiller will be playing Leland Palmer in Season 4 of Twin Peaks," joked another.
Sean Penn's hairstyle also prompted a wave of jokes. The 60-year-old actor spoke about his relief organization, CORE but the focus was definitely on his hair.
"Why does Sean Penn look like he drank from the wrong grail," said TV writer Chase Mitchell.
While another joked: "Congratulations to Sean Penn for his role as 'all of The Three Stooges.'"
Jason Sudeikis caught some flack for dressing down, appearing at the ceremony via Zoom in a tie-dye hoody—while many of his women contemporaries were dressed to the nines.
"Jason Sudekis in a tie-dye sweater is me every day for the last 350 days," reads one tweet.
"Jason Sudeikis looks extremely divorced right now," added journalist Esther Zuckerman.