Best Grilled Cheese: 'Chef' Movie Recipe Revealed in New Jon Favreau Netflix Series 'The Chef Show'
In the movie Chef, Jon Favreau plays a disgraced restaurant chef who rediscovers his love for cooking while driving a food truck across the country. While filled with mouth-watering recipes, the best may be the simple grilled cheese sandwich the character makes for his son. There's nothing special about it—it just looks like the perfect grilled cheese.
On Friday, Netflix released The Chef Show, in which Favreau and food truck master Roy Choi, who consulted on the 2014 movie, cook and share meals with famous chefs and Favreau's celebrity friends, including a mini-reunion of the Avengers: Endgame cast. In an episode featuring Gwyneth Paltrow and comedian Bill Burr that Favreau and Choi recreate the Chef grilled cheese recipe.
"I know I'm not the only person that was obsessed with this," Burr says, when they switch to reconstructing the grilled cheese recipe from Chef.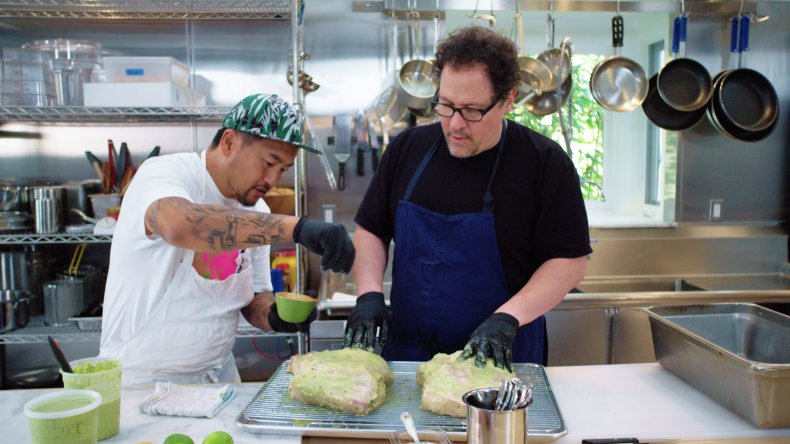 Cooked on a flat-top grill, Favreau and Choi's grilled cheese is less about the perfect technique and more about the precise combination of cheese to make the best-tasting grilled cheese sandwich possible.
Chef Movie Grilled Cheese Recipe
It begins with good sourdough bread. Then, of course, the cheese. "Two types of cheddar—white cheddar and yellow cheddar—Gruyère cheese, which is like a stinky Swiss, then Parmesan," Choi says, arraying the cheeses before heading over to the grill. Here's how the Chef grilled cheese sandwich is stacked: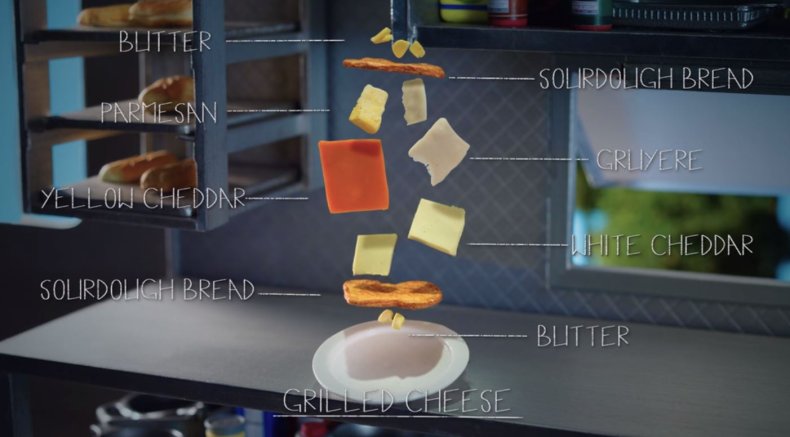 Choi begins with butter directly on the grill, then starts with both slices of sourdough, separate, atop the butter. Stack all the slices of cheese on one of the slices of bread, only combining with the top slice of bread when it's just beginning to brown. Choi flips the sandwich a couple times while cooking, until it's a perfect golden brown and ready to pull off the grill top.
Tips for the Best Grilled Cheese
The key is practice, of course. As Favreau says, referencing Bob Ross, "It's a little bit like when you watch the dude with the big afro painting. You say, 'I can make that landscape.' It looks easy when you're watching it." But there are a couple of tips that can get you closer to the best grilled cheese.
Add more butter, spreading it on the top slice before flipping.
Cut diagonally, for maximum gooeyness.
If the outside is a perfect golden brown, but the cheese still isn't fully melted in the middle, your grill or pan is too hot.
If you add tomatoes, bacon, or anything other than cheese, it's no longer a grilled cheese sandwich—it's a melt.
Made right, the Chef grilled cheese recipe might just prompt the same reaction Burr had after taking his first bite: "That's crazy." All eight episodes of the first season of The Chef Show are now streaming on Netflix.