The Best iPhone 13 Pro Cases: Bellroy, Mujjo, Nomad and More
A new iPhone also means it needs a new case that fits precisely. We went hands-on with dozens of different cases designed specifically for the iPhone 13 Pro to make sure the ones we're recommending are solid options. This year, plenty of cases have focused on antimicrobial protection to keep germs from living on your phone case surface.
Beyond keeping germs away, Nomad is innovating around adding an NFC (near-field communication) tag to its cases so that you can tap another phone and instantly send your contact information (or other data) to people with minimal effort. Bellroy is continuing to refine its wallet case so that it's practical in all circumstances and will still work with wireless chargers.
All in all, there are plenty of choices available whether you're looking for a clear or leather case or one that doubles as a wallet. As always, the prices listed may fluctuate over time.
Bellroy Phone Mod Case and Wallet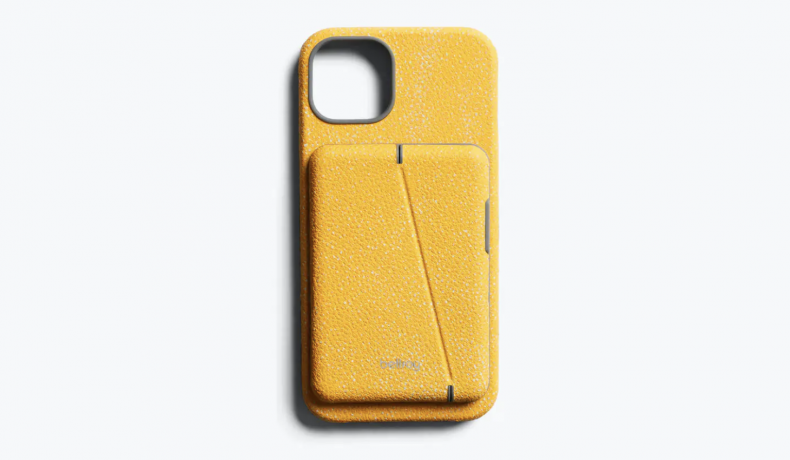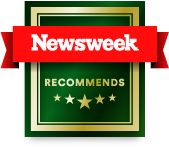 Bellroy's wallet case is a slightly different take on this category of phone cases. Sometimes you'll want a wallet snapped to the back of your phone, and sometimes you won't. So, this is a perfect option that allows a three-card wallet to attach securely to the back using magnets and rails at the top and bottom. This wallet won't fall off in transit.
Being able to remove the wallet portion means the case is MagSafe-charging compatible. The wallet can also be used separately if need be. If the yellow color doesn't catch your fancy, there are plenty of other more traditional colors available, as well.
Buy at Bellroy for $99.
Nomad Modern Leather Case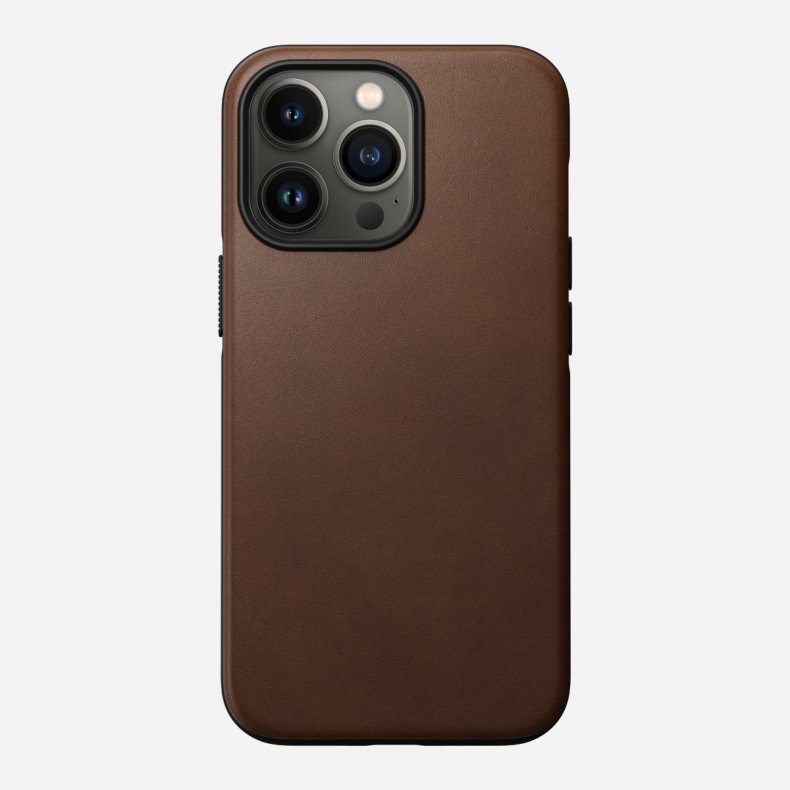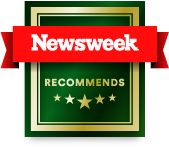 I've noticed some people take issue with the color of Apple's brown leather cases this year. It's a much brighter, almost orange, golden brown color. If you're looking for a dark brown leather case, this Nomad is stellar. It fits snugly around the phone with a black rubber frame and has a MagSafe compatible leather back. Interestingly, this case adds an NFC tag at the bottom that can be used to send people your contact information, social media profile or other data.
Buy at Nomad for $59.95.
Mujjo Full Leather Wallet Case for iPhone 13 Pro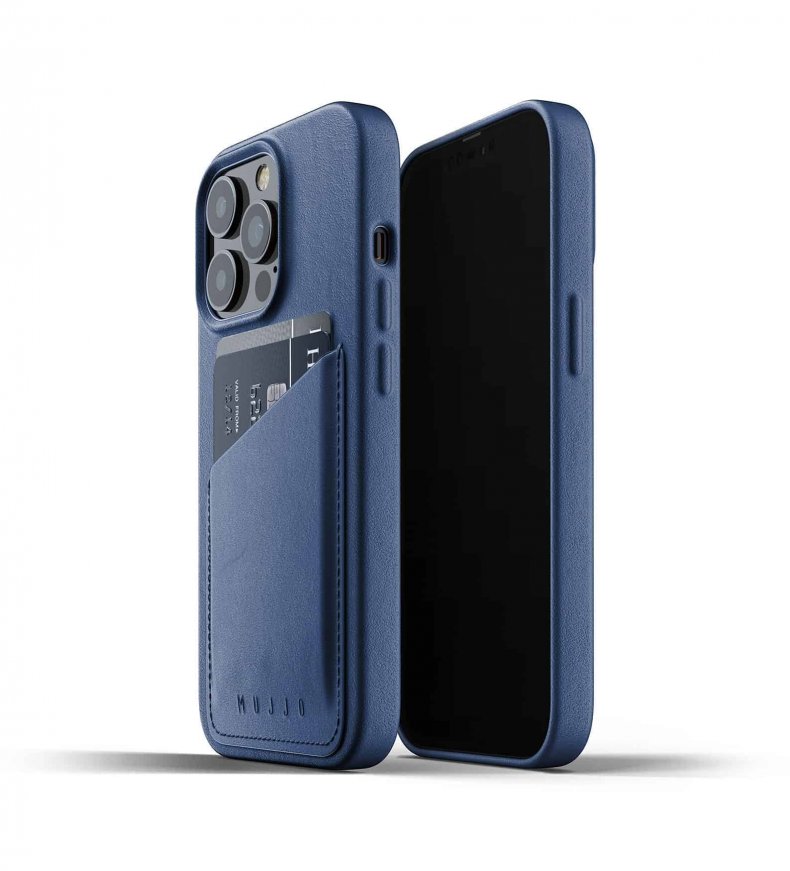 If you're looking for a classy case that feels nice in the hand, too, I really like what this Mujjo wallet case has to offer. It can hold one or two cards easily, but it could probably squeeze in a third if absolutely necessary.
Without any cards in the holder, this case will still work on a wireless charger, including a MagSafe. But, because this wallet is thicker on the back, it won't stick to MagSafe magnets in an upright position. It's a little pitfall, but it might not be a deal breaker if you want a solid leather case.
Buy at Amazon for $49.95.
Bellroy Phone Case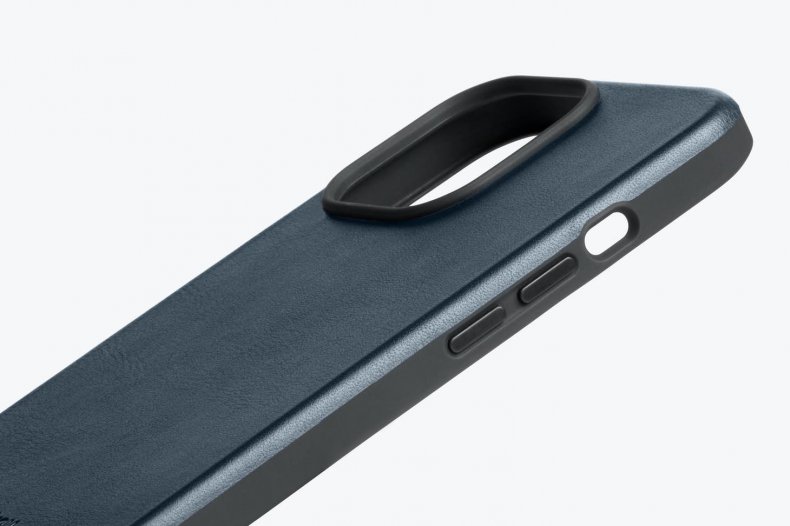 For a more straightforward phone case without any wallet, Bellroy also has a slim leather option. (It's also half the price of its Mod case.) The exterior of this case has an antimicrobial coating technology that will keep germs at bay, but that isn't toxic or harmful in any way. The case will work with wireless charging.
Buy at Bellroy for $45.
Nomad Sport Case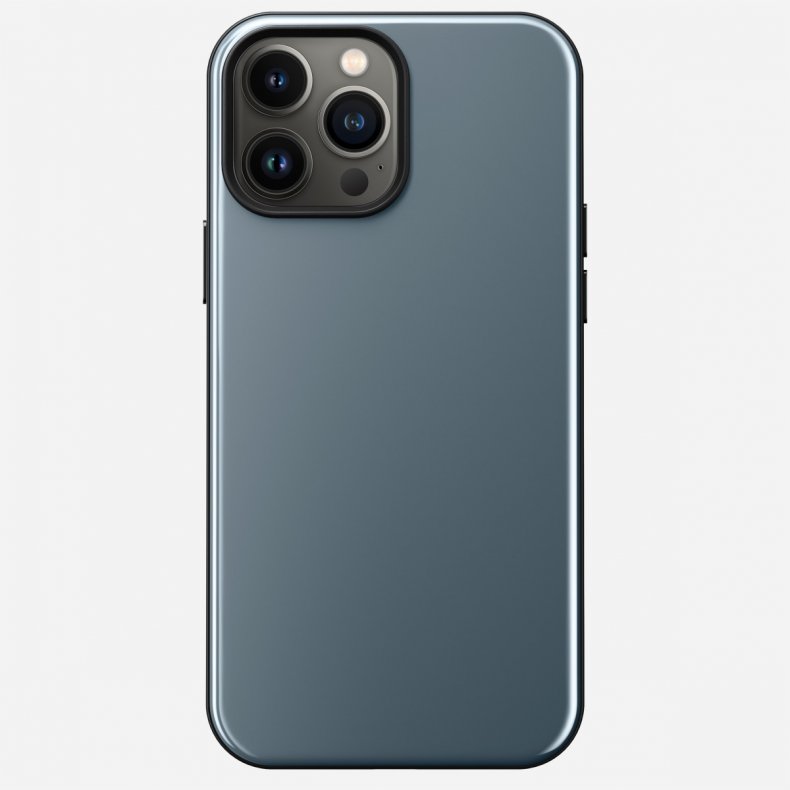 Similar to Nomad's leather phone case, this one is MagSafe compatible and includes an NFC tag to share information with a tap. Unlike the leather version, however, this one has a slick plastic back instead. People opting for a glossy look may prefer this Nomad Sport Case, which also comes in a few more color choices.
Buy at Nomad for $39.95.
Apple Silicone Case With MagSafe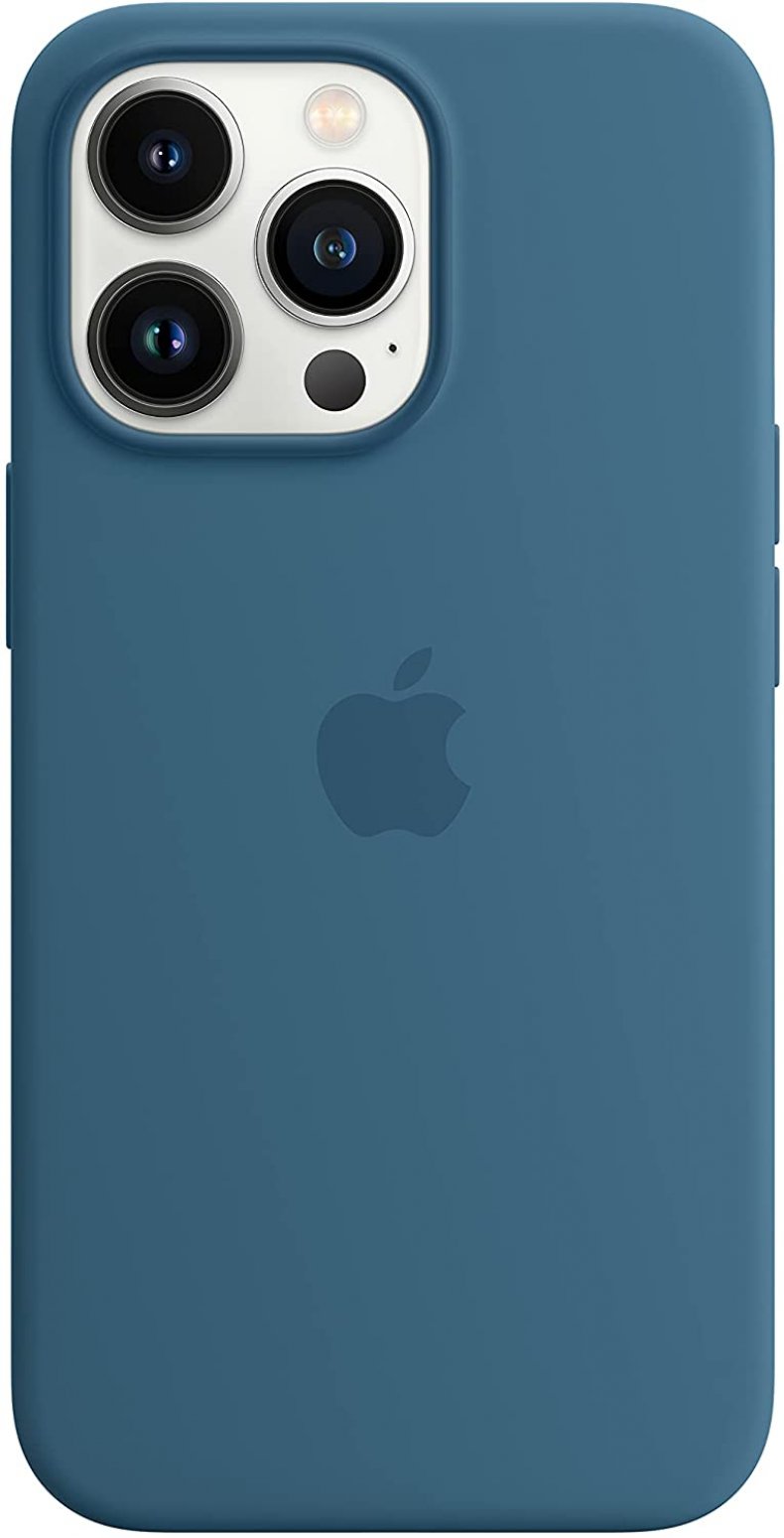 If you can't decide on a case, the Apple Silicone Case With MagSafe is an easy default choice. This year's silicone case for the iPhone 13 Pro feels slightly less sticky, and I haven't noticed it getting caught in my front pants pocket. It could be a placebo effect, but I've liked the look and feel of this case for the phone. It is MagSafe compatible and comes in a wide range of color choices. My personal favorite is Blue Jay, but there are more neutral options, too.
Buy at Amazon for $49.
Totallee Clear iPhone 13 Pro Case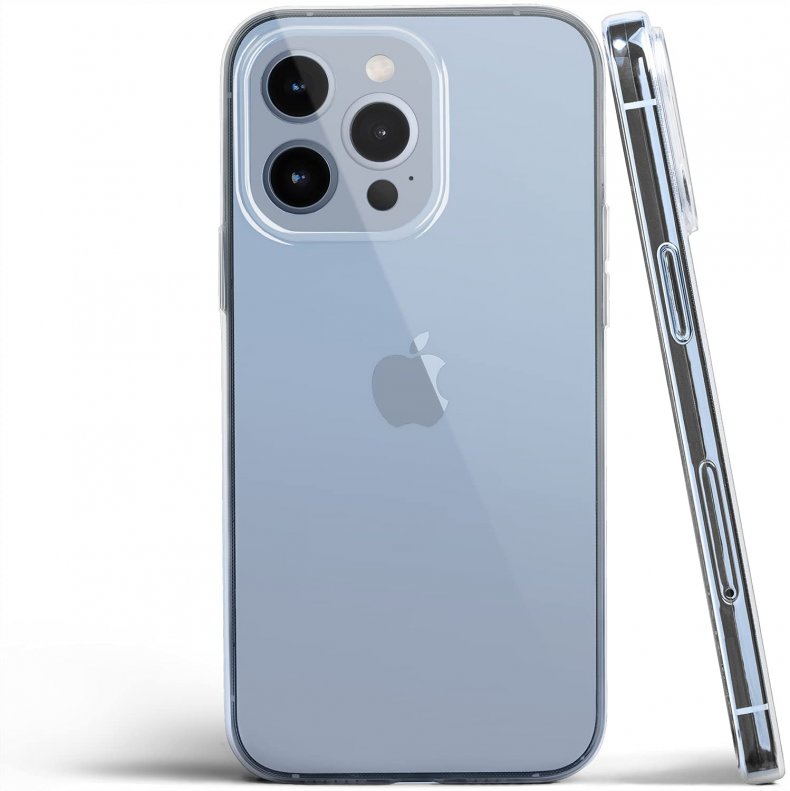 If you actually like the color of the phone you picked out and want to show it off, consider the Totallee clear case. I'm skeptical of clear plastic cases because they typically haven't been of great quality in the past. I've been happy with this one. It fits snugly around the phone and hasn't stretched out. In my experience, it also hasn't collected as much dust underneath as some cases do.
Buy at Amazon for $39.
Cyrill Color Brick Designed for iPhone 13 Pro Case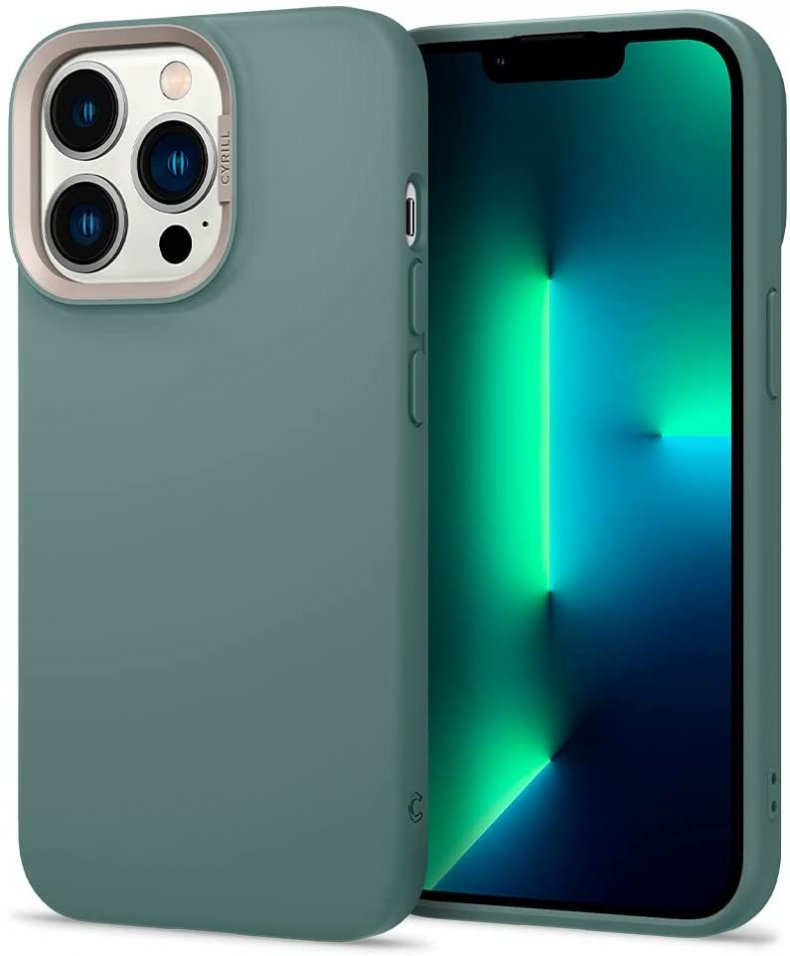 This Cyrill Color Brick case for the newest iPhone is a solid option if cost is a concern. It uses a flexible TPU material that has a smooth matte finish. It is resistant to fingerprints and will provide a barrier to water and scratches. There are new color choices not available from Apple. The case is not specifically MagSafe compatible, because there's no embedded magnet, but it will still work with wireless chargers.
Buy at Amazon for $16.99.
Phoozy Apollo Thermal Phone Case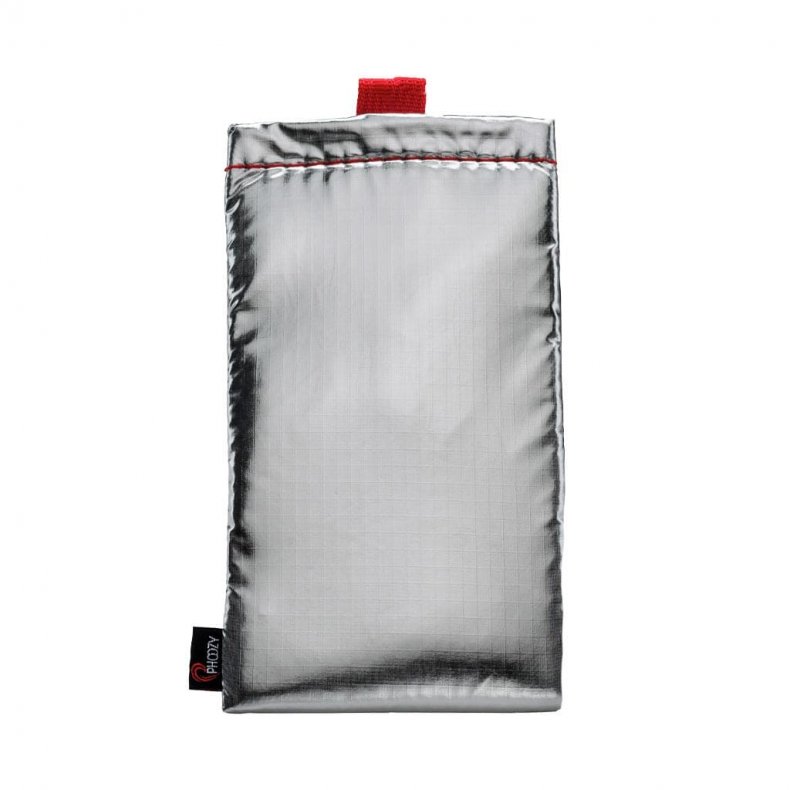 Let's say you're looking for more of a phone sleeve than a case. Or, better yet, let's say you want extra protection against extreme weather conditions that your phone, already in a case, can fit into. The Apollo Thermal Phone Case from Phoozy is just that type of product. Anyone who has ever seen the effect that snowy temperatures have on their phone's battery life understands the value of protecting their device from the cold. Best of all, the Apollo case will also provide drop protection and can float in water.
Buy at Phoozy for $29.99.
Casetify iPhone 13 Pro Impact Case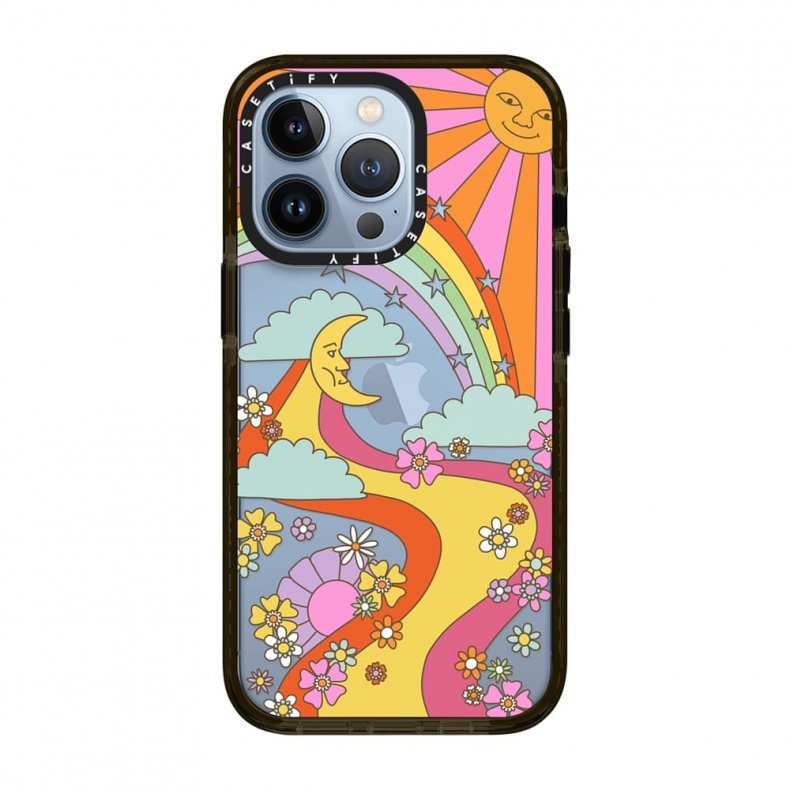 If you want options, Casetify is the place to go. It allows nearly unlimited customization of all kinds of phone cases. Their flower power, retro-hippie design (above), for example, is part of the company's Impact Cases collection. Beyond the pattern choice, you can also choose the type of back material and different colors for the sides. There is no shortage of bold options that will stand out in a crowd. This case also has an eye on sustainability: It's plant based, compostable, and uses vegetable dyes.
Buy at Casetify for $60.
Speck Presidio Perfect-Clear Ombré MagSafe Case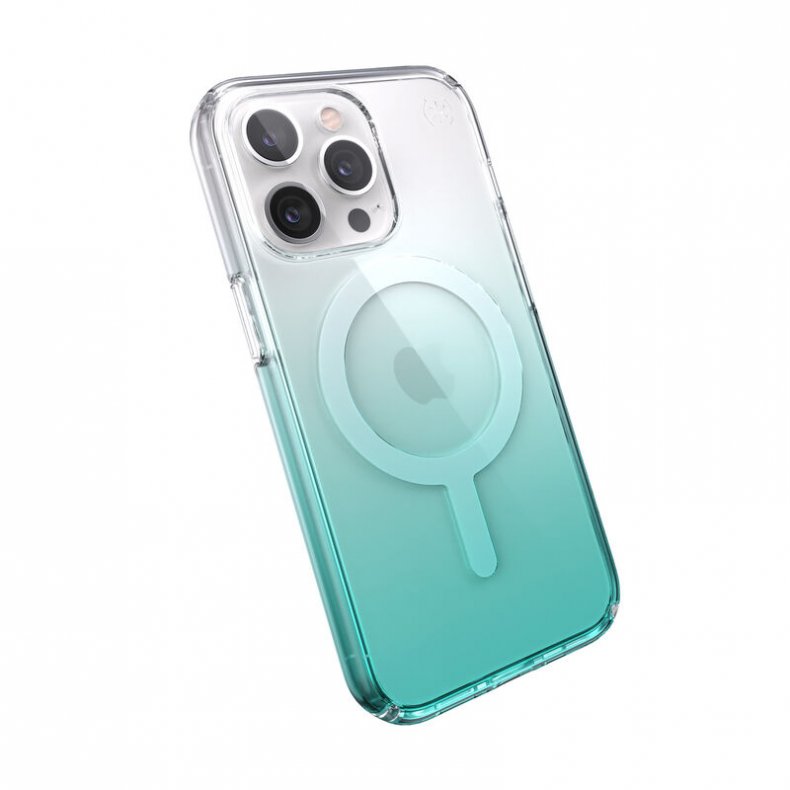 Another clear case option is this fade-resistant ombré design from Speck. The case features drop protection from 13 feet as well as Microban antimicrobial protection. The case does have a visible magnet ring so that it can work reliably with all MagSafe accessories. It also has easy access to all ports and a slim design for less bulk in your pocket.
Buy at Speck for $54.95.
Newsweek may earn a commission from links on this page, but we only recommend products we back. We participate in various affiliate marketing programs, which means we may get paid commissions on editorially chosen products purchased through our links to retailer sites.