While the entire Succession script is a thing of pure genius, Kieran Culkin's Roman Roy by far has the best one-liners and questionable quips in the entire show.
In fact, just when you think he cannot go any further below the belt with his cutting insults and inappropriate jibes, he bests himself and always manages to get a rise out of both his targets and viewers at home.
Speaking to Newsweek at the 2021 London Film Festival, one of the show's writers, Georgia Pritchett, revealed that Culkin often pitches in when it comes to his character's lines.
She explained: "We write the scripts but when we're on set we try and come up with lines in the moment and Kieran is one of the people who can just come up with the funniest, rudest lines.
"So, I remember when I was on set for the wedding episode and we were all there thinking Roman is talking to someone and he wants to get away, we've all been there, what's your exit line when you try to move away? So I was suggesting various things and Kieran just came up with 'well these hands won't f**k themselves,' so it was like 'wow just off the top of your head you bettered what I've spent weeks honing and crafting, so, great.'"
Here, we take a look at Roman Roy's most cutting, NSFW quotes from Succession so far.
1. "Hey, hey, motherf**kers!"
Season 1, Episode 1, "Celebration"
Although not exactly the most poetic thing ever said, as Roman's opening line in the entire show, it's certainly worth mentioning. Not only does it break up a tense scene between Kendall (Jeremy Strong) and Logan's (Brian Cox) business execs, it sets the tone for his character. As they say, start as you mean to go on.
2. "I suck at the whole corporate flirt thing. You know I just like to lube up and f**k"
Season 1, Episode 2, "S**t Show at the S**t Factory"
Roy patriarch Logan and the stock market are in a precarious position after he suffers a brain hemorrhage. As a result, his children Kendall, Shiv (Sarah Snook), Connor (Alan Ruck) and Roman are forced to discuss who could take over the company as temporary CEO.
Both Shiv and Roman warm to the idea of entrusting the media mogul's empire to his legal counsel, Gerri (J. Smith-Cameron), but instead of wooing her with considered, corporate jargon, Roman calls her a "cold stone killer b***h."
3. "You know who drinks milk? Kittens and perverts"
Season 2, Episode 3, "Hunting"
Proving that he knows little about how the world works, Roman fails his father's test when asked how much a gallon of milk costs (though who's consuming that much of the white stuff each week, we don't know).
In response, the second youngest Roy child quips: "You know who drinks milk? Kittens and perverts."
4. "Well, Kim Jong Pop, that's not how things work in this country"
Season 1, Episode 5, "I Went to Market"
Despite his monopoly over most entertainment and news outlets in America, Logan Roy is keen to add more local stations to his portfolio. When discussing anti-trust laws, Roman reminds his father (in rather a bold move for him) that it would be seen as un-American to have complete control over the press, referencing North Korean dictator Kim Jong-un.
5. "Waystar Royco? We do rollercoasters and hate speech"
Season 2, Episode 7, "Return"
After the PGM acquisition with the Pierces falls through, Rhea (Holly Hunter) muscles her way in to become Logan's confidante and... perhaps a little more.
But before she is made the CEO of Waystar Royco, she discusses the company's ethics and editorial impartiality, prompting Roman to explain the Roy family ethos.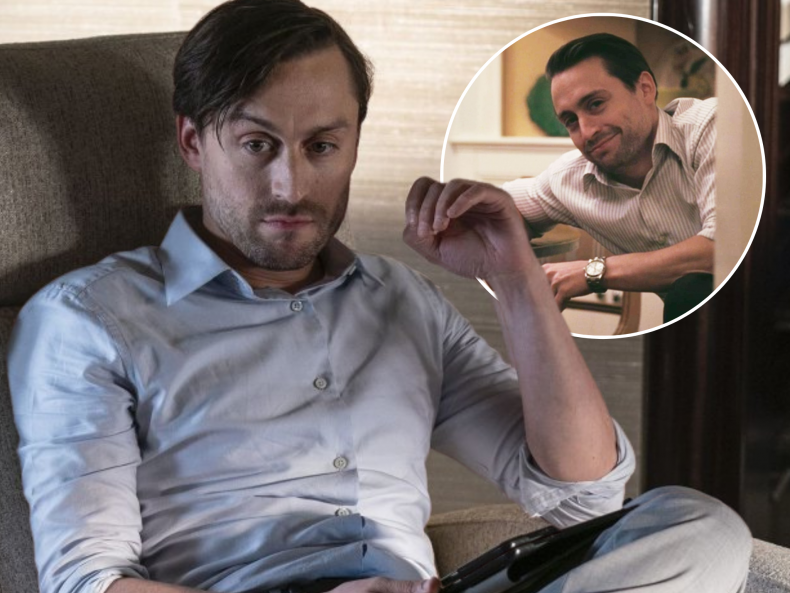 6. "I have this overwhelming urge to either knee someone in the vagina or spit on the floor"
Season 2, Episode 2, "Vaulter"
In the most unlikely move, Roman invites his sister Shiv and her husband Tom (Matthew Macfadyen) for dinner with his new partner Tabitha (Caitlin FitzGerald). When they arrive, however, he realizes how much he detests these sorts of social situations.
7. "I think what he [Logan] meant to say is he wished mom gave birth to a can opener, because at least then it would be useful"
Season 1, Episode 2, ""S**t Show at the S**t Factory"
Even while Logan lies critically ill in a hospital bed, the Roy siblings can't help but squabble. This has got to be one of Roman's funniest lines of the entire show, pointed towards Kendall.
8. "Guess who didn't kill anyone but maybe lost a couple of thumbs? This guy"
Season 1, Episode 10, "Nobody Is Ever Missing"
There's a lot to unpack in the Season 1 finale—from Kendall plotting to take over his dad's company by force and Shiv and Tom's dramatic wedding night, to, of course, Kendall killing a man. But in among the explosive details of the episode, Roman's satellite project in Japan goes awry when the thing blows up on the launchpad.
Despite the seemingly fatal explosion, Roman later learns that no one was killed in the incident and the company would not be responsible for corporate manslaughter. That said, a few crew members lost their thumbs in the process—not that Roman cares too much about that.
9. "This is what it looks like when you resolve all your issues"
Season 1, Episode 7, "Austerlitz"
Out of all the Roy children, Roman is possibly the most messed up. Not only has a suffered real emotional trauma throughout his life, his father's detached parenting techniques leave them all with serious daddy issues.
So when Roman cheekily suggests Logan take a leaf out of his book during their family therapy session in Season 1, viewers cannot help but warm to this guarded, complicated character who uses comedy to deflect how he's really feeling.
10. "Congratulations, Tom. I hear you swallowed your own load"
Season 1, Episode 8, "Prague"
Taking his soon-to-be brother-in-law to an underground speakeasy full of cocaine and escorts, Roman can't resist jibing Tom after he ingests his own ejaculation during a sex act with Tabitha (who later dates Roman).
11. "Frank! It hasn't been the same without you... it's been better"
Season 2, Episode 3, "Hunting"
After his backstabbing foray with Kendall, Frank was welcomed back by Logan and invited on a hunting trip with the rest of the clan. Not everyone was pleased to see him, though.
12. "Yes, Shiv, f**k Congress, have I shocked you?"
Season 2, Episode 9, "D.C."
The team is weighing up what to do in response to the sexual misconduct hearings in Congress, and so of course Roman's response is to ignore the investigation and go all guns blazing.
13. "I jerked off in Gerri's bathroom last night"
Season 2, Episode 5, "Tern Haven"
What makes this line so compelling is that it is actually true, but because of the absurdity of the situation, no one in his family believes him.
Succession Season 3 is currently airing every Sunday at 9 p.m. ET on HBO and HBO Max.