Best Alternative Luxury Advent Calendars 2019: Tiffany's, Charlotte Tilbury, Wine, Whiskey and Cheese
Advent calendars are an important part of the holiday season and a fun way to count down to the big day. While there are tons of kids advent calendars out there, what about an advent calendar for adults? We've rounded up the best alternative advent calendars — forget about a chocolate advent calendar, here you'll find wine, cheese, makeup and more.
Tiffany's Advent Calendar — $112,000
Tiffany & Co has announced an Advent Calendar full of Tiffany products and it costs $112,000. The luxury advent calendar is extremely limited as only four will be available. It has been designed to look like the Tiffany building in New York City and is the company's signature blue shade. Tiffany's advent calendar weighs 355 pounds and is assembled upon delivery.
There are 24 objects — each in Tiffany boxes — in the Advent Calendar, including:
Tiffany T Extra Large Smile Pendant in 18k Rose Gold with Diamonds
Tiffany T True Narrow Bracelet in 18k Gold
Tiffany HardWear Link Bracelet in 18k Rose Gold with Diamonds
Whiskey Advent Calendar — $13,723.10
This made to order Drinks by the Dram whiskey advent calendar is a handmade bespoke wooden box containing 24 drams of whiskey. The whiskey is contained in handmade wax-sealed drams and one variety of whiskey is worth more than $24,000 per bottle.
The whiskeys in the advent calendar includes:
Port Ellen 37 Year Old 1979 - 17th Release (Special Release 2017)
Talisker Bodega Series 40 Year Old
Glenfarclas 1958 (cask 2061) Family Cask Spring 2015 Release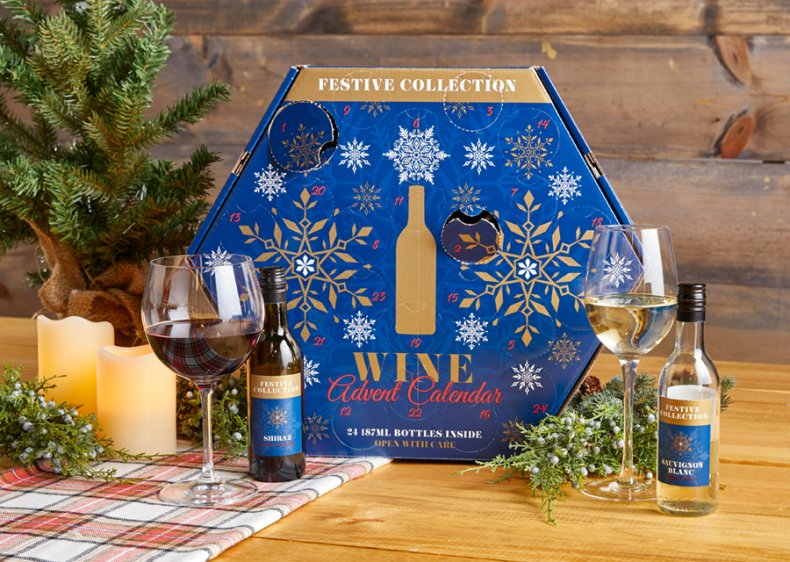 Wine Advent Calendar — $139.99
Macy's 2019 Wine Advent Calendar comes with 24 quarter wine bottles, each enough for a full glass, working out at around $5.80 a bottle. Plus, the advent calendar ships nationwide for free, but be quick, because last year's version sold out pretty quickly.
The wine in the advent calendar includes:
Makeup Advent Calendar — $200
Beauty fans need to check out the Charlotte Tilbury Advent Calendar, complete with four full-sized and 8 travel-sized makeup products to count down the 12 days of Christmas.
The Charlotte Tilbury makeup products include:
Color Chameleon Champagne Diamonds Eyebrow Pencil
Matte Revolution Pillow Talk Lipstick
Eyes to Mesmerise Star Gold Eyeshadow
Cheese Advent Calendar
Launching in Aldi on November 6, this cheese advent calendar ($14.99) includes 24 European snack-sized cheeses. This year, the cheeses are made to pair with the wines in the Aldi Wine Advent Calendar ($69.99). The wine calendar includes 24 wines from around the world in individual 187 ml. Bottles.
If you're looking for a beer advent calendar, Aldi has one of those, too. The cheese calendars are limited to three per customer and the wine and beer calendars are limited to two per customer.