Best Emmys 2020 Moments—From Zendaya to 'Schitt's Creek'
The 2020 Emmy Awards will no doubt go down in history as the most bizarre installment of the television awards ceremony.
Despite the ongoing coronavirus pandemic, the show still went on. It was an audience-less, contactless, socially distanced extravaganza which, in spite of everything, pulled off a great show with some iconic moments and record-breaking achievements.
Here's a look at the most memorable moments of Emmys 2020.
Schitt's Creek
The biggest record-breaker of the night, was Schitt's Creek, which in its final season dominated the comedy acting categories and finally picked up an Emmy for best comedy—taking home nine in total.
The Canadian comedy won all seven major comedy awards, making it the first show to achieve such a feat.
Schitt's Creek won for outstanding comedy series, writing and directing, and Dan Levy, Annie Murphy, Eugene Levy and Catherine O'Hara all won for their acting in the show.
In his speech, Levy, reflected on his experience on the show.
"Getting to write this show, getting to tell these stories has been the greatest, most cathartic experience in my life," he said.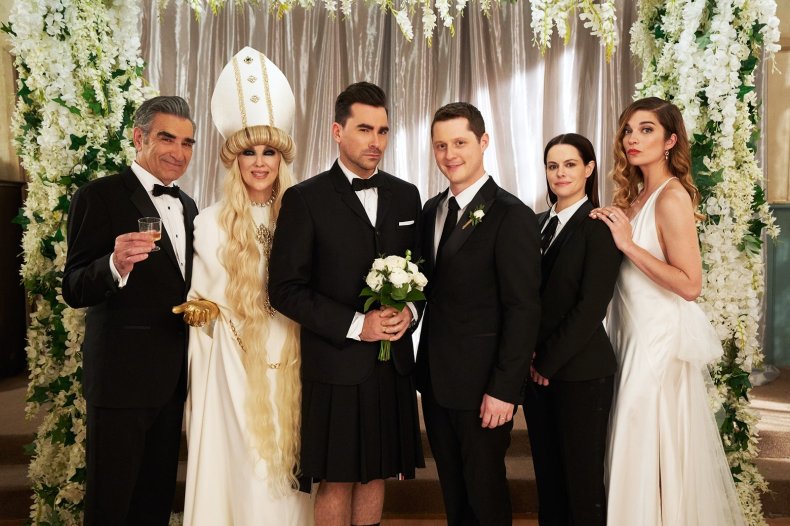 Zendaya
Euphoria star Zendaya also made history by winning the Emmy Award for outstanding lead actress in a drama series for Euphoria—the youngest ever winner in the category.
"I know this feels like a really weird time to be celebrating, but I just want to say that there is hope in the young people out there," the 24-year-old said in her speech.
"I know that our TV show doesn't always feel like a great example of that but there is hope in the young people. And I just want to say to all my peers out there doing the work in the streets, I see you, I admire you, I thank you, and yeah, thank you so, so much! This is—whoa, okay, thank you!"
Ramy Youssef
Ramy Youssef's behind-the-scenes look at how award shows work in 2020 has gone viral as the comedian showed fans what happened when he didn't win an Emmy last night.
In a bizarre clip posted to Twitter, Youssef showed the hazmat suited messenger standing outside his home holding the award, waving then walking away when the winner was announced.
"when you lose the emmy," Youssef captioned the bizarre clip which sent the internet into a bit of a frenzy.
Cardboard Cutout Audience
Instead of the usual, star-studded audience, this year's Emmys host Jimmy Kimmel found himself opening the show on an empty stage in front of an empty audience—apart from a few dozen celebrity cardboard cutouts (and Jason Bateman for some reason.
Jennifer Aniston
Kimmel did get some human help on the night, with Jennifer Aniston to announce the name of the first big winner of the night—the Emmy Award for Best Lead Comedy Actress.
However, everything went a bit awry when Kimmel, practicing good coronavirus hygiene, sanitized the envelope, sprayed the award down wit Lysol, and then attempted to burn off any extra germs by lighting the envelope.
As it burned in a trash can, the flames failed to go out but Aniston effortlessly unleashed a fire extinguisher, saving the day.
Friends Reunion
Aniston also facilitated a mini Friends reunion during the event—which always goes down well with fans of the beloved 90s sitcom.
Courteney Cox and Lisa Kudrow joined Aniston to watch the show from home, where the former castmates and longtime friends joked that they had been living together since 1994.
Aniston was nominated for her performance in Apple TV+ drama series The Morning Show, where she plays a newsreader fighting to keep her prestigious job amid a shocking scandal.
Essential Workers
Essential worlds during the COVID-19 pandemic were honored during the ceremony.
Along with the usual actors and celebrities who are always involved, the showrunners called on essential workers to present several awards during the ceremony.
Tim Lloyd, a UPS worker from Alabama, presented the award for outstanding performance by a comedy actress.
"The love that I have received from my customers has been awesome, especially the one that had a mask made for me," Lloyd said. "It was hanging on the door when I delivered to him and it almost made me cry."
Regina King Says Vote
Regina King took home the award for outstanding lead actress in a limited series for her phenomenal role of Detective Angela Abar on HBO's hit series Watchmen.
The 49-year-old took the opportunity to address Black Lives Matter and the upcoming election in her acceptance speech, wearing a Breonna Tayler t-shirt.
"Gotta vote. I would be remiss not to mention that, being a part of a show as prescient as Watchmen," she said. "Have a voting plan, go to ballotpedia.com, vote up the ballot, please. Go to ballotpedia.com and find out who are voting in your municiapal elections. It is very important."
"Be a good human," King concluded before one final shoutout. "Rest in power, R.B.G. Thank you."
Tyler Perry
Tyler Perry was the recipient of a special honor at the 2020 Emmys—the Governors Award.
The new billionaire, 51, was chosen by the Television Academy's Board of Governors for his achievements in television and his commitment to offering opportunities to marginalized communities through personal and the Perry Foundation.
"Tyler Perry has done what no one had done before him—make it as an outsider," Oprah Winfrey said presenting the tribute alongside Chris Rock.
The self-made mogul shared an anecdote about a quilt his grandmother made him, to speak on the importance of telling stories that represent him.
"I stand here tonight to say thank you to all of the people who are celebrating and know the value of every patch, and every story, and every color that makes up this quilt that is our business, this quilt that is our lives, this quilt that is America," he said.
"Because in my grandmother's quilt, there are no patches that represented Black people on television. But in my quilt, her grandson is being celebrated by the Television Academy. I thank you for this. God bless you."