Best Moments from the Republican Presidential Debate in Detroit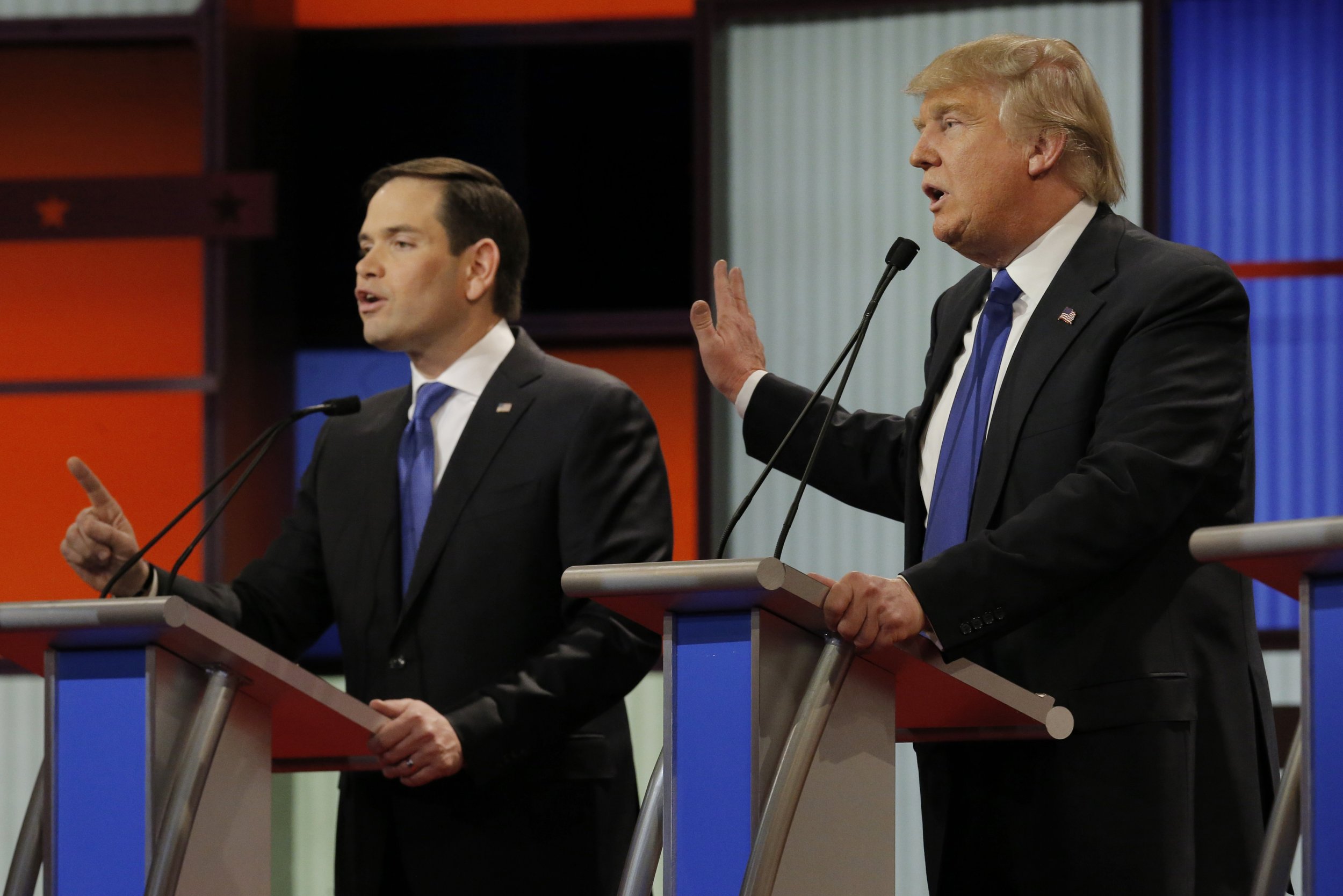 It's never been just four candidates on stage. But tonight the GOP debate will include Donald Trump, Ted Cruz, Marco Rubio and John Kasich. Following it all are Newsweek's Emily Cadei, Matthew Cooper, Michele Gorman and Taylor Wofford.
11:03 PM: Ted Cruz address his closing statement to the military and police: "I will have your back." The other three stick to their standard stump speech fare. And with that, Republicans' 2016 Detroit debate is in the books! — Emily Cadei
10:59 PM: One minute away from the two-hour mark and we are onto closing remarks. Wow! This is a true two-hour debate, which is unusual in this primary season. — Michele Gorman
10:58 PM: All the candidates not named Donald Trump are asked if they will pledge to support Trump if he is the Republican nominee. They all say yes, but Kasich says "but when it's all said and done, I kind of think I'll be the nominee." — Emily Cadei
10:52 PM: Kasich gets perhaps the biggest cheer of the night when he refuses to attack Trump on foreign policy (even though his campaign did just that in a video, which Fox News just played on air). — Emily Cadei
10:51 PM: Star Wars! Cruz says the U.S. needs space missile defense, a clear nod to the Reagan-era Strategic Defense Initiative, better known as "Star Wars." The initiative was designed to be able to shoot nuclear missiles out of the air with satellites orbiting the earth. Problem was, it was incredibly expensive and the science never worked. — Taylor Wofford
10:48 PM: Rubio has been calling out Trump all debate about his penchant for deflecting questions about his policies by insulting his opponents. It's accurate, and it seems to be throwing Trump a little off balance. But I'm not sure Trump supporters mind, they haven't shown much concern about his lack of policy specifics so far in this election. — Emily Cadei
10:41 PM: Never thought I'd hear a yoga reference in a Republican presidential debate. Cruz telling Trump to breath and not interrupt prompts Rubio to quip, "when you're done with the yoga …" That prompts a back-and-forth between Cruz and Rubio -- the Texas senator says he hopes no one starts doing yoga on stage, Rubio replies that Trump IS "very flexible." They have a pretty good act going here, maybe they can take it on the road if the presidential campaign thing doesn't work out. — Emily Cadei
10:37 PM: Tonight, Trump was questioned about his former support for a ban on assault weapons, which he discusses in his 2000 book, The America We Deserve. In fact, years before he was a presidential candidate, Trump called out Republicans who "walk the NRA line" and refuse even limited restrictions on gun laws. He since has become a more outspoken proponent of the Second Amendment, going as far as saying that "nobody loves it more than [my family]." — Michele Gorman
10:32 PM: Kasich is put on the defensive on his relatively tolerant stance on gay marriage. But he gets some applause when he argues that instead of religious freedom laws, "I'd rather have people figures this out without having to put another law on the books." Kasich suggests that if a wedding photographer doesn't want to work for a certain couple, just find another photographer. "At the end of the day, don't go to court." — Emily Cadei
10:26 PM: Just as Trump appeared ready to crack, Fox eases up, and gives John Kasich time to talk about infrastructure. Sad! — Taylor Wofford
10:24 PM: FINALLY a Flint question. Baier: "Why haven't the GOP candidates … talked about it?" Rubio gets to reply, says it shouldn't be politicized, blames Democrats for making a partisan issue. And he says the government should help, but gives zero specifics. — Emily Cadei
10:20 PM: As Fox went to break, noticed the nice consecutive red, white and blue going on with the moderators: Wallace's tie, Kelly's jacket and Baier's tie. — Michele Gorman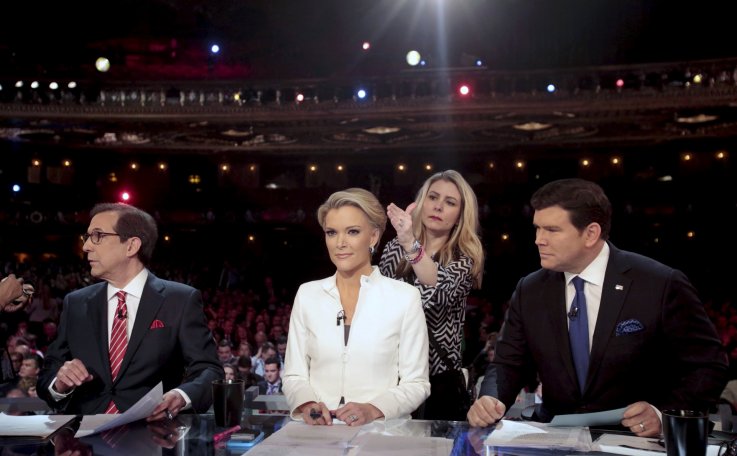 10:19 PM: Kasich tries to shift the conversation to what voters want, "there are a lot of people out there yearning for somebody who's going to bring America back … let's stop fighting!" Unfortunately, I think that plea is falling on deaf ears. — Emily Cadei
10:14 PM: Cruz and Rubio seem to be getting to Trump for the first time on this Trump University issue. All he can say is "give me a break." — Emily Cadei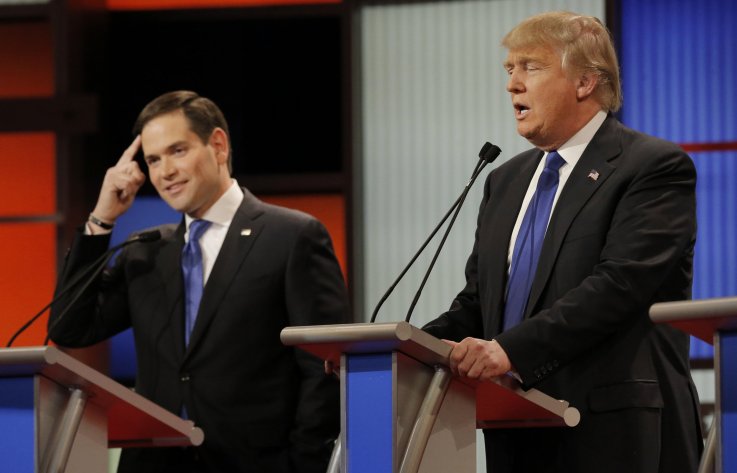 10:09 PM: This is the first time Trump looks genuinely befuddled, trying to insist that the Better Business Bureau's rating of Trump University has been changed to an A. Kelly weighs in in the debate between him and Trump, saying that it is, in fact, still a D minus. She's doing some pretty heavy fact checking of this case, and it doesn't make Trump look good. — Emily Cadei
10:05 PM: Trump says he has a "very strong core" set of principles, but he's also flexible. Like a gymnast, or maybe a Pilates instructor. — Taylor Wofford
10:03 PM: Trump very calm reacting to some pretty damning video footage of him swinging wildly from one position to another on key foreign policy questions (the Afghanistan war, allowing in Syrian refugees). "I changed my tune, I don't think there's anything wrong with that," he says. "You have to have a certain degree of flexibility." — Emily Cadei
9:55 PM: Cruz gets a question on Edward Snowden and why it took the senator so long to call Snowden, the former NSA contractor, a traitor. He tries to argue that he was waiting for the evidence to make a judgement, but it's pretty clear he's shifted ground on this. When Snowden's leaks first came out, Cruz was trying to stake out much more libertarian ground on national security and spying issues. Now he's trying to take a stand as a national security hawk. — Emily Cadei
9:48 PM: Libya is a tricky subject for Rubio, he was one of the most aggressive voices calling for intervention in the North African country during the uprising against dictator Moammar al-Qaddafi, part of a wave of revolts during the Arab Spring. Now the country is a failed state and ISIS stronghold, something Republicans have attacked former Secretary of State Hillary Clinton for. But Rubio was largely on the same side with Clinton on this issue. — Emily Cadei
9:48 PM: If there's one way Cruz and Rubio might be able to damage Trump, it's by showing that his businesses take jobs away from working-class whites, which are the core of Trump's supporters. Trump doesn't seem to have a good response to their claims that he uses immigrant labor, instead of native-born Americans, in his Florida club. — Taylor Wofford
9:46 PM: 45 minutes into this debate, and it seems very much like a three-man affair. Where is John Kasich? He hasn't gotten much of a chance to speak, and hasn't really tried to insert himself into this discussion, largely focused on immigration. — Emily Cadei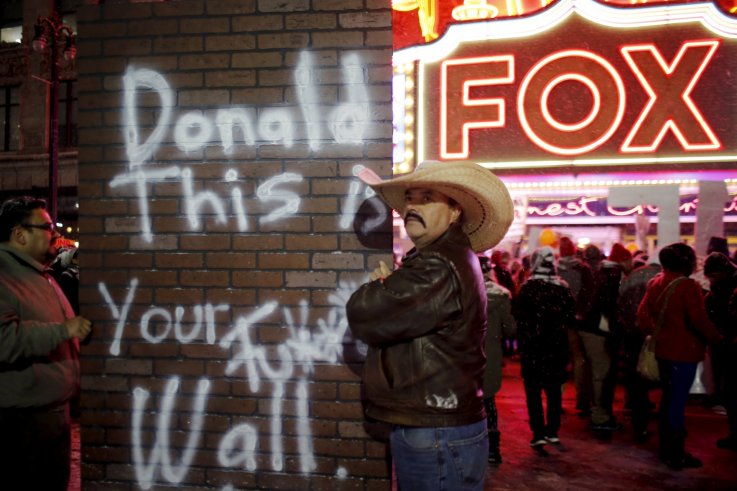 9:42 PM: Interesting, Trump says very forthrightly that he's changing his proposal on highly-skilled immigrants, saying he now thinks the U.S. should let these people stay in the country, and Silicon Valley employers need their skills. This is a position that is very popular with big business, not so much with workers. — Emily Cadei
9:34 PM: "How flexible are you?" Kelly asks Trump about his immigration policy, amid reports he suggested in an off-the-record New York Times editorial board interview that he held more moderate views on immigration than those he's presented on the campaign trail. "Not very flexible," Trump replied. — Emily Cadei
9:32 PM: Moderator Kelly addresses Trump directly. "You're looking well," he tells her, to cheers from the crowd. "As are you," she replies with a slight giggle. — Michele Gorman
9:31 PM: Cruz goes after Trump's donations to Democrats. "Why did you write two checks to Hillary Clinton?" He keeps using this line of attack against Trump but it hasn't worked for months. — Emily Cadei
9;30 PM: Ted Cruz appeared to have something (styrofoam? spit? food?) on his mouth, as noticed by many Twitter users, for a short time duirng the debate. — Taylor Wofford
9:24 PM: In a masterful stroke, Fox moderator Chris Wallace goes to a graphics to challenge Trump's assertions of how he'll cut the budget. This is a whole new level of accountability Republicans are facing on the debate stage, made necessary by some of the fantastic numbers candidates have thrown out in this campaign — Emily Cadei
9:18 PM: "This little guy…" After bragging about the size of his manhood, Trump now chides Rubio over his height/youth. There was some thought Trump might pivot to a more presidential style tonight. So much for that. — Matthew Cooper
9:14 PM: Kasich gets his first chance to speak, tells the Fox's Brett Baier that the process question he's being asked is "boring to me." Then he pivots to his pitch, which is his credentials as a jobs-oriented governor with crossover appeal. But Baier doesn't let it go. Kasich insists that now that the election is "heading up north" it's on his turf. That includes Michigan, where tonight's debate is being held. — Emily Cadei
9:11 PM: Fox welcomes Trump back to the stage tonight. This is the first time anchor Megyn Kelly and Trump have faced each other since the Fox debate last August. There, she confronted Trump about his comments about women, and he later said the moderator treated him unfairly. He boycotted the most recent debate hosted by the network in January, after he learned Kelly would be one of the three moderators. — Michele Gorman
9:10 PM: Trump's response to Cruz, whose pitch since Super Tuesday has been that he's the only candidate who can beat real estate tycoon: "I keep hearing he's the only one who can beat me but he's getting beaten." — Emily Cadei
9:07 PM: Rubio is trying to have it both ways, defending sinking to Trump's level of adolescent insults while also saying he would prefer to have a policy debate. Gets a pretty mixed response from the crowd. And Trump comes back with a pretty amazing rejoinder, making a joke of Rubio's joke about his supposedly small hands. — Emily Cadei
9:05 PM: Fox wastes no time: Chris Wallace asks Trump about Mitt Romney's attacks on him today. Trump's reply is no surprise: "He was a failed candidate. He wants to be relevant. He wants to be back in the game." In a follow up, Wallace asked for his views on the Klan and David Duke. Trump disavowed both. "Take a look at my Twitter account." — Matthew Cooper
9 PM: The debate is being held in Detroit, Michigan, where residents will vote in their state's primary just five days from now on March 8. There will be 59 delegates up for grab in the Republican primary. — Michele Gorman
8:58 PM: Republican National Committee Chair Reince Priebus is addressing the crowd gathered at the Fox Theatre in Detroit. A reminder you can livestream the debate at FoxNews.com or watch on Fox News Channel. — Michele Gorman
Best Moments from the Republican Presidential Debate in Detroit | U.S.