From sci-fi to thrillers, musicals and fantasy dramas, the cinemas in January 2022 will have it all. To start your year off right, you can sink your teeth into spy-thriller The 355 or action-movie American Siege, with movie fans able to see them both on the same day. Alternatively, you could catch the critically acclaimed Cyrano or the uplifting The Tiger Rising towards the end of the month.
Newsweek has a full list of the best movies coming to cinemas in January 2022 you do not want to miss.
The Best Movies Coming to Cinemas in January 2022
The 355
Talk about female-power, Jessica Chastain, Penelope Cruz, Lupita Nyong'o, and Diane Kruger have teamed up for spy, action-thriller The 355.
Chastain takes on the role of Mason 'Mace' Brown, a wild card CIA officer who is forced to team up with other international agents in a bid to recover a top-secret weapon.
Mace's new colleagues include rival German agent Marie (played by Diane Kruger), computer specialist Khadijah (Lupita Nyong'o), and psychologist Graciela (Penelope Cruz).
Simon Kinberg, best known for Mr. and Mrs. Smith, the X-Men film franchise, and Sherlock Holmes directs The 355, with a screenplay by Broadway playwright, Theresa Rebeck.
The 355 is out in cinemas on Friday, January 7, and will be available to stream on Peacock 45 days after its theatrical release.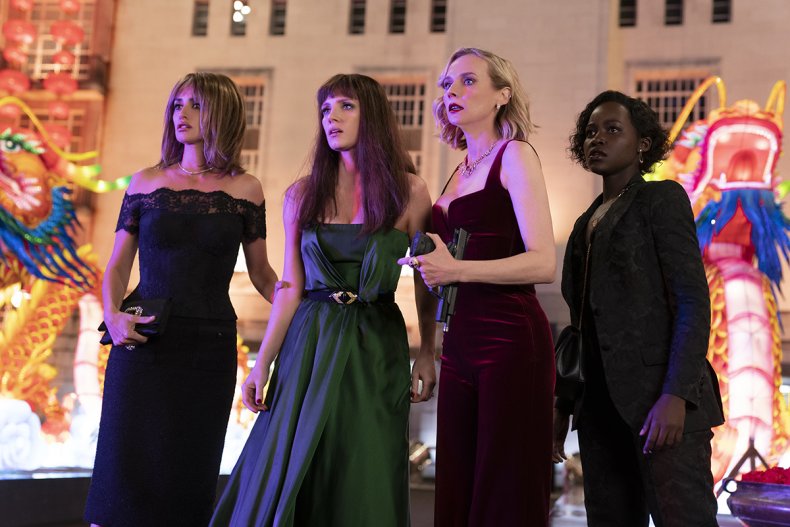 American Siege
Bruce Willis is back with another action-thriller movie. Titled American Siege, Willis stars as Sheriff Ben Watts, who has spent the majority of his career protecting a small Georgia town.
Watts is set to face the biggest challenge of his career when three criminals take the town's top doctor hostage amidst a missing woman investigation. Before the FBI arrives to handle the hostage situation, Watts is pressured by mayor Charles Routledge (Timothy V. Murphy) to drive out the hostage-takers, at any cost.
Starring alongside Willis in American Siege is Timothy V. Murphy, Johann Urb, Johnny Messner, and Janet Jones.
American Siege will be available to watch in cinemas from Friday, January, 7.
Scream 5
The Scream film franchise is showing no signs of stopping with the fifth installment, simply titled Scream, set to premiere in cinemas on January 14, 2022.
Scream 5 has been billed a relaunch of the franchise, which began back in 1996, but the upcoming movie is a direct sequel to Scream 4, which was released in 2011.
Fans of the horror series will be delighted to hear David Arquette, Neve Campbell, Courtney Cox, Marley Shelton, and Roger L. Jackson have reprised their roles for Scream 5, where they will encounter a new 'Ghostface' killer in the quiet town of Woodsboro.
Joining the Scream franchise are newcomers Melissa Barrera, Mason Gooding, Jenna Ortega, and Jack Quaid.
The King's Daughter
The King's Daughter stars Pierce Brosnan as King Louis XIV of France who has embarked on a mission to find the secret to immortality.
Based on the 1997 novel, The Moon and the Sun by Vona N. McIntyre, King Louis XIV steals a mermaid's life force. However, things become a little complicated when his illegitimate daughter, Marie-Josephe (Kaya Scodelario) also discovers the creature.
The movie is a long-time coming, considering filming wrapped in May 2014.
Starring alongside Brosnan is Kaya Scodelario, Benjamin Walker, William Hurt, Rachel Griffiths, Ben Lloyd-Hughes, and Paul Ireland.
The King's Daughter will make its way to cinemas on Friday, January 21.
Cyrano
Game of Thrones legend Peter Dinklage has ventured into musicals with his latest film Cyrano.
Directed by Joe Wright and based on Erica Schmidt's 2018 stage musical of the same name and Edmond Rostand's 1897 play Cyrano de Bergerac, Cyrano follows the story of the multi-talented Cyrano de Bergerac.
However, behind all of the confidence and showmanship is a man who is insecure and afraid to tell the woman he loves his true feelings.
Cyrano is out in cinemas on Friday, January 21 and already, the film received a nomination for Best Motion Picture - Musical or Comedy and Best Actor in a Motion Picture - Musical or Comedy at the 2021 Golden Globes.
The Tiger Rising
The Tiger Rising is based on the 2001 children's book of the same name by Kate DiCamillo and will be available in cinemas from Friday, January 21.
The movie centers around 12-year-old Rob Horton's (Christian Convery) relocation to rural Florida where he comes face to face with a caged Bengal tiger hidden in the woods.
The tiger is being held captive by motel owner Beauchamp (Dennis Quaid) and Rob is determined to set the tiger free. He enlists the help of motel maid Willie May (Queen Latifah) and his friend Sistine (Madalen Mills).
Morbius
You can bring an action-packed end to the first month of the year by going to see Marvel's Morbius in cinemas on Friday, January 28.
Hot on the heels of Spider-Man: No Way Home, Morbius is intended to be the third film in the Spider-Man universe.
House of Gucci's Jared Leto takes on the role of scientist, Morbius who transforms into a vampire after attempting to cure himself of a rare blood disease.
Leto is joined by The Crown's Matt Smith as Loxias Crown, Chernobyl's Jared Harris as Morbius's mentor, and Good Omen's star Adria Arjona as Martine Bancroft, a scientist, and Morbius's fiancée.
Michael Keaton reprises his role as Adrian Toomes/Vulture from Spider-Man: Homecoming in Morbius, Marvel fans will not want to miss it.