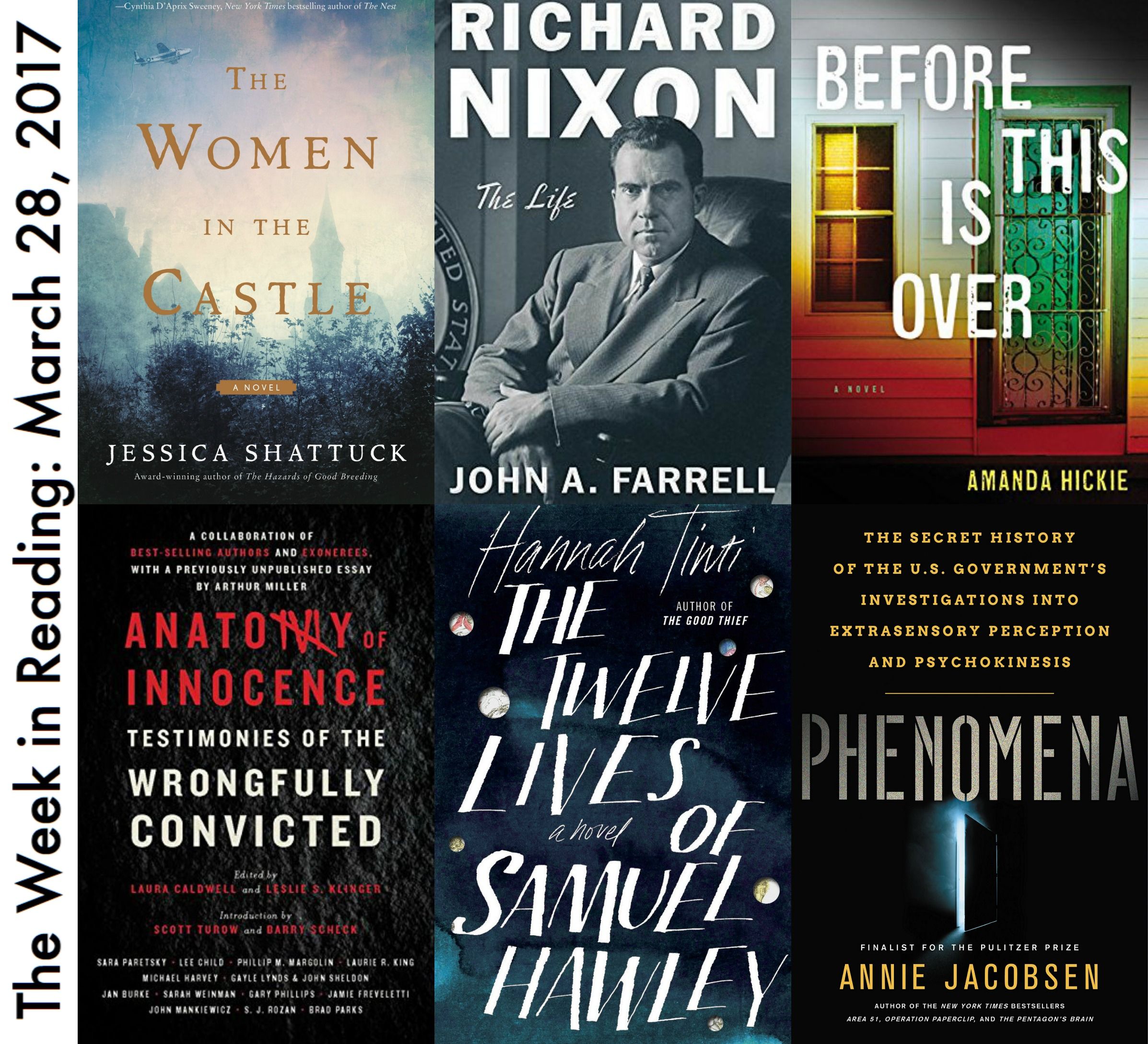 Welcome to the final March edition of The Week in Reading, a weekly column that pulls together the best new books being released each week a full day before the standard book release date.
At the beginning of every month, the internet is flooded with lists of must-reads for the coming 28 to 31 days. And while it's easy to find books that look intriguing at the start of the month, it's a whole lot less so to remember those books when you're actually looking for something new to read. But we're on a mission to change that—and just in time to eke out that same-day delivery from Amazon.
Here, without further ado: the six best books with a release date of March 28, 2017.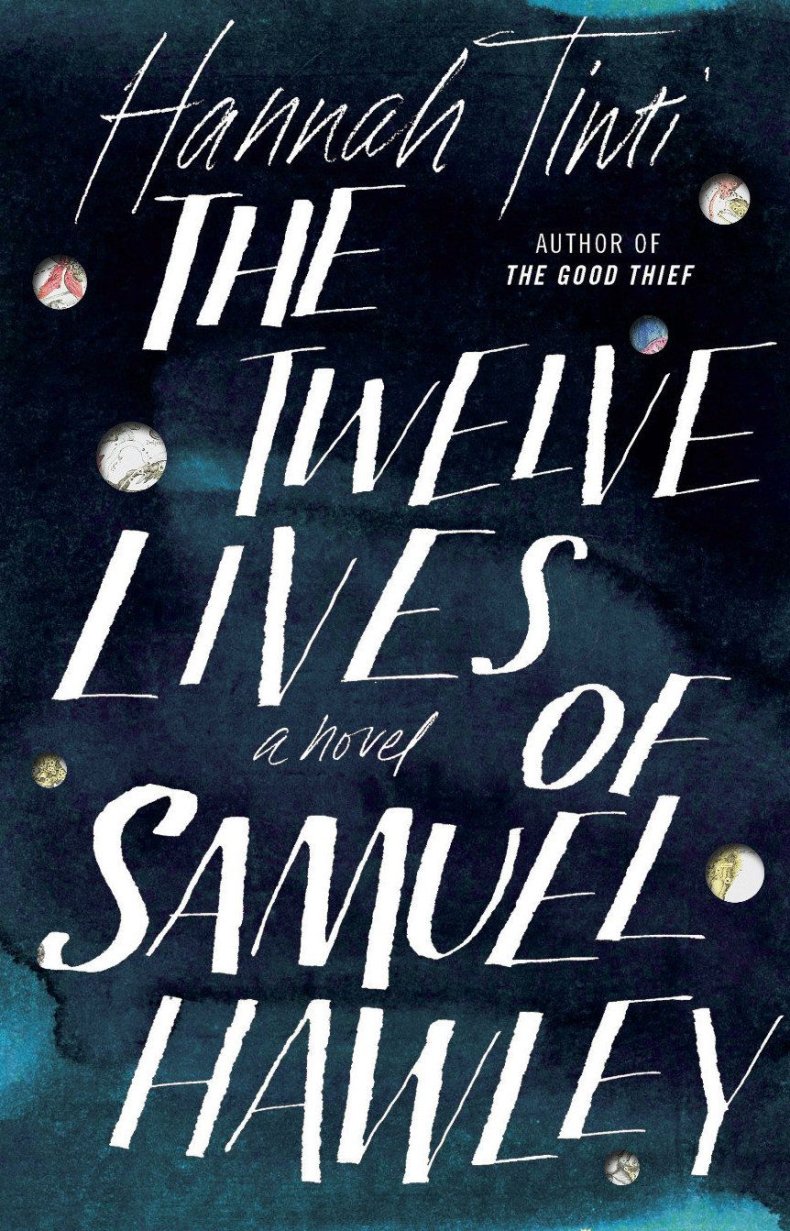 The Twelve Lives of Samuel Hawley by Hannah Tinti
The Dial Press, 400 pages
The Twelve Lives of Samuel Hawley is a miraculous accomplishment in genre-bending: Not only a gripping American-on-the-run thriller, it's also a brilliant coming-of-age tale and a touching exploration of father-daughter relationships. Regardless of what your reading tastes are, there's something here for absolutely everyone.
Where you've heard her name before: She's the co-founder and editor-in-chief of One Story magazine, and the author of the novel The Good Thief.
Goodreads synopsis: After years spent living on the run, Samuel Hawley moves with his teenage daughter, Loo, to Olympus, Massachusetts. There, in his late wife's hometown, Hawley finds work as a fisherman, while Loo struggles to fit in at school and grows curious about her mother's mysterious death. Haunting them both are twelve scars Hawley carries on his body, from twelve bullets in his criminal past; a past that eventually spills over into his daughter's present, until together they must face a reckoning yet to come. This father-daughter epic weaves back and forth through time and across America, from Alaska to the Adirondacks.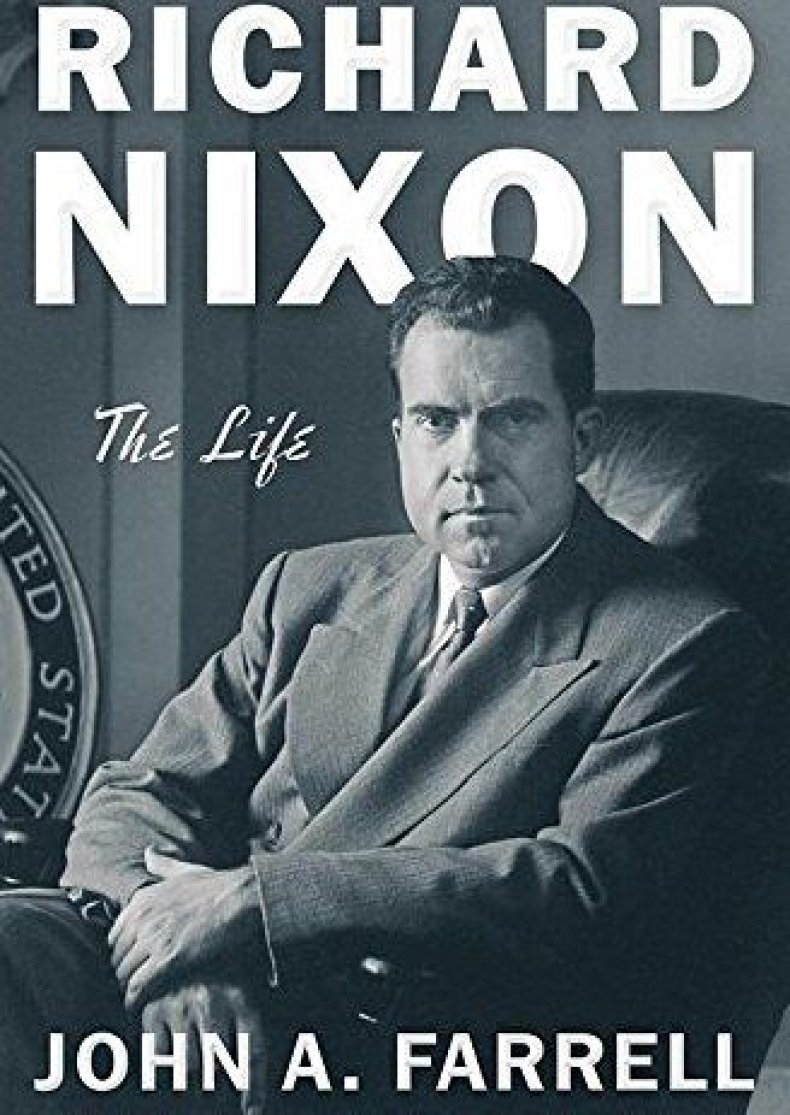 Richard Nixon: The Life by John A. Farrell
Doubleday, 752 pages
John Farrell has written what will unquestionably go down in history as the definitive biography of Richard Nixon, and it is impossible to put down. Whether you love or hate the former president, this is one hell of a read.
Where you've heard his name before: He worked for The Boston Globe and The Denver Post, and is the biographer for Tip O'Neill and Clarence Darrow.
Goodreads synopsis: Richard Nixon opens with young Navy lieutenant "Nick" Nixon returning from the Pacific and setting his cap at Congress, an idealistic dreamer seeking to build a better world. Yet amid the turns of that now legendary 1946 campaign, Nixon's finer attributes quickly gave way to unapologetic ruthlessness. It is a stunning overture to John A. Farrell's magisterial portrait of a man who embodied postwar American cynicism. Within four years of that first win, Nixon would be a U.S. senator; in six the vice president of the United States of America. "Few came so far, so fast, and so alone," Farrell writes. Finally president, Nixon and his staff of bright young men devised forward-thinking reforms addressing health care, poverty, civil rights, and protection of the environment. It was a fine legacy, but Nixon cared little for it. He aspired to make his mark on the world stage instead, and his 1972 opening to China was the first great crack in the Cold War. Nixon had another legacy, too: an America divided and polarized. It was Nixon who launched the McCarthy era, who set South against North, and who spurred the Silent Majority to despise and distrust the country's elites. He persuaded Americans to gnaw, as he did, on grievances—and to look at one another as enemies. Finally, in August 1974, after two years of the mesmerizing intrigue and scandal known as Watergate, Nixon became the only president to resign in disgrace.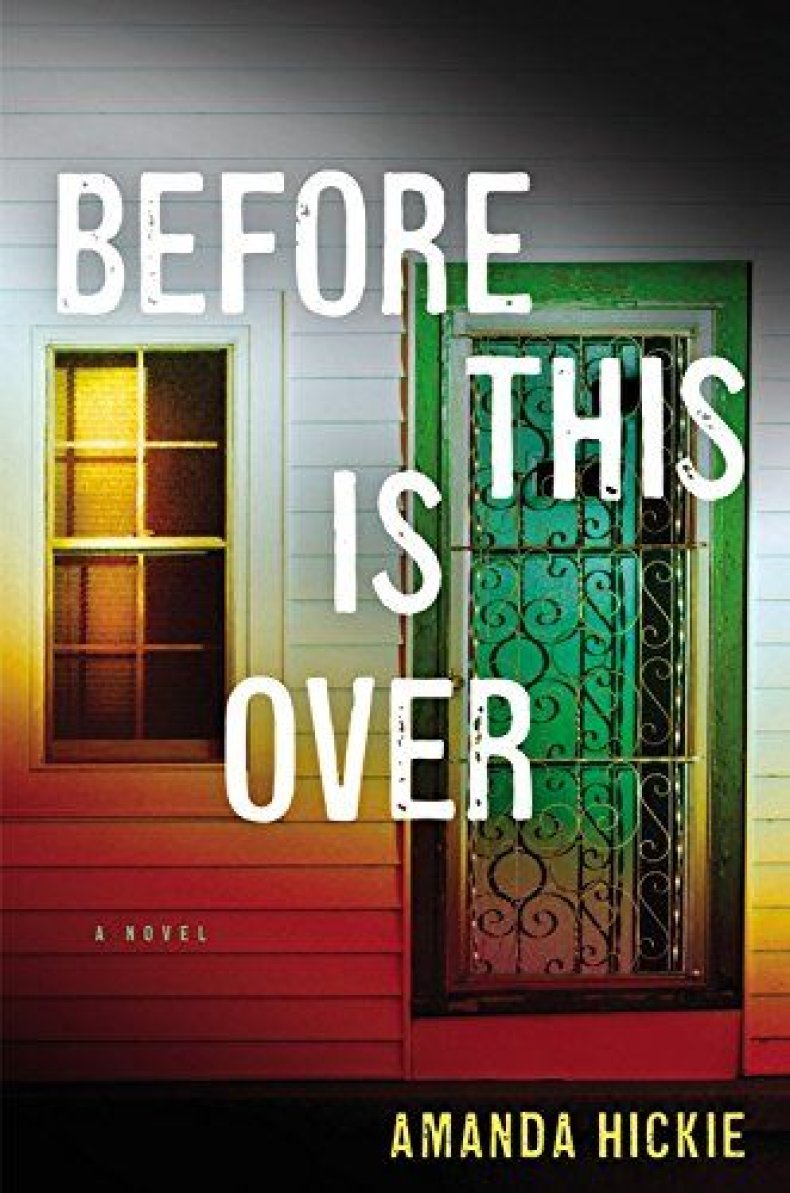 Before This is Over by Amanda Hickie
Little, Brown and Company, 400 pages
There are many books about what happens once the world falls apart—but there are far fewer that focus on the questions of morality and ethics that are raised when it all goes down. Inspired by the 2003 SARS epidemic, Amanda Hickie's debut novel is a gripping look at the way humanity handles crisis.
Where you've heard her name before: This is her first novel.
Goodreads synopsis: There is a deadly virus spreading around the world. At first it is a distant alarm bell in the background of Hannah's comfortable suburban life. Then suddenly, it has arrived on the doorstep. The virus traps Hannah, her husband, and their young sons in their city, then their neighborhood, and finally their own home. As a formerly idyllic backyard and quiet street become battlefields, fear and compassion collide. But what happens when their water supply is cut, and then the power, and the food supply dwindles?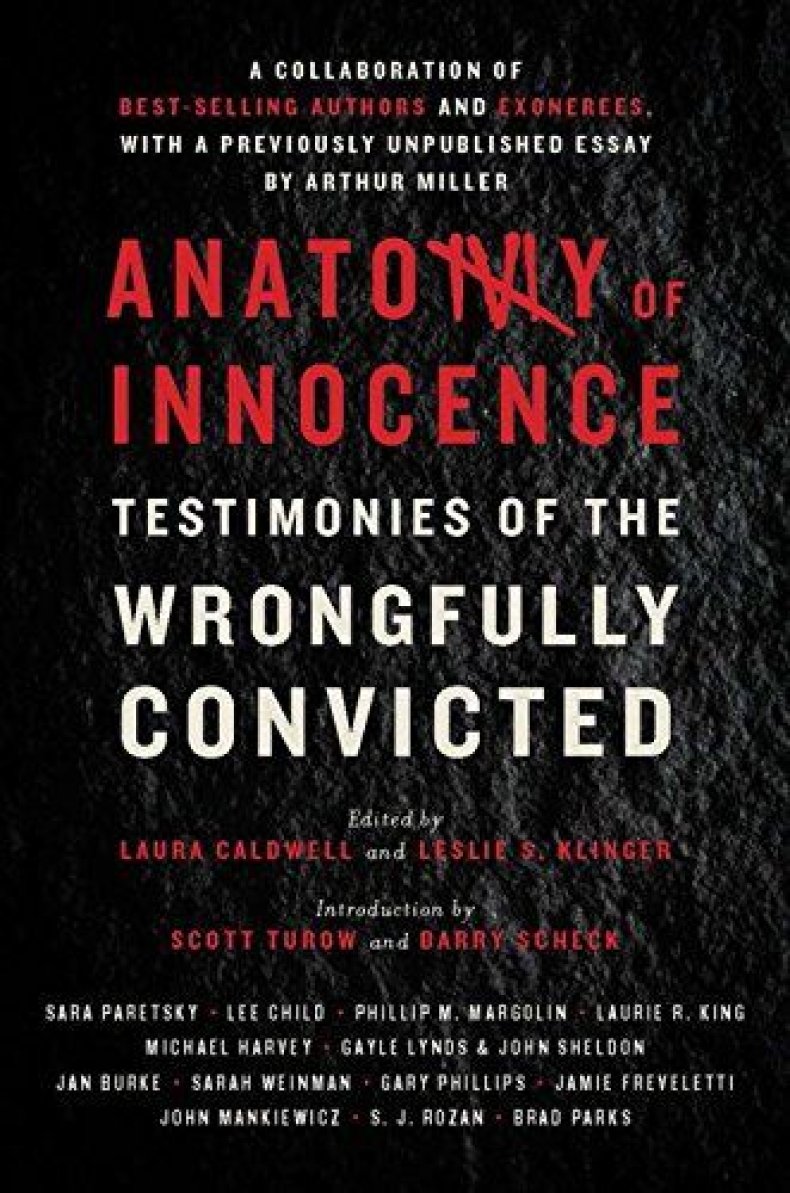 Anatomy of Innocence: Testimonies of the Wrongfully Convicted Edited by Laurie Caldwell and Leslie S. Klinger
Liveright, 304 pages
A collection of 14 true stories, depicted by masters of the crime and thriller genre, that highlight the often fatal flaws of our criminal justice system. All of the stories are testimonials from people who have been exonerated after conviction, and every single one of them will leave you stunned.
Featured talent: Jan Burke, Laura Caldwell, Lee Child, Jamie Freveletti, Michael Harvey, Laurie R. King, Gayle Lands, John Sheldon, John Mankiewicz, Phillip Margolin, Arthur Miller, Sara Paretsky, Brad Parks, Gary Phillips, S.J .Rozan, Barry Scheck, Scott Turow, Sarah Weinman.
Goodreads synopsis: Wrongful convictions, long regarded as statistical anomalies in an otherwise sound justice system, now appear with frightening regularity. But few people understand just how or why they happen and, more important, the immeasurable consequences that often haunt the lucky few who are acquitted, years after they are proven innocent. Now, in this groundbreaking anthology, fourteen exonerated inmates narrate their stories to a roster of high-profile mystery and thriller writers—including Lee Child, Sara Paretsky, Laurie R. King, Jan Burke and S. J. Rozan—while another exoneree's case is explored in a previously unpublished essay by legendary playwright Arthur Miller. An astonishing and unique collaboration, these testimonies bear witness to the incredible stories of innocent men and women who were convicted of serious crimes and cast into the maw of a vast and deeply flawed American criminal justice system before eventually, and miraculously, being exonerated. Introduced by best-selling authors Scott Turow and Barry Scheck, these master storytellers capture the tragedy of wrongful convictions as never before and challenge readers to confront the limitations and harsh realities of the American criminal justice system. Lee Child tells of Kirk Bloodsworth, who obsessively read about the burgeoning field of DNA testing, cautiously hoping that it held the key to his acquittal—until he eventually became the first person to be exonerated from death row based on DNA evidence. Judge John Sheldon and author Gayle Lynds team up to share Audrey Edmunds's experience raising her children long distance from her prison cell. And exoneree Gloria Killian recounts to S. J. Rozan her journey from that fateful "knock on the door" and the initial shock of accusation to the scars she carries today. Together, the powerful stories collected within the Anatomy of Innocence detail every aspect of the experience of wrongful conviction, as well as the remarkable depths of endurance sustained by each exoneree who never lost hope.
The Women in the Castle by Jessica Shattuck
William Morrow, 368 pages
If you love historical fiction, this is your must-read Spring book: It's captivating, fascinating, and incredibly faithful to the events as they happened, and Jessica Shattuck reveals an entirely new side of what it's like to be a woman in wartime.
Where you've heard her name before: Her work has appeared in many publications, and she's the author of The Hazards of Good Breeding.
Goodreads synopsis: Amid the ashes of Nazi Germany's defeat, Marianne von Lingenfels returns to the once grand castle of her husband's ancestors, an imposing stone fortress now fallen into ruin following years of war. The widow of a resistor murdered in the failed July, 20, 1944, plot to assassinate Adolf Hitler, Marianne plans to uphold the promise she made to her husband's brave conspirators: to find and protect their wives, her fellow resistance widows. First, Marianne rescues six-year-old Martin, the son of her dearest childhood friend, from a Nazi reeducation home. Together, they make their way across the smoldering wreckage of their homeland to Berlin, where Martin's mother, the beautiful and naïve Benita, has fallen into the hands of occupying Red Army soldiers. Then she locates Ania, another resistor's wife, and her two boys, now refugees languishing in one of the many camps that house the millions displaced by the war. As Marianne assembles this makeshift family from the ruins of her husband's resistance movement, she is certain their shared pain and circumstances will hold them together. But she quickly discovers that the black-and-white, highly principled world of her privileged past has become infinitely more complicated, filled with secrets and dark passions that threaten to tear them apart. Eventually, all three women must come to terms with the choices that have defined their lives before, during, and after the war—each with their own unique share of challenges.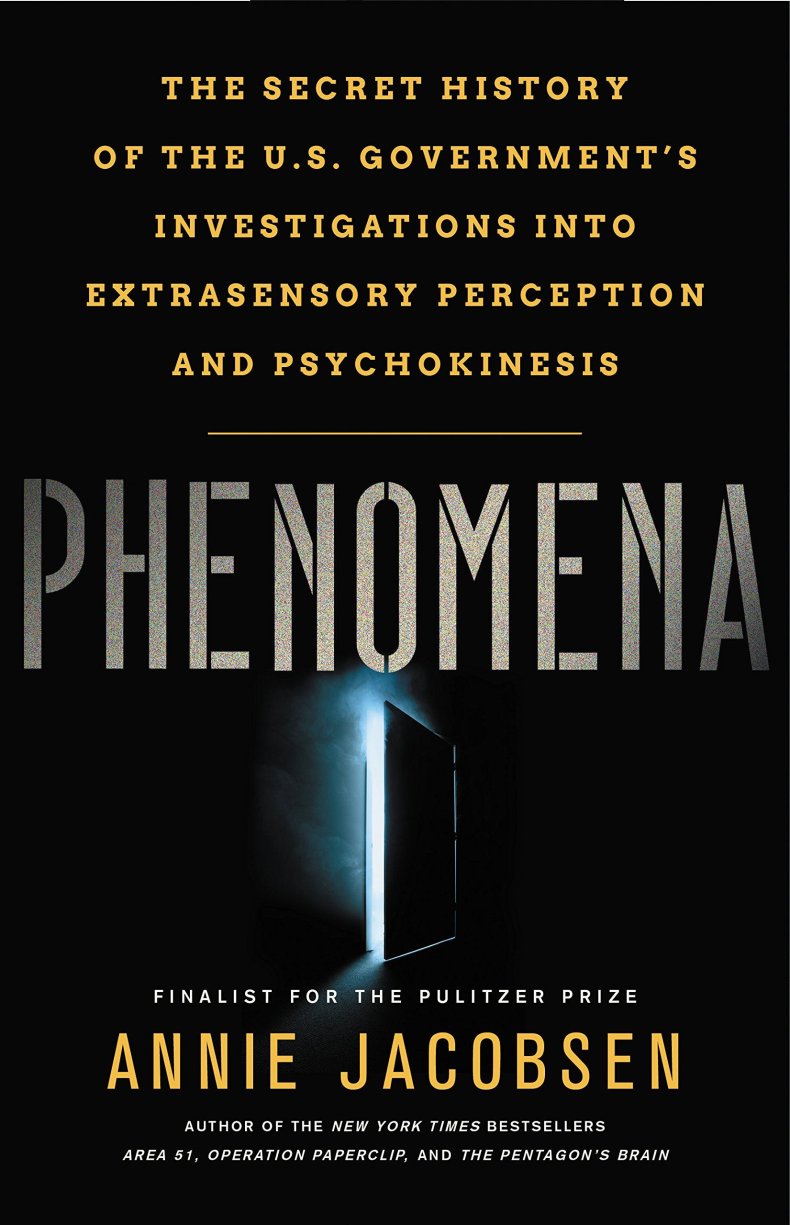 Phenomena: The Secret History of the U.S. Government's Investigations into Extrasensory Perception and Psychokinesis by Annie Jacobsen
Little, Brown and Company, 544 pages
Every single one of us has, at one time or another, considered that the government may be hiding something about the things it can't explain. Here, Annie Jacobsen brings it all front and center in a way that only someone as well-spoken, well-read and interesting as she is can: and, boy, is it fascinating.
Where you've heard her name before: She's a Pulitzer Prize finalist, journalist and the author of Area 51, Operation Paperclip, and The Pentagon's Brain.
Goodreads synopsis: For more than forty years, the U.S. government has researched extrasensory perception, using it in attempts to locate hostages, fugitives, secret bases, and downed fighter jets, to divine other nations' secrets, and even to predict future threats to national security. The intelligence agencies and military services involved include CIA, DIA, NSA, DEA, the Navy, Air Force, and Army—and even the Joint Chiefs of Staff. Now, for the first time, New York Times bestselling author Annie Jacobsen tells the story of these radical, controversial programs, using never before seen declassified documents as well as exclusive interviews with, and unprecedented access to, more than fifty of the individuals involved. Speaking on the record, many for the first time, are former CIA and Defense Department scientists, analysts, and program managers, as well as the government psychics themselves. Who did the U.S. government hire for these top secret programs, and how do they explain their military and intelligence work? How do scientists approach such enigmatic subject matter? What interested the government in these supposed powers and does the research continue? Phenomena is a riveting investigation into how far governments will go in the name of national security.