Best New Music: 13 Albums to Listen to in September, From Gucci Mane to LCD Soundsystem And More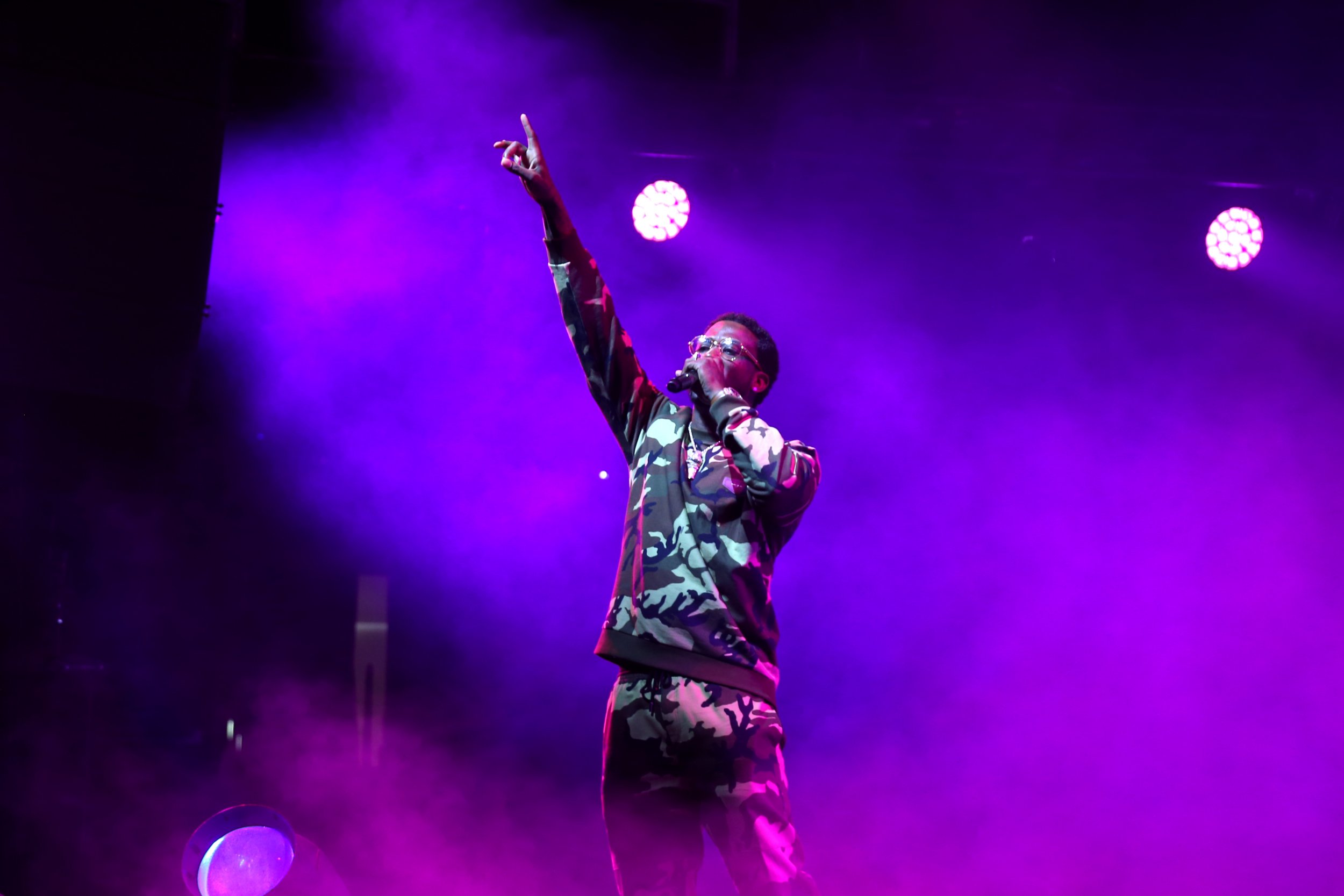 Summer is over, but music is not. In fact, September is shaping up to be an extraordinarily eventful month for new music. There will be new releases from classic rock veterans (Neil Young, the late Gregg Allman) and pop stars (Miley Cyrus) alike, as well as another string of comeback LPs from long-absent indie acts (The National, LCD Soundsystem).
Here's our non-exhaustive guide to albums worth paying attention to this month.
LCD Soundsystem, American Dream
Release date: September 1
Label: DFA/Columbia
Will LCD Soundsystem's first album in seven years live up to the band's outsized reputation and basically flawless discography? Will the return of dance-punk have everyone partying like it's 2005? Will James Murphy reveal that he's been Stephen Bannon in disguise this entire time? Will pissed LCD fans who shelled out big money for the band's "last ever" show finally forgive and forget? Will James Murphy forgive us for saying mean things about his album cover? Will "All My Friends" ever get old? Life is full of uncertainty. Stay tuned. —Zach Schonfeld
Related: Why are LCD Soundsystem fans mad at LCD Soundsystem for reuniting? Explained
Madeline Kenney, Night Night at the First Landing
Release date: September 1
Label: Company Records
Madeline Kenney is well embedded in the music scene of Oakland, California, where she teaches voice and piano and runs a small label. Her debut album, Night Night at the First Landing, is a fuzzy, self-assured gem that reveals her knack for building beguiling songs around haunting vocal loops. Check out "This Way // You're Happy," which is sheer hallucinatory bliss, or "Give Up // On Anything." The record was produced by Chaz Bear of Toro Y Moi fame. —Zach Schonfeld
Deerhoof, Mountain Moves
Release date: September 8
Label: Joyful Noise
Every Deerhoof album is a minor miracle—a symbol of survival, creative restlessness and straight-up joyous racket. The prolific noise rock/experimental/whatever group returns this month with Mountain Moves, an eclectic, guest-studded record that was inspired in part by the surreal experience of opening for Red Hot Chili Peppers. The band's recent interest in politically charged cover songs continues: Mountain Moves contains renditions of tracks by Bob Marley ("Small Axe") and the Staple Singers ("Freedom Highway"). —Zach Schonfeld
The National, Sleep Well Beast
Release date: September 8
Label: 4AD
For some reason, 2017 is the year every erstwhile indie-rock darling band of the mid–late 2000s stages a comeback in a profoundly different world. We've already gotten new albums from Grizzly Bear and Arcade Fire this summer; now these moody bastards of Ohio are coming back to reclaim what's theirs. On Sleep Well Beast, the usual National ingredients are in place—cryptic imagery, brooding baritone, all-consuming melancholy—accompanied by an increasing interest in electronic rhythms and textures. The lyrics are weighty. According to lead singer Matt Berninger, "it's about marriages falling apart." Fun! —Zach Schonfeld
Neil Young, Hitchhiker
Release date: September 8
Label: Reprise
Neil Young has been known to rush out albums very fast. Hitchhiker is an exception. In fact, this one took 41 years to get released. Hitchhiker is Young's "lost" acoustic album, and it's so old it dates back to the Gerald Ford administration. The songs were recorded in a single summer night during the summer of 1976—a remarkably fruitful time for the songwriter. ("He'd turn to me and go, 'Guess I'll turn on the tap'—and then out came 'Powderfinger,' 'Pocahontas,' 'Out of the Blue,' 'Ride My Llama,'" David Briggs once remarked of Young's songwriting regimen at the time.) You know it's good because the recording features future classics like "Powderfinger" (which would appear on 1979's Rust Never Sleeps), "Human Highway" (Comes a Time) and "Pocahontas" (Rust Never Sleeps). —Zach Schonfeld
Angus & Julia Stone, Snow
Release date: September 15
Label: Nettwerk Records
The first time I heard the Australian brother-and-sister duo Angus & Julia Stone was in 2010, shortly after the release of their chart-topping single "Big Jet Plane." The cool and easy melody laced with simple lyrics over a breezy beat, which appeared on their Down the Way album, instantly captured my heart and transported me to a place far away from the cold little Michigan town I was in at the time. Although it's been more than three years since the indie-pop group has put out any new music, their latest release "Chateau"—the first single from this upcoming album—has managed to have the same effect, giving way to the inclination that Snow will be a sweet escape from whatever ghastly reality we're facing here in America. —Janice Williams
Gucci Mane, Mr. Davis
Release date: September 15
Label: Guwop Enterprises/Atlantic
Is there really a better example of the phrase "from rags to riches" than the story of Gucci Mane? After growing up in the slums of Atlanta and spending years of his life behind bars, the rapper has still managed to come out on top. With the upcoming release of his 11th album—his third studio album since being released from prison a year ago—Gucci is proving exactly why the top is where he'll remain. He'll get some help from a few superstar friends like Migos, Nicki Minaj, Chris Brown, A$AP Rocky, Monic, Ty Dolla $ign and others on the17-track album. Although if you know anything about the trap music maker, then you know he really doesn't need it. —Janice Williams
Lights, Skin & Earth
Release date: September 22
Label: Warner Bros. Records
"What do you do when a man don't love you?" It's the question Lights asks on her third single "Savage," from her newest studio project. At a time when the boys-only club is making it clearer than ever that they're still the ones in charge, Lights' valid question is one that could use some answers. However, you shouldn't expect the Canadian singer's whole album to be muddled in poppy ballads of love lost, but rather a complex sense of perseverance. Just as that song draws attention to the wretched savagery that comes along with playing the game of hearts, other tracks featured on the new album ("Giants," "Skydiving") still manage to lift spirits and give listeners a splash of hope for something better. —Janice Williams
The Clientele, Music for the Age of Miracles
Release date: September 22
Label: Merge
British dreampop veterans The Clientele are back from a seven-year hiatus with a new album inspired by a chance meeting between frontman Alasdair MacLean and old collaborator Anthony Harmer. A few jam sessions led to some composition, which led to MacLean getting the band back together for a new full-length, the group's first since 2010's mini-LP Minotaur. Judging by already-released tracks like "Lunar Days" and "Everyone You Meet," Music for the Age of Miracles picks up right where the band left off, with a combination of dulcet melodies and airy vocals that function as an anxiety anesthetic about as well as anything your doctor could prescribe. —Ryan Bort
Moses Sumney, Aromanticism
Release date: September 22
Label: Jagjaguwar
"Ethereal" is a word that is overused in music criticism, but it's hard to avoid it when talking about Moses Sumney. A quick Google search of "Moses Sumney ethereal" will reveal that the Los Angeles Times, Pitchfork, The Fader and an untold number of blogs have used the descriptor to characterize the Los Angeles-based singer-songwriter's dynamic falsetto and meandering, dreamlike melodies. On his much-anticipated debut album—due out this month on Jagjaguwar—Sumney's delicate songs do indeed invoke a kind of lambent cosmic bliss, that, to use a phrase that can be found in the definition for the aforementioned SAT word, "seems too perfect for this world." —Ryan Bort
Miley Cyrus, Miley Cyrus
Release date: September 29
Label: RCA Records
Miley Cyrus is all grown up. She's in love. She's happy and healthy. She's letting her new lifestyle fuel her forward, and she's showing it in her music. It's a beautiful thing. Stepping far away from the hip hop songs we heard on her last album, the new Miley is tapping into her country and pop roots, letting her powerful vocals rip and shedding light on the growing pains that come with becoming an adult on already released singles like "Malibu" and "Younger Now," both of which are soaring on the charts. Clearly we're not the only ones really into this new and improved Miley. —Janice Williams
TORRES, Three Futures
Release date: September 29
Label: 4AD
No, TORRES didn't clone the rapper Future and get three of the rapper's clones to perform on the new album Three Futures. (Although that would be pretty neat.) But Three Futures does entail a stark reinvention for songwriter Mackenzie Scott, who has already built a compelling body of work with her 2013 self-titled album and 2015's immense Sprinter. This new album is preceded by the intense, industrial-tinged single "Skim" and, according to Scott, is "entirely about using the body that each of us has been given as a mechanism of joy." —Zach Schonfeld
Protomartyr, Relatives in Descent
Release date: September 29
Label: Domino
The beauty of Protomartyr is that they are able to bludgeon your face off but leave your brain in tact to ponder questions not usually addressed by bands that bring so much noise. Following in the footsteps of their Detroit hard rock forebearers MC5, the band is taking a decidedly political angle into their fourth album. "I used to think that truth was something that existed, that there were certain shared truths, like beauty," frontman Joe Casey explained in a press release. "Now that's being eroded. People have never been more skeptical, and there's no shared reality. Maybe there never was." —Ryan Bort