The 4 Best NFL Week-1 Celebrations Almost Made Us Forget The League Is Terrible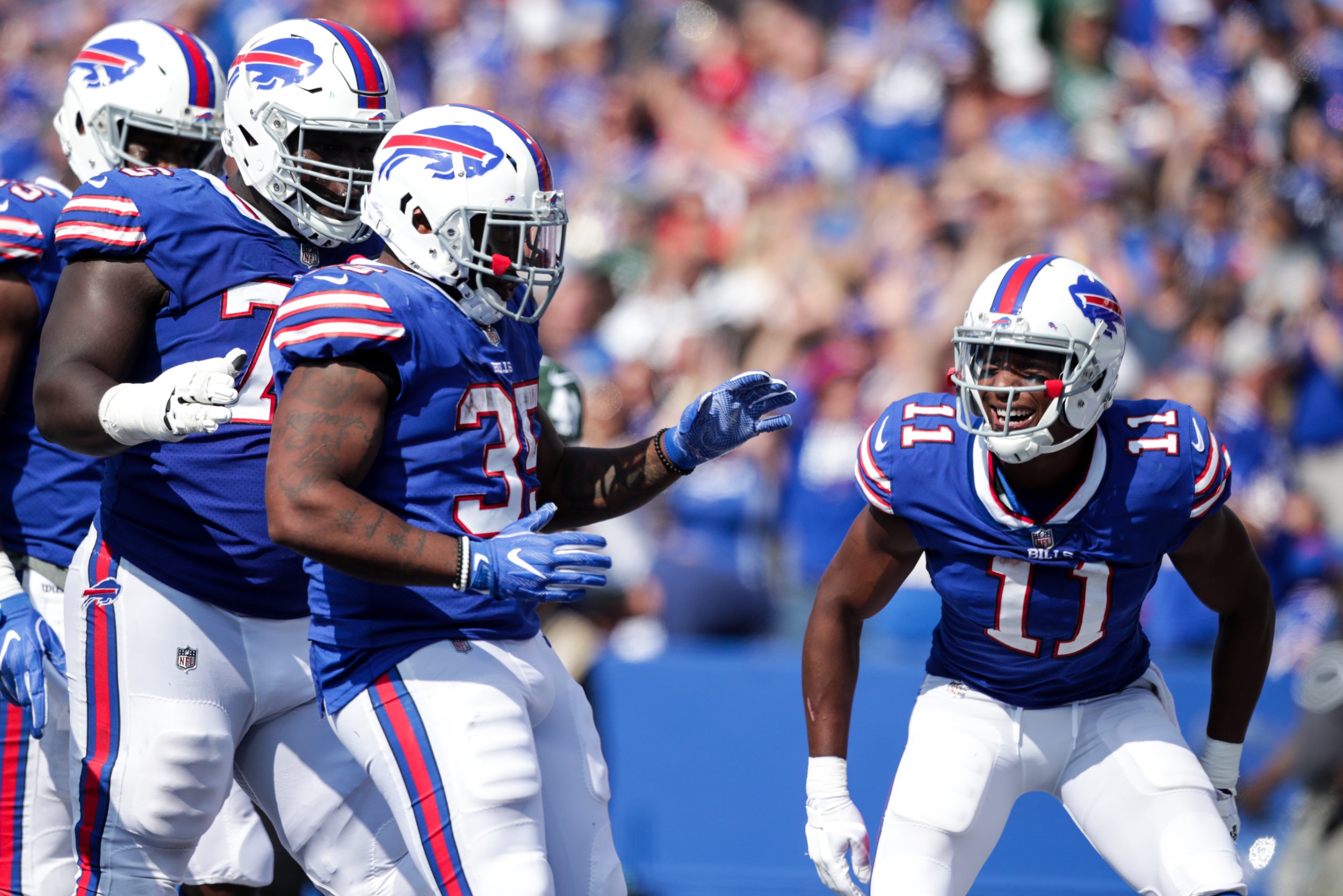 The NFL returned in earnest this weekend, and this cabal of 32 billionaires wants you to know that pro football is fun.
Players can dance again! They can celebrate! The NFL finally realized that its "no-celebration" policy made no sense—and only reinforced the NFL's rep as the "No Fun League"—so the Footloose-esque rules are gone.
Well, some of them. Antonio Brown still isn't allowed to twerk in the end zone, because that would be sexually suggestive (and might distract from all the sexually suggestive beer commercials that pay everyone's salary), and players still can't legally dunk a football over the goalpost to celebrate a touchdown (why, we don't know).
To make sure everyone follows the new rules—because how can anyone have fun without a strict set of bylaws governing said fun?—the NFL put out a video about appropriate celebrations.
Thankfully, a few players found a way to follow the rules, have fun and make us forget for a few seconds how absolutely despicable the NFL can be. Here are my favorites through Week 1.
1. Marvin Jones Jumping Rope
I got a chuckle—and a teaspoon of elementary-school nostalgia—when Detroit Lions wide receiver Marvin Jones hopped some faux double Dutch through a phantom jump rope in the end zone this preseason. It was childlike and pure and joyful, qualities that often go missing in a league so utterly focused on doing its job, nothing more, nothing less. This celebration was a moment of actual fun—not "this Segment of Fun presented by our proud sponsor, Pepsi."
For a second, I almost—almost—forgot that the NFL for years suppressed the gory dangers of concussions and the degenerative brain disease CTE, a condition that led many of our favorite players to early graves.
2. Demetrius Harris's Shimmy
Kansas City Chiefs tight end Demetrius Harris found a loophole in the system that bans basketball-style celebrations. After catching a touchdown, he pulled the ball to his chest as if preparing to let loose a jump shot, did a shoulder shimmy (à la Kevin Durant in the NBA), then sunk a free throw through his teammate's hooped arms.
It almost made me forget that being an NFL fan is a moral struggle. Harris's shimmies shook loose my reservations, which is tough to do anymore. Nearly everything purchased in America connects back to a faceless, massive corporation of some sort—and if it doesn't, they're coming for ya—but you'd hope the fun part of football would be a few layers closer to the surface.
3. Kizer's Heel Click
Cleveland rookie DeShone Kizer plunged his way into the end zone, scoring a touchdown for the Browns—a rare occurrence for the perennial cellar dwellers, and certainly worthy of a celebration of its own. To mark the occasion, Kizer dusted off a move he made famous in college: a leaping heel-click. It was an understated but appropriately lighthearted and composed little dance for a guy playing in his first NFL game.
And hey, it almost allowed me to forget the league has, at every turn, bungled nearly every investigation, disciplinary matter or chance to prove the NFL as an entity equipped with a moral compass. Commissioner Roger Goodell has his self-imposed $25 billion revenue goal for 2027, so most of the league's decisions make sense if you keep that in mind—as in, sure, Thursday Night Football endangers players by giving them two fewer days of rest, but the league can sell those TV rights for $450 million a year. Goodell the Profiteer is also Goodell the Judge, Jury and Executioner. Last year, he nearly took the league's most prominent star, Tom Brady, all the way to the Supreme Court over deflated footballs in an effort to prove his power to punish players was as absolute as his decisions were arbitrary. Imagine a league so averse to the individual that it's willing to publicly drag its most important player to hold onto power, even after the player was largely cleared by independent investigators.
4. Taco's Meal Prep
OK, I'm cheating here. This wasn't Week 1, but holy hell was it amazing when Cowboys rookie Taco Charlton prepared invisible tacos for his teammates after sacking a quarterback in the preseason. His nickname was his celebration. In the very same league that's utterly averse to the individual, he was literally celebrating himself. I mean, if you don't see the beauty in that, you're a humorless monster.
It was fun, funny and self-aware, and, as such, almost let me forget all the things the league has quelled through its effort to "protect the shield" (a long-held motto referring to a logo that, hilariously, is also merchandised). It added a bit of joyousness that punctured the force-field created when billionaires turned a game into a business.
Taken as a whole, the return of celebrations is something to itself celebrate. Seeing the players having fun is almost enough to make us all forget that football, at its core, is a game of violence. Almost.
Update: This post was updated to reflect that Jones's celebration took place in the preseason.