'Best Park Bench Memorial' – Sweary Tribute to Local Man Delights Internet
An expletive-laden park bench plaque seemingly paying tribute to a local man with a distinctive hobby has gone viral on Twitter.
Social media is no stranger to distinctive send-offs, with notable recent efforts including one brother's emotional tribute to his "special sister" and an obituary written in the style of a CV.
Now a public memorial in Aberystwyth, Wales, has been thrown into focus after local man Dr. James Vaughan stumbled across it and decided to post a picture of the plaque to social media.
Public memorials play an important part in helping loved ones maintain bonds with individuals who have died. According to Nancy Berns, professor of sociology at Drake University, it's common for people to develop continuing bonds with deceased friends or family members.
"Often people want to keep a deceased loved one's memory in their lives," she told The Conversation. "A person establishes private bonds with the deceased, through internal conversations, private rituals, or holding on to symbolic objects."
Park bench memorials are a prime example of this phenomenon, offering those left behind a symbolic place to remember, and on some level, converse with the dearly departed.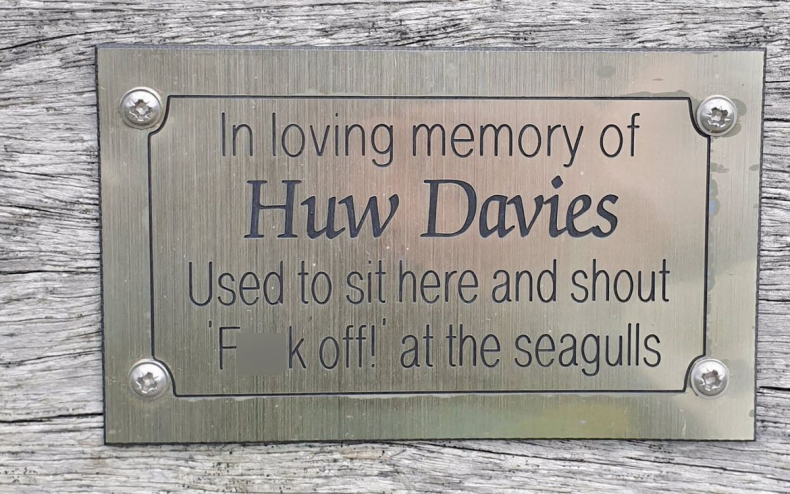 For some, these memorials can take the form of a private joke that holds a special significance for a chosen few. That certainly appears to be the case for Huw Davies, the man honored on a bench located on the grounds of Aberystwyth Castle, overlooking the town's South Beach.
As Vaughan's tweet suggests, Davies was evidently quite a character. According to the photo, the memorial plaque on the bench reads: "In loving memory of Huw Davies / Used to sit here and shout / 'F*** off!' at the seagulls."
"By some distance the best park bench memorial I've ever encountered," Vaughan wrote alongside the picture.
Vaughan, who is a Lecturer in International History at Aberystwyth University, told Newsweek: "I was having a Sunday morning family stroll in the castle grounds when my wife Rachel spotted the plaque.
"We both thought it was pretty funny and I took a picture and posted it on Twitter later that day. I took an afternoon nap and by the time I woke up my Twitter mentions were melting down."
He added: "I have no idea who Huw Davies might be, or even if he's a real person at all. It's possible someone might have put it there as an act of guerrilla humor."
People on Twitter were inclined to agree, with Vaughan's tweet earning over 18,000 retweets and over 180,000 likes.
Commenting on the picture, one Twitter user, posting as Cynical Archivist, said: "I must admit this Huw Davies sounds an amusing character. If this Park bench memorial helps people remember him well then so be it."
Stigma Later was similarly impressed, writing: "This is the kind of legacy I hope to leave behind too," with Becky Coburn adding: "Huw seems like a person I'd have liked to have met".
Chosenfamilythe commented: "I bet every day someone looks at it and smiles, if not, laughs. May we all achieve that level of legendary," while SarkyOptimist said: "That has properly made us laugh Huw Davies was a man after our own hearts."
Others shared similar hilarious plaques from benches across the U.K. and beyond.
There was this wry effort from New Zealand:
This amusing in-joke came from a bereft family.
This enjoyably grumpy effort was popular.
And then there was this matter-of-fact effort.
Last, but definitely not least, came this James Bond-inspired tribute.
But while Davies' plaque may have spread joy online, it looks like it could be short-lived.
According to the Cambrian News the plaque has now been removed by council workers.
A spokesperson for Ceredigion County Council told the news outlet: "An unauthorized plaque had been placed, by an unknown person, on an existing bench within Aberystwyth Castle grounds. The plaque has been removed."
Newsweek has contacted Ceredigion County Council for comment.
Reacting to the news of the plaque's removal, Vaughan said: "I guess I can understand why the council took it down given the frankness of the language, but personally I still think it's a pity. I reckon the vast majority of the people would have seen it and had a bit of a laugh and a smile."
He added: "Given the amazing popularity of the thing on Twitter, I reckon the council might have deprived themselves of a pretty decent tourist attraction. I do wish one birdwatching pedant would stop messaging me on Twitter to tell me there's no such thing as 'seagulls' though."
Update 5/18/22, 11:03 p.m. ET: This article was updated with a photo of the memorial and comment from James Vaughan.