Pictures of the Year: Part 2 (July to December 2018)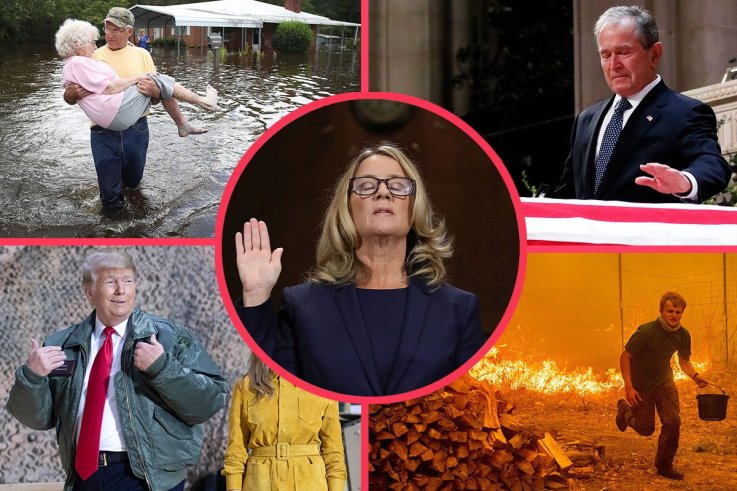 After counting down the defining photos from the first half of 2018, we now look at the images that defined the year from July onwards.
In July, the world was captivated by the saga of the young soccer team trapped in a submerged cave in northern Thailand. The daring rescue mission encompassed weeks of international effort—even Elon Musk weighed in—and ended with all 12 children and their teacher emerging unharmed from the cave.
The Trump family continued to provide awkward photo ops into the second half of the year. When the president met with Queen Elizabeth II, he was accused of breaking protocol by walking in front of the monarch, as well as leaving her waiting for their tea appointment.
Read more: Pictures of the Year: Part 1 (January to June 2018)
As soon as Brett Kavanaugh began his confirmation process as Supreme Court judge in September, women's rights activists were on hand to display their anger at an alleged rapist securing a lifelong position on the top legal bench in the country. The following hearing, in which Christine Blasey Ford recounted the alleged assault, reignited the national debate around consent and privilege.
Meanwhile, the under-reported Yemeni civil war raged on. The heartbreaking photos which emerged of malnourished children drew international attention. The conflict, which has killed over 10,000 people over a four-year period, continues.
In October, immigration policy once again became an issue as a caravan of migrants made their way to the U.S.-Mexico border. The migrants, who mainly came from Honduras, were referred to by Trump in the lead-up in the midterm elections as "an invasion," although it is a legal right to seek asylum at the border.
Wildfires simmered across California for much of the year, coming to a head in November with the Camp Fire, the deadliest and most destructive wildfire in the state's history. More than 80 people were killed as it ripped through entire towns, leaving billions of dollars worth of damage in its wake.
Read more: Pictures of the Year: Part 1 (January to June 2018)
As 2018 draws to a close, we take a look back at the images that defined the second half of the year.