Pictures of the Year: Part 1 (January to June 2018)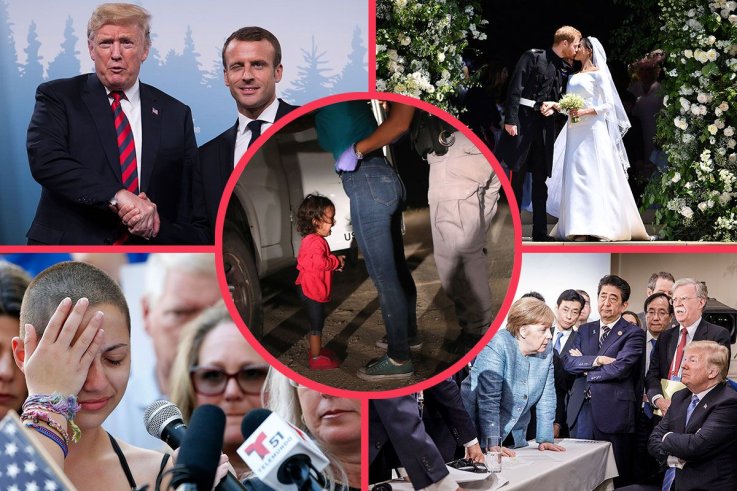 Bomb cyclones, earthquakes, mass demonstrations and even awkward handshakes—the first half of 2018 may seem like a century ago, but it birthed a number of moments which are still etched into our collective memory.
The year started off with the U.S. east coast battling heavy snow, freezing temperatures and road blockages to return to work after the Christmas period. The next month, Taiwan was rocked by a 6.4-magnitude earthquake that ripped through the northeast of the island nation, destroying buildings and killing more than a dozen people.
February also saw the tragic mass-shooting at the Marjory Stoneman Douglas High School in Parkland, Florida, which claimed the lives of 17 students and teachers. The shooting shocked the nation, and added an extra emotional charge to America's ongoing gun debate.
Read more: Pictures of the Year: Part 2 (July to December 2018)
The strength and maturity of the surviving students, some of whom went on to campaign for stricter gun control laws, provided a shred of hope among the tragedy. It was partly their bravery that inspired the following month's March for Our Lives Rally in Washington, D.C., the biggest call for gun control in a generation.
The ongoing conflict between Israel and Palestine escalated in May when Israeli forces opened fire on demonstrators in Gaza, killing sixty people, including a number of children, and injuring thousands. As the border violence reached a peak, the controversial new U.S. embassy opened in Jerusalem: "Big day for Israel. Congratulations!" wrote President Donald Trump on Twitter.
Volcanoes dominated the news at the end of May and beginning of June. First, Hawaii's Kilauea erupted, destroying the state's largest freshwater lake and belching streams of molten lava that burned up everything in their path en route to the ocean. The following month, the eruption of Fuego Volcano covered Guatemalan villages in thick ash and left almost 200 people dead.
Back in the U.S., the debate over immigration was at the forefront of the news agenda amid reports that the Immigration and Customs Enforcement Agency (ICE) was separating children from their parents at the U.S.-Mexico border. The heartbreaking image of a two-year-old Honduran girl crying at the feet of police went viral.
Less than two weeks later, first lady Melania Trump was snapped leaving Andrews Air Force Base in Maryland wearing a jacket emblazoned with the phrase, "I really don't care, do u?" en route to visiting a migrant child detention center. It remains unclear whether Melania was stating her own indifference, criticizing her husband, or if it was a classically tone-deaf faux pas from the Trump White House.
Read more: Pictures of the Year: Part 2 (July to December 2018)
We've selected some of the most defining images of the first half of 2018—six months where gun control, immigration, climate change and international affairs dominated the headlines.