'The White Man is Our Real Enemy:' Zimbabwe's Robert Mugabe in Quotes
Zimbabwe appears to be in the last days of Robert Mugabe.
The 93-year-old president was put under house arrest on Wednesday after the country's military took over the state broadcaster and arrested allies of Mugabe's wife, Grace, in the ruling ZANU-PF party.
While Mugabe is still president of Zimbabwe, the army is thought to be negotiating a peaceful transition of power—most likely to Mugabe's recently-fired deputy, Emmerson Mnangagwa.
Mugabe's exit from the stage would bring to an end his remarkable 37-year rule, which has seen him arc from a national hero and war veteran to an aged, authoritarian leader who has overseen an obliteration of a once healthy economy and deterioration in race relations.
Read more: How Robert Mugabe fell from a national hero to an economic tyrant in Zimbabwe
During his career, Mugabe has also built up a formidable bank of quotes, speeches and sayings that have wowed, distressed and often frankly perplexed his audiences.
Here are some of his most memorable quotes.
On white people
"Stay with us, please remain in this country and constitute a nation based on national unity."
Addressing white Rhodesians in January 1980, ahead of elections that would see him become prime minister and Rhodesia renamed Zimbabwe.
"Our party must continue to strike fear in the heart of the white man, our real enemy!...The white man is not indigenous to Africa. Africa is for Africans. Zimbabwe is for Zimbabweans."
At a ZANU-PF congress in Harare, December 2000.
On independence from Britain
"Let Blair and the British government take note and listen. Zimbabwe is for Zimbabweans. Our people are overjoyed. The land is ours. We are now the rulers and owners of Zimbabwe."
At a ZANU-PF congress in December 2003, following the introduction of controversial land reforms that saw black Zimbabweans seize land from white farmers.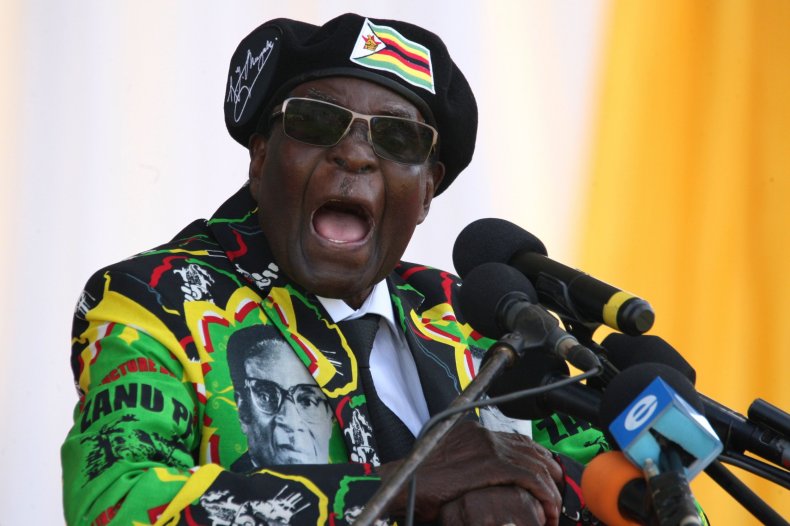 On Hitler
"I am still the Hitler of the time. This Hitler has only one objective, justice for his own people, sovereignty for his people, recognition of the independence of his people, and their right to their resources...If that is Hitler, then let me be a Hitler tenfold. Ten times, that is what we stand for."
At a funeral of one of his cabinet ministers in March 2003.
On homosexuality
"It degrades human dignity. It's unnatural, and there is no question ever of allowing these people to behave worse than dogs and pigs. If dogs and pigs do not do it, why must human beings? We have our own culture, and we must re-dedicate ourselves to our traditional values that make us human beings."
Speaking about homosexuality at Zimbabwe's independence celebrations in 1995.
On the United States
"Let Mr. Bush read history correctly. Let him realise that both personally and in his representative capacity as the current President of the United States, he stands for this "civilisation" which occupied, which colonised, which incarcerated, which killed. He has much to atone for and very little to lecture us on the Universal Declaration of Human Rights. His hands drip with innocent blood of many nationalities."
At the U.N. General Assembly in New York, 2007.
On the U.S.-led invasion of Iraq
"We are now being coerced to accept and believe that a new political-cum-religious doctrine has arisen, namely that there is but one political God, George W. Bush, and Tony Blair is his prophet."
At the U.N. General Assembly in New York, 2004.
On his health
"I have died many times—that's where I have beaten Christ. Christ died once and resurrected once."
Speaking to Zimbabwe state radio on his 88th birthday in February 2012, amid reports that he was suffering from cancer.
On retiring
"I will be there until God says come, but as long as I am alive I will head the country, forward ever, backwards never."
At an African Union conference in Ethiopia in January 2016.
On President Donald Trump
"When it comes to Donald Trump, on the one hand talking of American nationalism, well America for America, America for Americans—on that we agree. Zimbabwe for Zimbabweans."
Speaking to the Zimbabwe Broadcasting Corporation in February 2017, following Trump's inauguration.
"Some of us were embarrassed if not frightened by what appeared to be the return of the biblical giant gold Goliath. Are we having a return of Goliath to our midst who threatens the extinction of other countries?"
At the U.N. General Assembly in September 2017, after President Trump threatened to destroy North Korea.