7 Best Rooftop Bars in Berlin
Berlin is home to some fun and funky rooftop bars that will make you want to get high.
People don't come to Berlin to gawk at its skyline. But it's a good idea, especially because the German capital has some unique and cool rooftop bars where you can pretend you're at the beach while imbibing beer and cocktails above the city. Here are seven of Berlin's best rooftop bars.
View an interactive Google Maps list of the best rooftop bars in Berlin.
Want an up-close view of the TV Tower, aka Berliner Fernseturm, aka Deathstar on a Stick? Then head to this hotel rooftop where you can sip a Dark and Stormy or a Moscow Mule while gazing across the city rooftops. Drinks are a tad pricier than other places but someone's got to pay for that fine view. And that person is you.
August Strasse 43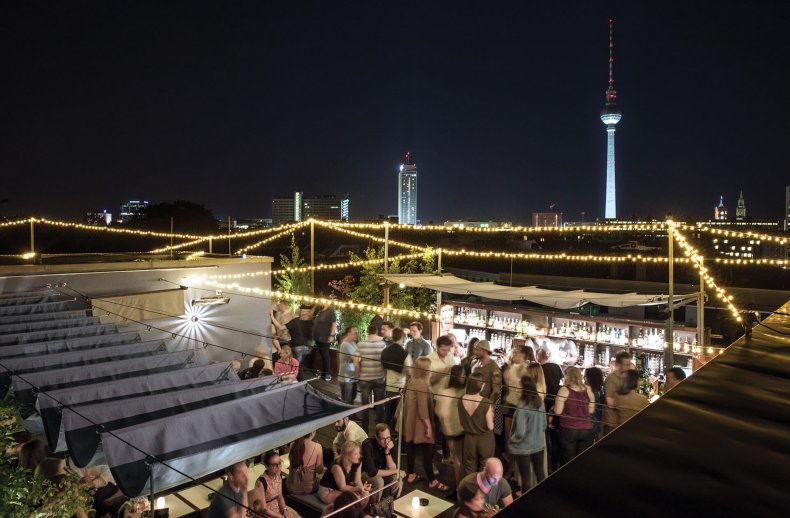 This rooftop bar has bragging rights to being the highest beach bar in Berlin. In the winter the sand is shoveled away and Deck5 is bedecked with Christmas ornaments as the rooftop then transforms into the highest Christmas market in Berlin. Whatever the season or the reason, this Prenzlauer Berg bar oozes with perpetual amusement and revelry.
Schönhauser Allee 79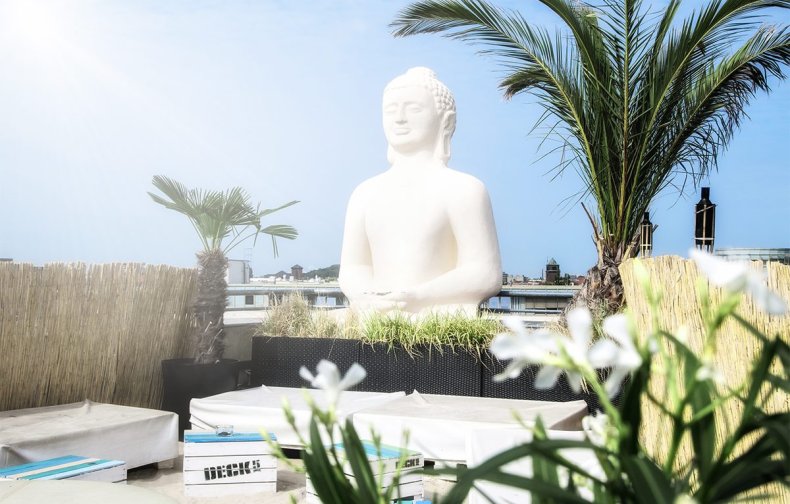 Eight floors up atop the Hotel Indigo, Gallery offers a picture-perfect view of the former East Berlin, including the longest existing stretch of the Berlin Wall and the Spree River. The cocktail menu is crammed with creative cocktails with even more creative names: the Mauerfall (the Wall Fall) is cranberries, ginger beer, and vodka and the Trabbi, named for the famously clunky East German Trabant "automobile," is gin, rum, Sprite, and various juices – hopefully, you won't fall apart after a few.
Mühlen Strasse 19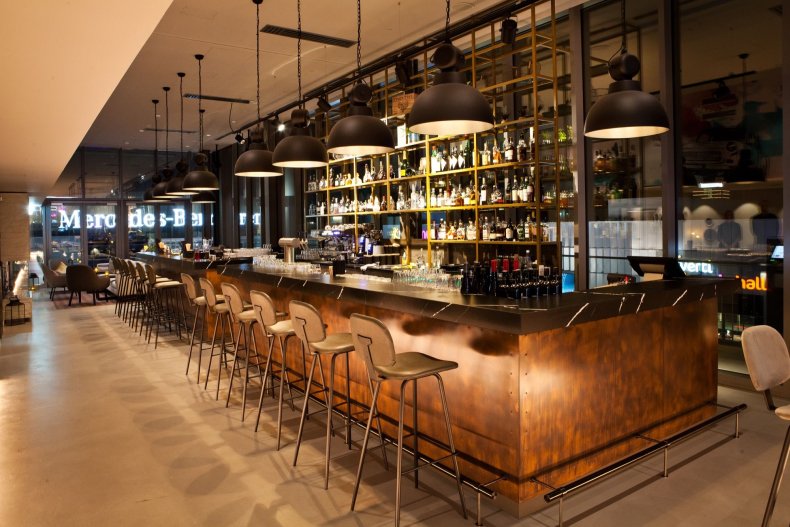 If you like some swank with your rooftop drinks, meet the rooftop terrace bar at Hotel de Rome. Drinks here aren't exactly a bargain unless you think sipping Champagne or a Negroni with stunning views of St. Hedwig's Cathedral and the opera house is worth the price of admission – and it probably is. Just be prepared to pay up some euros with your libation and view.
Behren Strasse 37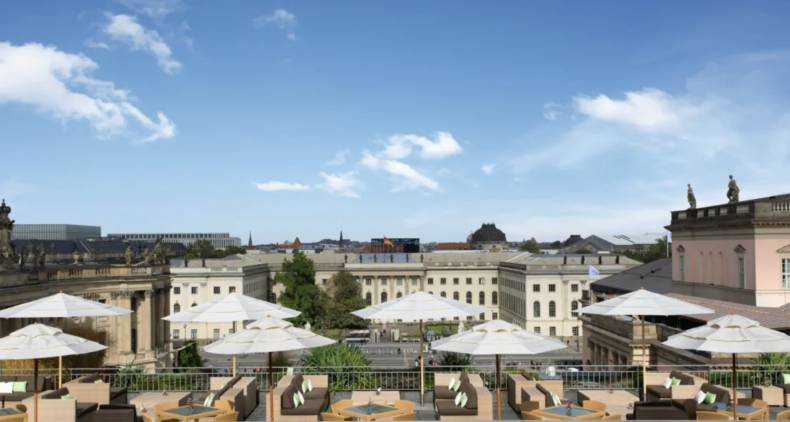 Want to get some clubbing in and have a jaw-dropping view while doing it? Head up to House of Weekend, a thumping techno club near Alexanderplatz, 17 floors up in the erstwhile Haus des Reisens, the infamous East Berlin state travel agency. The club is open from Thursday 'til Sunday morning.
Alexander Strasse 7
There's no sign and no way of actually finding it on your own unless you have a proclivity for aimless wandering. But follow a bearded hipster into an unmarked elevator where you'll ascend to the top of a parking garage. Walk up a ramp et voila! Welcome to Klunkerkranich, one of the hippest rooftop bars in Berlin. Settle in with a cool bottle of beer and watch the city below you bustle. On some nights, there is live music.
Karl-Marx-Strasse 66

Looking for a fashionable scene and a view of Berlin and a view of some monkeys? We thought so. Then Monkey Bar is the place for you. Set atop of the hip 25hours Hotel Bikini Berlin, Monkey Bar shakes up potent libations while guests point and gawk at the monkeys playing below in the zoo, which is right next door. When you're bored with the monkeys – and, really, why would you? – take in views of West Berlin.
Budapester Strasse 40