The Best 'SNL' Sketches From This Weekend: James Bond at the Craps Table, Elizabeth Warren's Cameo and More
Daniel Craig suited up for Saturday Night Live over the weekend, returning as host for the first time in eight years. The actor known around the world as "Bond, James Bond" of course spoofed his signature character—even though the next Bond flick, No Time to Die, recently had its release date pushed back from April to November because of concerns related to the coronavirus.
Despite the last-minute scheduling change for No Time to Die, Craig seemed pretty game for whatever the SNL cast and writing staff cooked up for him. Check out the best sketches from 007's visit to Studio 8H—including a special cameo from Senator Elizabeth Warren—below.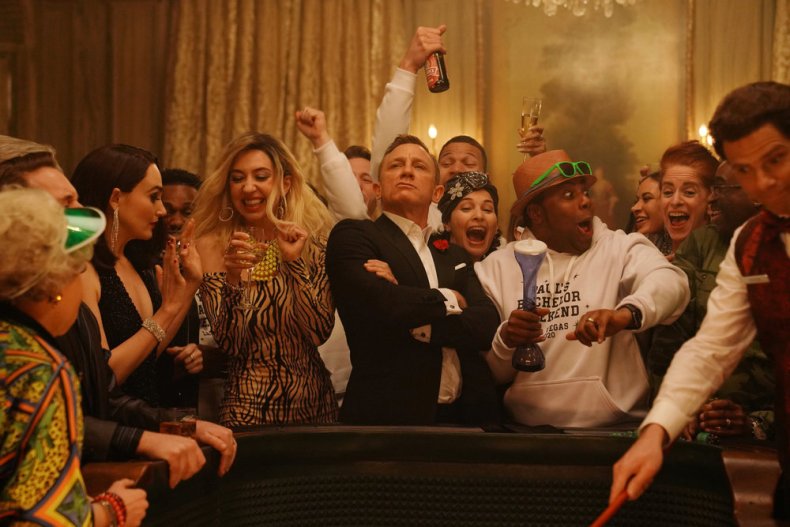 Opening Monologue and "James Bond Scene"
During his opening monologue, Craig threw to a previously taped segment poking fun at James Bond's gambling habit. (Before the cut, Craig did manage to shout-out Fleabag creator Phoebe Waller-Bridge, who did some writing work on No Time to Die; don't be shocked if Bond breaks the fourth wall in the new film to ask the audience, "Is it bad that I fancy the Pope?") In the Bond parody, the British secret agent gets real lucky at the craps table and can't be bothered to focus on his real mission—at least, that's what Bond wants his enemy to think.
"The Ingraham Angle Coronavirus Cold Open"
Before Craig took the stage, though, the show opened with lampoon of Fox News' The Ingraham Angle, with SNL all-star Kate McKinnon playing the conservative host. After rattling off a list of things that Fox News viewers should be worried about (including Montessori schools and women who keep their maiden names once they're married), McKinnon's Ingraham welcomed the real-life Elizabeth Warren to the show.
The Massachusetts senator said that despite having to leave the Democratic primary recently, she's proud of her presidential campaign and the fact that she got to give a billionaire a "swirlie" on live TV, referencing her dismantling of Michael Bloomberg during one of the Democratic debates. To close out, Warren thanked her supporters and was joined onscreen by McKinnon, who managed a quick change from Ingraham to her imitation of Warren.
#FlipTheSwitch
All right, this isn't technically a skit, but it's absolutely one of the most notable things to happen around SNL this past weekend. For the show's Instagram account, Warren, McKinnon and their matching blue blazers participated in TikTok's #FlipChallenge. Who knew Warren had such dance moves?
"Accent Coach"
Later in the show, Craig spoofed his other major character, Benoit Blanc from the 2019 whodunit mystery Knives Out. For anyone unfamiliar with the mystery movie, Blanc is Southern private eye, which is striking because the British Craig is very much not Southern, and his accent in the film became a point of fascination online. Which is why SNL devoted an entire sketch to Craig pitching the creative team behind Knives Out on his savvy with a Southern accent.
For this skit, it's best we don't explain the joke any further—just know that SNL's Beck Bennett hams it up as Craig's accent coach, and that Knives Out director Rian Johnson is played by SNL's Mikey Day, which delighted the filmmaker.