9 Best Taquerias in San Francisco's Mission District
San Francisco's Mission District sets the standard on tacos and burritos for the entire country.
Mission tacos and burritos have become the de rigueur American street food and the model for how Americans eat Mexican food. (We're looking at you, Chipotle!) And there might not be a better way to spend an afternoon or evening than eating your way down Mission Street. Here's how to do it. Here are the nine best taquerias in the Mission.
View an interactive Google Maps list of some of the best taquerias in San Francisco's Mission District.
1. El Faro
One day in 1961, Febronio Ontiveros saw some hungry workers and quickly wrapped a tortilla up with some meat, rice, beans, and salsa and then put some tinfoil around it et voila! The Mission burrito was born. Or so the story goes – according to the people at this taqueria who say the San Francisco staple was invented here. Whatever the case, El Faro should be on your taco and burrito radar for their big-portioned, flavor-exploding fare.
2399 Folsom St.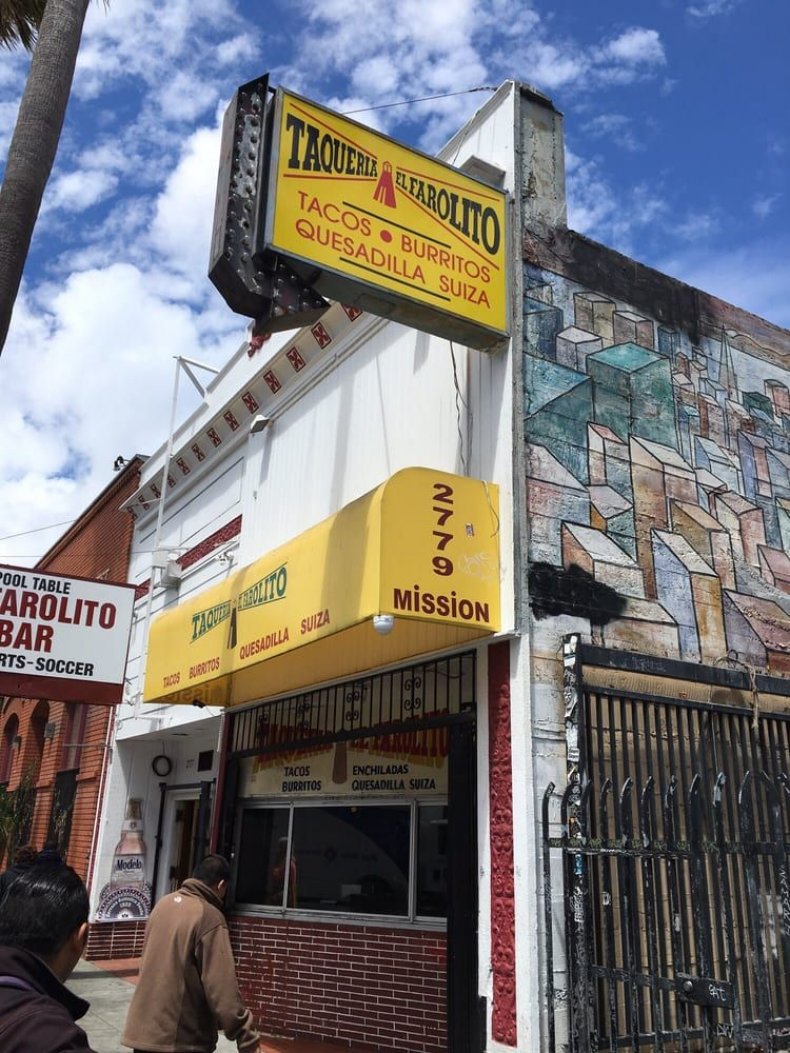 Somehow this taqueria on Mission and 24th Streets seems to get better as the night goes on, especially after a long night of pint swilling. El Farolito does a fine al pastor taco but daring eaters should opt for some of the bovine and pork by products on the menu. What's "sesos," you might wonder while squinting at the menu? They're cow brains and they're delicious.
2779 Mission St.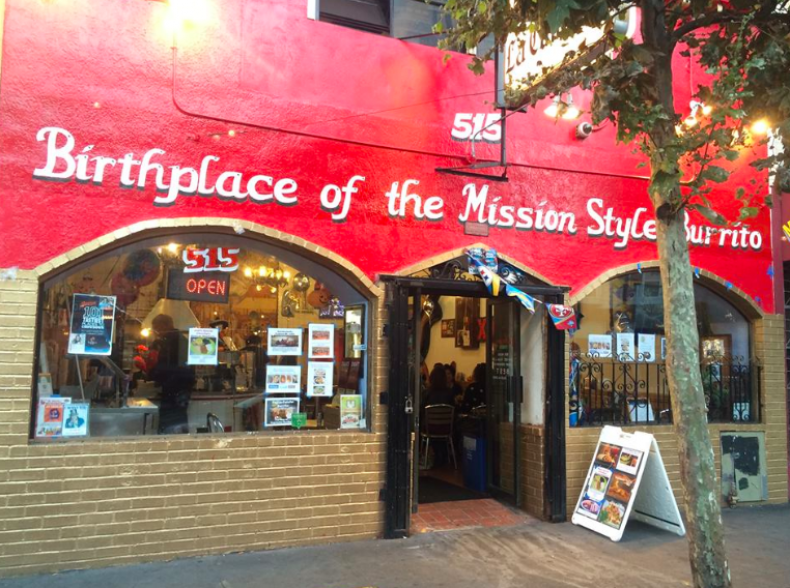 Since 1969 this taqueria has been slinging tacos and burritos to hungry and happy drunk people on Valencia St. This popular Mex spot claims it invented the Mission-style burrito – a large flour tortilla stuffed with grilled meat, rice, beans, etc. wrapped in tinfoil – and true or false there is one truth to La Cumbre: you won't walk out of here with an empty stomach or dissatisfied.
515 Valencia St.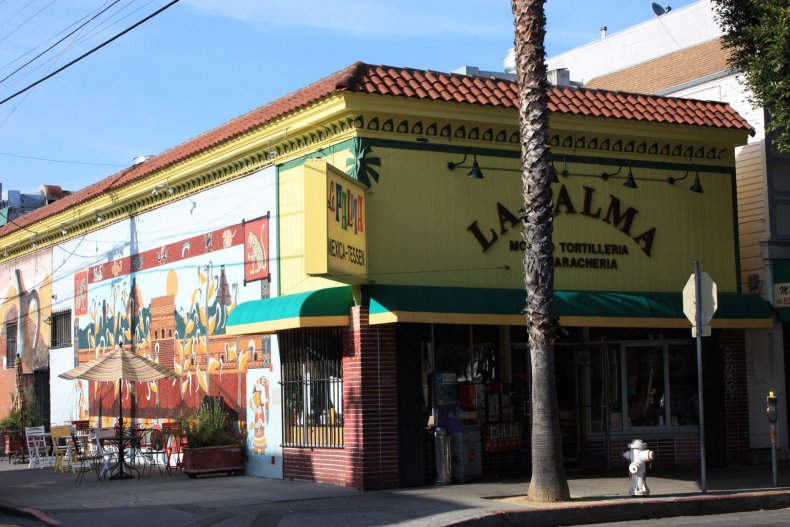 Set in a deli/bodega/grocery story, La Palma's been wrapping grilled meat and veggies with their deliciously house-made, lard-laden tortillas since 1953. You can even opt to have chicharrones – fried pig skin and fat – in your taco or burrito for a lovely textural crunch.
2884 24th St.
5. La Taqueria
Is someone sprinkling a culinary version of steroids in the food here? Probably not. But still La Taqueria needs only a generic name because it's that good. Anchored on Mission and 25thStreets, La Taqueria is a perpetual favorite among locals and is often ranked high on lists proclaiming the best tacos and burritos in the country. La Taqueria is hard to overhype.
2889 Mission St.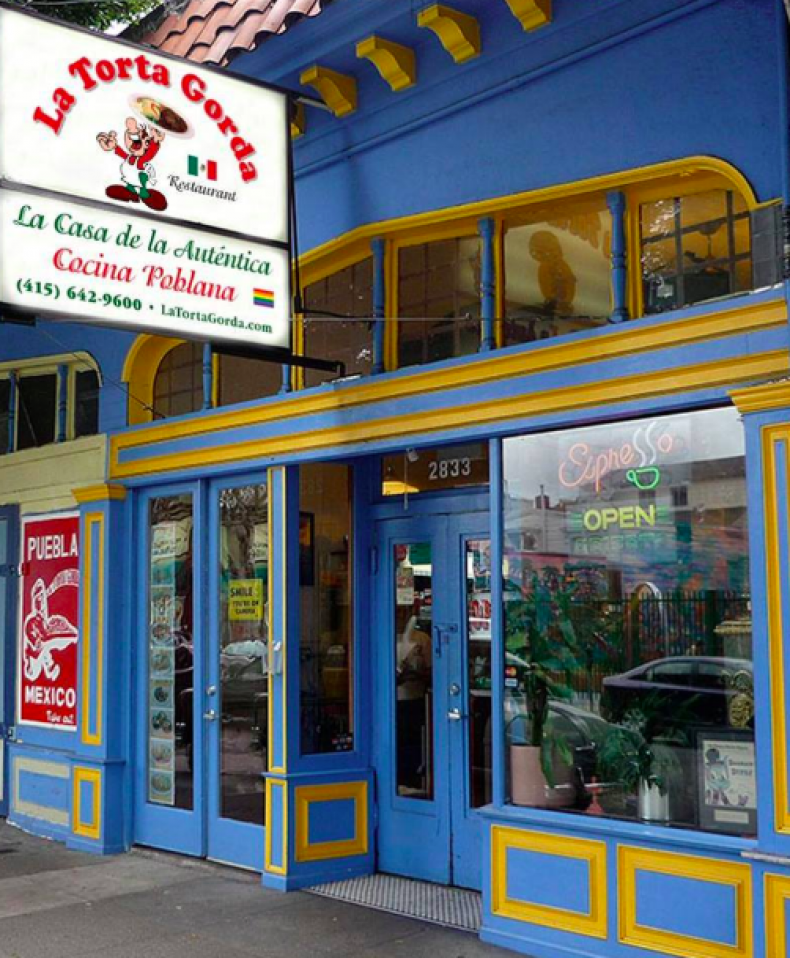 Despite having torta – a Mexican sandwich – in the name, people come to this Mission spot for regional Mexican fare. The owners hail from the Mexican state of Puebla and they cook up a mean mole Poblano. You can also get tacos Arabes here – a taco that originated from Arab immigrants in Puebla, which has tender meat folded into a pita-like bread.
2833 24th St.
7. Pancho Villa
A perennial favorite among the drunk crowd who crawl from bar to bar around the Valencia and 16thStreet junction, Pancho Villa serves up very edible goodness in the form of plus-sized burritos and and tacos stuffed with flavor-popping carnitas and chorizo and other meaty delights.
3071 16th St.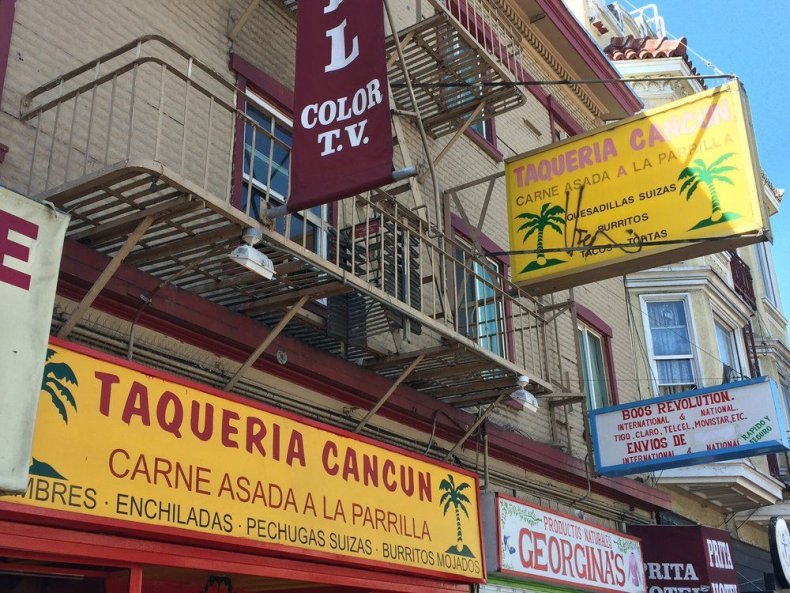 Way better than going to the actual Mexican tourist trap of a metropolis itself, Cancun is always a solid bet for tacos and burritos. The al pastor taco – pork fire roasted on a turning spit – is particularly great here.
2288 Mission St.
9. Taqueria Vallarta
Vallarta smashes the pork and chicken hegemony of Mission District taquerias by offering other types of meats and parts of the animal. You can get your tacos and burritos here with lamb and goat and, for the adventurous, head and brains.
3033 24th St.
9 Best Taquerias in San Francisco's Mission District | Culture