Women in 2016: The Top 10 Highlights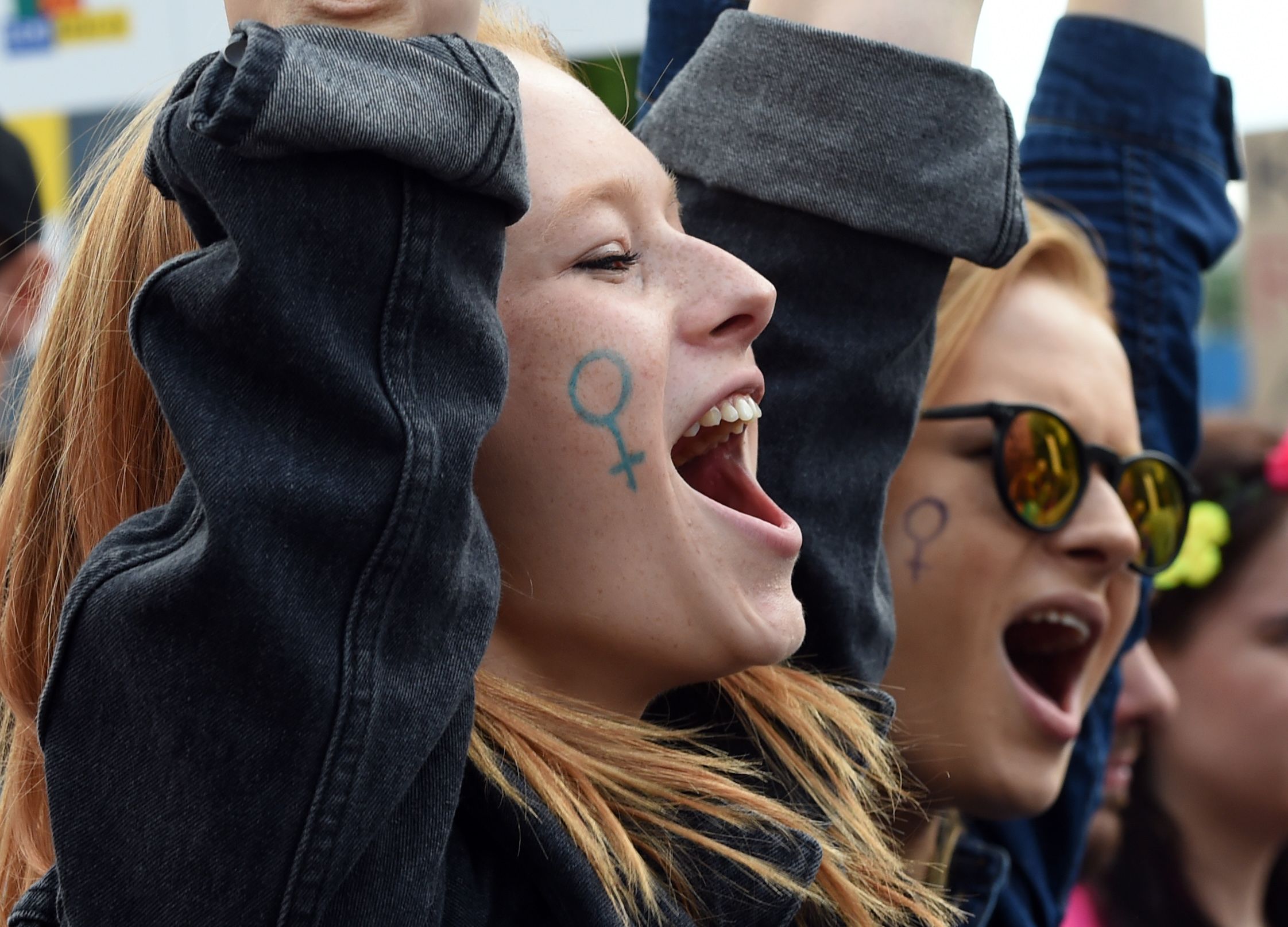 1. Poland's proposed bill to ban abortion collapsed
Abortion in Poland is illegal except in cases of rape, when the woman's life is in jeopardy, or if the fetus has no chance of survival. This year, with proposed legislation to completely outlaw abortion making its way through government, 30,000 women went on strike, marching in cities across the country to protest their further loss of reproductive rights. Just three days after the strike, lawmakers voted down the new legislation.
Ewa Kopacz, the Liberal MP and former prime minister, told reporters that the ruling Law and Justice party had backtracked because it was "scared by all the women who hit the streets in protest."
2. Three U.S. states got rid of the tampon tax
Period shaming is still a global problem but this year, strides were made in the right direction. Three U.S. states repealed their discriminatory tampon taxes—a sales tax added to goods considered "luxuries." Connecticut governor Dannel Malloy officially revoked the tax in June, with New York governor Andrew Cuomo following in July and Illinois governor Bruce Rauner following suit in August.
3. Stanford rapist Brock Turner's victim wrote an open letter for "girls everywhere"
In March, Brock Allen Turner, 20, was found guilty of three counts of sexual assault, after two Stanford University graduates spotted him on top of an "unconscious, half-naked" woman behind a dumpster. Reasoning a long sentence would have a "severe impact" on Turner (a "champion swimmer"), the judge sentenced him to just six months in jail.
Thanks to an open letter Turner's victim wrote in June, the case gained attention around the world for highlighting rape culture and the many challenges facing victims. The letter addresses Turner directly, but it finishes as a powerful and moving address to "girls everywhere."
4. Saudi's first female Olympic sprinter ran in Rio
Kariman Abuljadayel made history by becoming the first Saudi woman to participate in the Olympics 100 meters. Abuljadayel, who was wearing a hijab and a tracksuit, finished in seventh place in the preliminary heat, but won first place in the hearts of viewers across the world:
5. Michelle Obama was Michelle Obama
Michelle Obama gave one of the most powerful speeches of 2016 on Hillary Clinton's campaign trail at the Democratic National Convention in July, in which she talked about her hope for America and her experience as First Lady, saying, "I wake up every morning in a house that was built by slaves. And I watch my daughters, two beautiful, intelligent black young women, playing with their dogs on the White House lawn."
Then she did it again in New Hampshire, in October, talking about what it feels like to be objectified as a woman, days after Donald Trump's "grab 'em by the pussy" comments surfaced.
She might have disappointed fans when she ruled out running for president in a recent interview with Oprah, but Mrs Obama was an exceptional first lady; a pillar of strength for women across the world who were demoralized by President-elect Trump's misogynistic rhetoric.
6. Lawyers launched a free women's legal clinic in Vancouver
Rise Women's Legal Centre is the first of its kind since the province cut back legal aid funding by 40 percent in 2002, a move that has disproportionately affected women, who are more likely to have lower incomes and be victims of domestic violence, according to the center's executive director Kim Hawkins.
Hawkins works alongside two staff lawyers and students. The center opened in May and by October appointments were booked up to January 2017.
7. Three female entrepreneurs launched a sexual-harassment tracker in Lebanon
In February, three female entrepreneurs launched a website in Lebanon's capital, Beirut, to combat sexual harassment by gathering information on the whereabouts and details of specific incidents.
"Sexual harassment affects the lives of hundreds in Lebanon, and we can't ignore the problem or wait for a magical solution," Harrasstracker.org states. "For this reason, we work to encourage the society to completely reject sexual harassment, and to consider it a crime it cannot remain silent about."
8. There were victories for women on election night in the U.S.
Hillary Clinton may have lost to Donald Trump in this year's U.S. presidential election, but women did shatter the glass ceiling on election night with historic victories.
The next Senate will feature the most women of color ever to serve in the chamber and EMILY's List, the political action committee dedicated to electing pro-choice Democratic women, hails this as a sign of progress.
Kamala Harris, Catherine Cortez Masto, and Tammy Duckworth were elected to the Senate, Stephanie Murphy and Pramila Jayapal won seats in the House of Representatives, and Ilhan Omar was elected to her state's legislature.
9. An all-female trio of judges made the first ever rape conviction at the International Criminal Court
In March, the International Criminal Court (ICC) convicted Jean-Pierre Bemba Gombo, a Congolese politician, of crimes against humanity (rape and murder) and war crimes (rape, murder and pillage), later sentencing him to 18 years' imprisonment.
Bemba, the leader of the Mouvement de libération du Congo (MLC), was found guilty under Article 28 of the ICC Statute for crimes committed by MLC soldiers in the Central African Republic.
Bemba was the first defendant to be convicted of sexual violence at the ICC.
Judge Silvia Fernández de Gurmendi, from Argentina, is president of the ICC. Judge Joyce Aluoch, from Kenya, Judge Kuniko Ozaki, from Japan, and Fatou Bensouda, from the Gambia, sit alongside her.
10. United Nations' Secretary-General António Guterres appointed three women to top positions
In December, the United Nations Secretary-General, António Guterres, announced the appointment of three women to top positions, building on his promise to ensure gender parity while he is in office.
He hired Amina Mohammed of Nigeria as the U.N. Deputy Secretary-General and Maria Luiza Ribeiro Viotti of Brazil as his Chef de Cabinet. He will also create the position of Special Adviser on Policy, handing the title to Kyung-wha Kang of South Korea.
In a statement, he said: "I am happy to count on the efforts of these three highly competent women, whom I have chosen for their strong backgrounds in global affairs, development, diplomacy, human rights and humanitarian action. These appointments are the foundations of my team, which I will continue to build, respecting my pledges on gender parity and geographical diversity."