The Best Things We Saw at Wireless Festival and BST Hyde Park: Stevie Wonder, Calvin Harris and Take That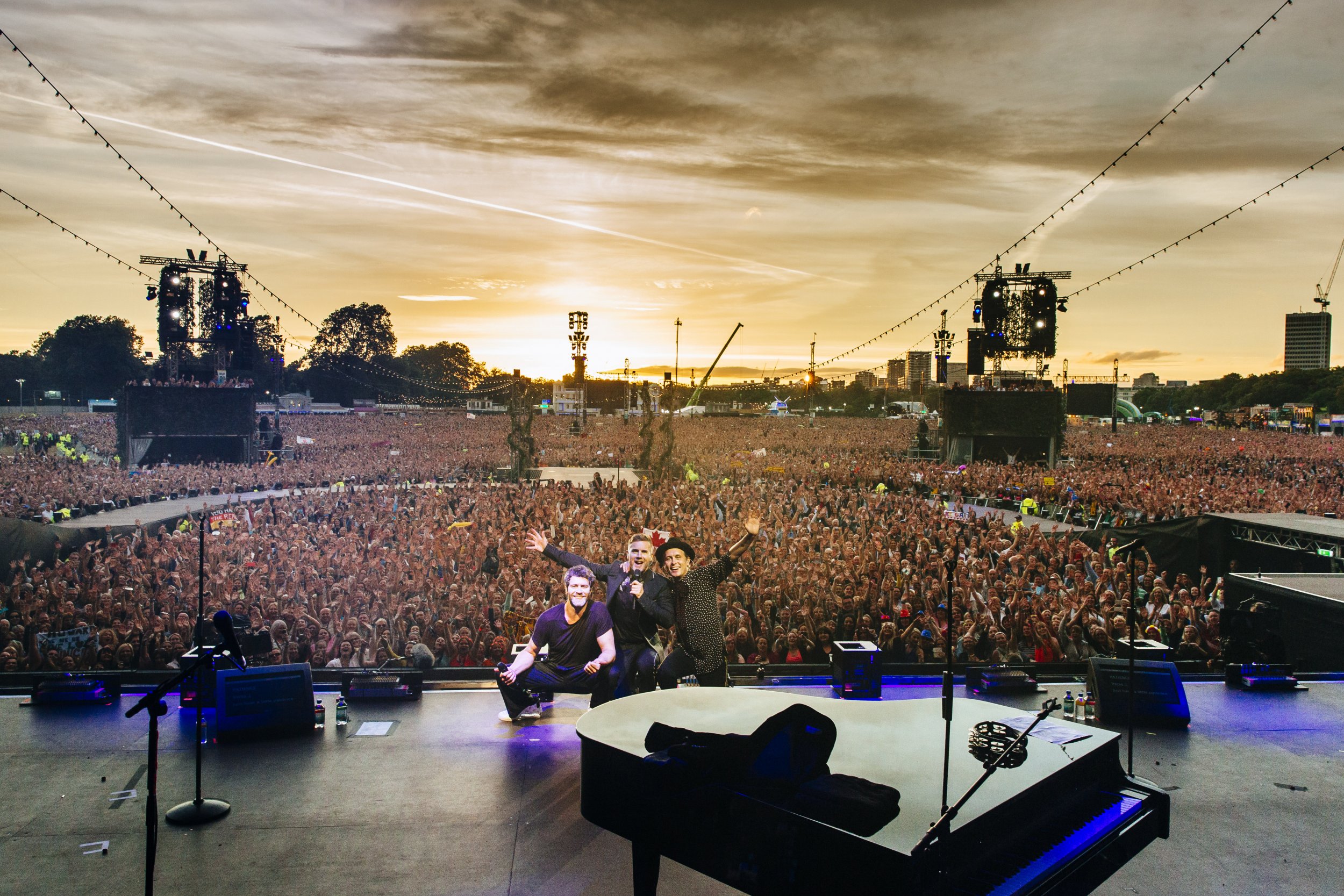 A weekend of schizophrenic musical jaunts. Hordes of drunken revelers. Vests and shorts combined with wellington boots and the unpredictable British weather. It can only be festival season in the U.K.
And this past weekend, two of the U.K.'s biggest music festivals just so happened to be taking place at the same time, in the same city, so naturally—being the intrepid reporter that I am—yours truly, Newsweek's culture correspondent, decided to hop across London between Wireless Festival in Finsbury Park and British Summer Time in Hyde Park, notching up hefty Oyster card charges in the process. All in the name of journalism, of course.
Topping the bill for the youth-oriented Wireless this year was Calvin Harris on Friday. Meanwhile, over at the more family-friendly festival in Hyde, Take That—now whittled down to Take Three—and the legend that is Stevie Wonder headlined Saturday and Sunday respectively.
Here, dear readers, are the highlights of our eventful weekend:
Calvin Harris must make a shed-load of cash for standing behind a computer
Let's pay the man his dues. He might just have the best job in the world. The Scottish DJ essentially gets to stand at his DJ booth, blare out his admittedly catchy songs, and get paid millions of dollars in the process. (In fact, he earned $66 million in 2015 alone, apparently.) He barely needs to break a sweat: there is no singing, no dancing. Just the odd vocalization on the mic in between guest performers like Dizzee Rascal (more on that soon!) and Big Sean.
But you know what? You can't fault the man. Here he is overseeing a massive rave with Will Smith and family among the 100,000-strong crowd going nuts. And his extensive back-catalog of dance hits—"How Deep is Your Love" and "Summer" are total earworms—is perfect for a Friday night party in the park. Well, if you can successfully navigate to that rare spot of grass not strewn with the remnants of hippy crack canisters.
What he lacks in stage presence, Harris more than makes up for with a fireworks and confetti budget that would definitely get Gene Simmons' approval.
There were the inevitable Taylor Swift taunts from the crowd
Harris' ex-girlfriend may have moved on a very public way, but there was no shortage of rebound offers from the more spirited (read: drunk) revelers. That's to say nothing of people shouting "Fuck Taylor Swift" in the periods between songs. Awkward. (But secretly I giggled.)
Dizzee dropped
Note to future festival headliners: trying to crowd surf past 9 p.m. when your audience is highly inebriated and has temporarily lost their coordination is probably not a good idea. That's exactly what Harris' regular collaborator Dizzee Rascal found out when he made an appearance as the first of the DJ's special guests.
Rascal, the hometown rapper from east London, had to be pulled out of the mob by security and thankfully appeared to be fine. But, yeah, he probably won't be trying that again anytime soon.
Hello from Adele
Who needs Glastonbury anyway? Firstly, I could never deal with all the mud. Secondly, the perfect thing about festivals in London is I can sleep in my own bed. So while gutted that I missed Adele's set at Glasto in June, her presence was felt at Wireless when Harris led a massive singalong to her hit song "Hello". The results were invariably mixed. Have you ever seen anything more British?
Pro tip: have your cameras ready for big songs like "Outside" and "I Need Your Love". Your Instagram will thank you later.
50 feet from stardom
Suitably recovered from Friday's rave, Saturday was a more low-key affair at British Summer Time Hyde Park: Take That's audience is generally middle-aged women who have dragged their husbands along to watch them swoon over Gary Barlow. Needless to say, I witnessed copious amounts of dad dancing.
Have you ever wondered: "What do concerts sound like to birds flying in the sky?" Yeah, no, me neither. But in the name of journalism—cough—I couldn't pass up the opportunity to be elevated 50 feet in the air during Take That's set to find out. My hosts for the evening, Barclaycard, offered up a ride on their Betterview platform and while even the slowest of ferris wheels might usually terrify me, this was more my speed: painfully slow.
How did the concert sound from 50 feet up? The sound quality was surprisingly good. The wifi strength in the sky was even better. And just gaze at that beautiful London skyline at sunset.
As a 20-something-year-old more likely to attend a Beyoncé concert than Take That, I am happy to report that, yes, Barlow and friends are fun to watch no matter your musical tastes. I mean, they brought out bloody Lulu. You can't fault that, surely?
Pro tip: show-closing "Rule the World", taken from the 2007 film Stardust, should be on everyone's live concert bucket list.
Fergie Ferg in the house
After Saturday's rather tame excursion to Hyde Park, Sunday was the big one. My friend and I had timed our day perfectly so we could rock up at both Wireless and Hyde Park. Of course she was late and threw off my timings completely.
First destination was Wireless to see Black Eyed Peas star Fergie make her return to the London stage after a three-year absence. Yes, we bawled during "Big Girls Don't Cry". Fergie gets a big thumbs up...for a woman with only one solo album to her name, she has a lot of great songs.
The centerpiece of her set, however, was her buzzy comeback single "M.I.LF.$"—her musical ode to breastfeeding, the music video that features Kim Kardashian taking a milk shower. Full disclosure: I was not a fan of this song when I first heard it. But after seeing Fergie perform it, it's now on repeat.
Pro tip: wear sunglasses during "Big Girls Don't Cry" to hide your tears, sing the lyrics at the top of your lungs and think of that one person that broke your heart. (It's cathartic.)
Stevie Wonder addresses Black Lives Matter
Following two more police shootings in the U.S., and the killing of several police officers in Dallas, the Black Lives Matter movement has spurred entertainment figures from Beyoncé to Olivia Wilde to speak out.
Stevie Wonder opened his set at BST Sunday with poignant words of his own (see video at the top of this story). "We are all the original people of this world. Everybody here, you got some black in you," he said.
The chorus of amens near me had me wondering if I'd somehow stumbled into a sermon because Stevie took us to church.
A Kiss from Stevie to Prince
No festival weekend this year would be complete without a tribute to Prince or David Bowie. Wonder played Prince's "Kiss" near the end of his gig. There was a lot of love in Hyde Park by now.
The big finish
I can think of no better way to end my manic festival weekend than Stevie Wonder singing "Superstition" and "Signed, Sealed, Delivered". Yes, we'd been on our feet going on four hours by this point but this alone was worth it:
Pro tip: just go see Stevie Wonder. Sell your parents if you have to. (Please don't.)
And then I collapsed
What you don't see right now, dear reader, is the intravenous drip replenishing me with fluids after three days of non-stop music and more French fries than a human being should be able to handle. I am pooped.
Until next year. Or the next festival… gulp.