Best Vegetarian and Vegan Restaurants in New York City
The Big Apple isn't necessarily a vegetarian paradise but what it has is meat-free excellence.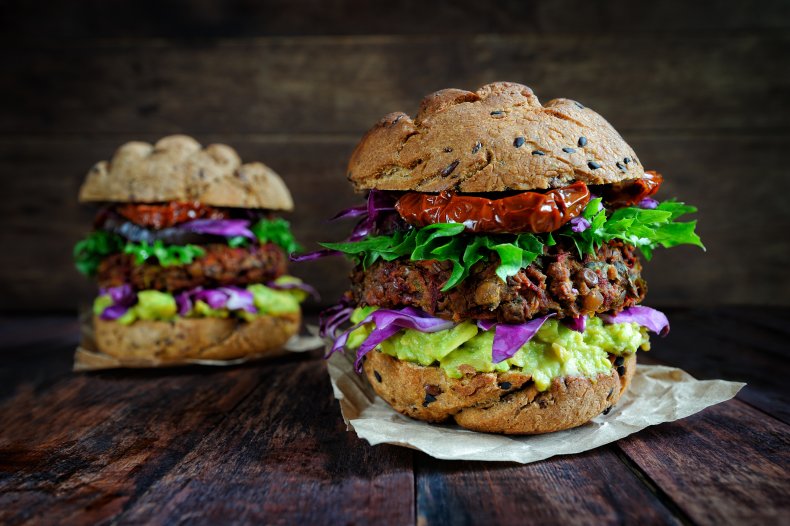 Vegetarians of the world, unite! The number of meat-free diets eaters is growing. In 50 years people will look back at us heathen meat-eaters with contempt and judgment. Want to be on the right side of history? Hit up one of these great veggie and vegan restaurants in New York City. The food is way better than your meat-eating face would think.
View a Google Maps list of some of the best vegetarian and vegan restaurants in New York City.
ABC V
Super Gallic chef Jean-Georges Vongerichten goes veg. Sort of. At least at this spot, a meat-free version of his hit restaurant ABC Kitchen. Start with some green chickpea hummus and then move on to the scrumptious mushroom walnut Bolognese. The matcha crème brûlée is worth saving stomach space for.
38 E. 19th St.
If sushi is raw fish, served in the Japanese manner, and a restaurant has "sushi" in its name but does not serve fish—and in fact, is a vegetarian restaurant—can it still be legitimately called "sushi"? You might not be asking that question—or you just won't care—once you finish a meal at Beyond Sushi. There are rolls with spicy mango, chickpeas, mushrooms, and a great fava bean and avocado concoction. Plus, lots of dumplings and dips. There are several other locations sprinkled around Manhattan.
215 Mulberry St.
"Bunna" means "coffee" in Amharic, one of the main languages in Ethiopia. But don't just come here for the coffee. This vegetarian Ethiopian spot in Bushwick serves up some of the best East African fares in the city. At dinner, you can get a complete feast for two for just under $40. Make sure to wash your hands before you dig in: no silverware in Ethiopian dining. Which is the fun part: eating with your hands.
1084 Flushing Ave.
Amanda Cohen's Dirt Candy is the reigning queen of veggie and vegan restaurants in New York. This Lower East Side restaurant's outstanding meat-free fare is excellent thanks to the fact that chef Cohen knows how to coax flavor out of a vegetable, creating a delicious flavor strata in everything she makes. From pumpkin pad Thai to kale matzoh ball soup to Brussels sprout tacos, you can't go wrong here.
86 Allen St.
Michelin-starred chef John Fraser flirted with cooking vegetarian at his erstwhile lauded Upper West Side eatery Dovetail when he did "Meatless Mondays." Now he's doing meatless every day at this spot on University Place between Union Square and Washington Square. Fraser spins the globe offering meat-free fare from around the planet, dipping his toes into Indian, Chinese, and Mexican cuisine all the while making sure each dish is divinely edible.
72 University Pl.
A food cart in Washington Square, the "dosa man," as locals call him, is a dosa-making institution. People line up at lunch to get a taste of his vegetarian fare, a south-Indian dish that is a thin pancake folded into various stewed veggies and potatoes. Take it to the nearest shady bench in Washington Square and commence the deliciousness.
Southwest corner of Washington Square
Brooks Headley left his prestigious pastry chef gig at Michelin-starred Del Posto to open this diminutive veggie burger spot in the East Village. And we're glad he did. Because boy (or girl) is it amazing. Even extreme carnivores crave these faux-meat burgers. Plus, there are other delights like a burnt broccoli salad and a veggie version of a sloppy Joe called a sloppy Dave.
430 E. 9th St.