The Best, Worst and Weirdest in Sports, 2013; Part 6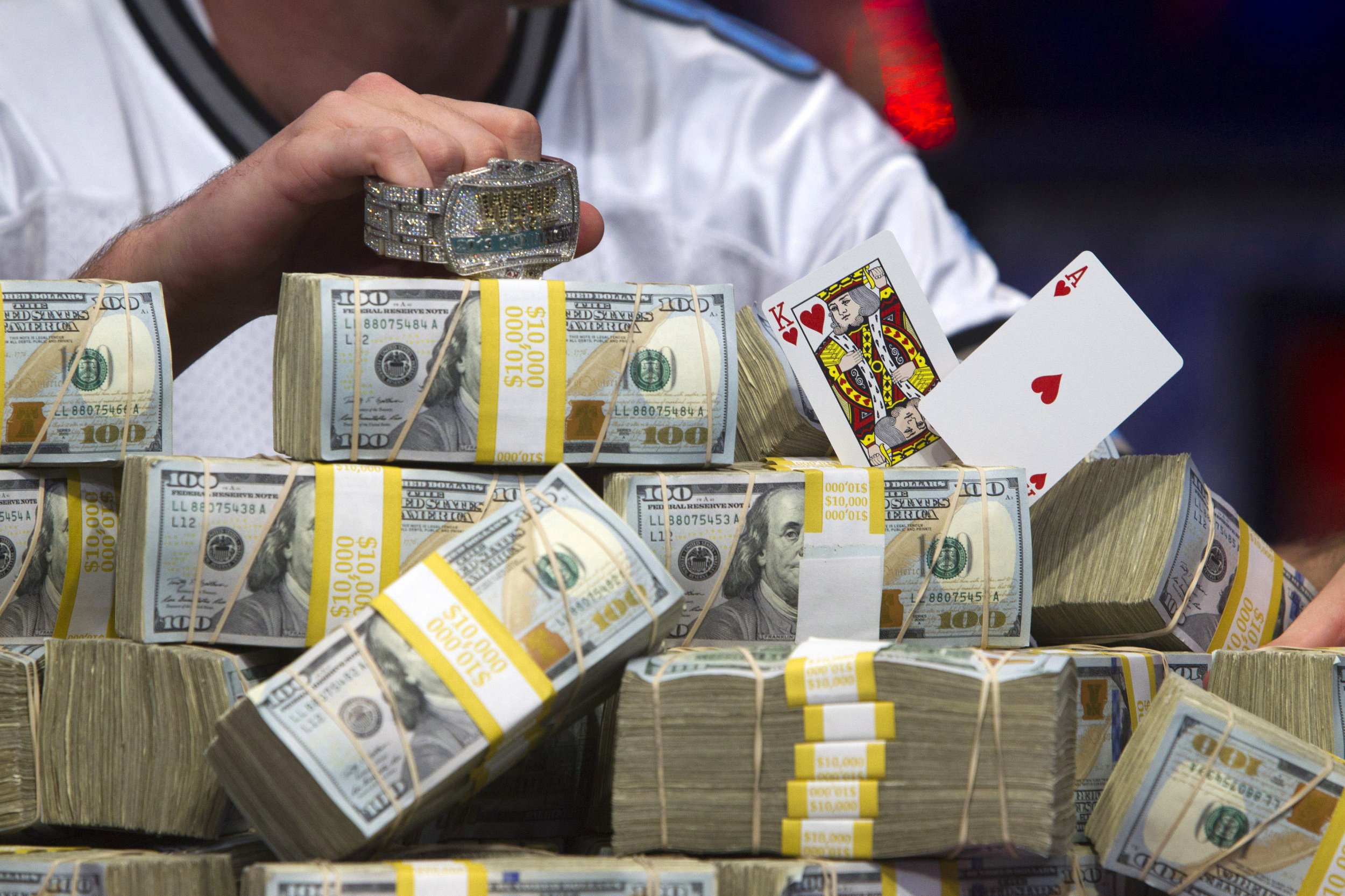 Part 1 - January/February
Part 2 - March/April
Part 3 - May/June
Part 4 - July/August
Part 5 - September/October
NOVEMBER
Hail to the Chiefs
Kansas City defeats the Buffalo Bills 23-13 to move to 9-0 after finishing the previous season with the NFL's worst record, 2-14. First-year coach Andy Reid will guide Kansas City to an 11-5 record and a playoff berth.
Football CEO
In just his second season as a college head coach, former TD Ameritrade CEO Joe Moglia, 64, guides Coastal Carolina, an FCS school, to a 12-3 record and the national quarterfinals.
Beginner's Luck
Ryan Riess, 23, in his first appearance at the World Series of Poker, outlasts more than 8,000 players at the main event to claim the coveted bracelet and $8.4 million. Just 13 months earlier, the Waterford, Mich., native had $2,000 in the bank.
Truly Offensive Lineman
How do you become a trending topic if you are an offensive lineman with the Miami Dolphins? Either leave the team due to an apparent bullying issue (Jonathan Martin) or be suspended from the team indefinitely for sending that lineman racist texts that you (Richie Incognito) claim were sent in jest.
Jack of all Trades
UCLA's Myles Jack, a true freshman, was already having a terrific season at linebacker when injuries pushed the Bruin coaching staff to play him at running back. In his first game, at Arizona, the Bellevue, Wash., native rushes for 120 yards on just six carries, including a 66-yard touchdown run in the fourth quarter. Jack averages 7.2 yards per carry through UCLA's last four games and is named the Pac-12 Offensive and Defensive Freshman of the Year.
Mumbai-bye
Sachin Tendulkar, the Michael Jordan of cricket and the most beloved sports figure in the world's second-most populous country (India), retires after 24 years, 200 test matches and more than 50,000 runs.
Running Wild
On the same afternoon, Andre Williams of Boston College gallops for 339 yards and Cartel Brooks of Division III Heidelberg University rushes for 465 yards. Brooks' feat is an all-divisions NCAA record while Williams will finish as the nation's leading rusher and second in the Heisman Trophy voting.
The Immaculate Deflection
Why is Auburn playing in next week's national championship game? Part I: Because facing a fourth-and-18 from its own 27 and trailing Georgia by one point with less than one minute remaining, this happens.
"It's the play of the year," CBS announcer Gary Danielson says, and for two weeks, he is correct. It may not be even the play of the month… in Jordan-Hare Stadium.
Triple Digits… Again
Jack Taylor has had better games. Last November, for example, the Grinnell College guard scored an NCAA-record 138 points in a game. On this night, versus Crossroads College, the 5-10 junior scores 109 in a 173-123 victory. Taylor played just 29 of 40 minutes but shot 24 of 48 from beyond the arc and 35 of 70 from the field.
Swamp Things
The Florida Gators, national champions in 2006 and 2008, lose at home to Georgia Southern, an FCS school. Fortunately, there's a photo that perfectly illustrates Florida's fall from grace: Gator teammates Quinton Dunbar and Jonotthan (cq) Harrison blocking one another on a running play. UF fans will point out that the Gators did get a first down on the carry.
All Blacks, All Wins
New Zealand wins all 14 of its Test matches in 2013, becoming the first side since rugby became a professional sport in 1997 to do so. But it isn't easy. The All Blacks fall behind Ireland, 19-0, in the final test of the season before leveling the score, and making the conversion, on the final play of the match.
Metaphor of the Year
Baylor is 10-0 and the highest-scoring team in the nation when they visit once-beaten Oklahoma State. In the first quarter, Bear quarterback Bryce Petty takes the snap at the Cowboy 28 and appears to have an unimpeded path to paydirt. But Petty stumbles, untouched, and lands one yard shy of a touchdown. Two play later Baylor loses a fumble and eventually loses the game, 49-27, and its undefeated season.
AFC Championship Game Teaser
New England hosts Denver in a Sunday night showdown between the AFC's premier teams and quarterbacks, but Tom Brady and the Patriots trail Peyton Manning and the Broncos 24-0 at halftime. Brady, naturally, leads the Patriots back in David-Ortiz fashion, as New England wins 34-31 in overtime.
Are You Kidd-ing?
The NBA fines first-year Brooklyn Net coach Jason Kidd $50,000 for ordering guard Tyshawn Taylor to knock a soda out of his hands in a ruse to have their game with the Los Angeles Clippers halted. That's one expensive soda. The Nets lose.
Auburn's "Kick-Six"
Why is Auburn playing in next week's BCS national championship game?, Part 2: With the score tied 28-28 and one second remaining, top-ranked Alabama decides to attempt a game-winning 54-yard field goal. The kick lands short, Auburn's Chris Davis fields it nine yards deep in his own end zone, and then returns it all the way for the most preposterous game-winning touchdown since Cal ran through the Stanford band 31 years earlier.
DECEMBER
No Charges
Florida State quarterback Jameis Winston, the Heisman Trophy favorite, spends the second half of November under intense national scrutiny once it becomes public that he is being investigated for a sexual assault that allegedly occurred the previous December. Two days before the Seminoles are due to meet Duke in their conference championship game, and just four days before the deadline to vote on the Heisman, Florida State Attorney General Willie Meggs calls a press conference to announce that Winston will not be charged. Nine days later, Winston wins the Heisman Trophy.
Frasier Crane Was No Idiot
Seattle becomes the hot destination for upwardly mobile sports figures, as football coach Chris Petersen (92-12) leaves Boise State for Washington and All-Star New York Yankee second baseman Robinson Cano, the team's best player, signs with the Seattle Mariners for $240 million over 10 years.
The Book of Manning
Broncos quarterback Peyton Manning finishes the NFL regular-season with an NFL-record 55 touchdown passes, surpassing Tom Brady's record of 50 set in 2007. Younger brother Eli Manning leads the league in interceptions with 27, although he falls eight picks shy of Vinny Testaverde's record.
Like a Prater
Peyton Manning's teammate, kicker Matt Prater, sets an NFL record by kicking a 64-yard field goal just before halftime against the Tennessee Titans in Denver. As impressive as Prater's distance is the fact that he made the kick in 18-degree weather.
Guffawful
New York's two NBA franchises, the Knicks (9-21) and Nets (10-20), engage in a turf war to see whose horrible play can inspire the greaterNew York Post headline: "SNORE LOSERS", "BICKER BOCKERS" and, after the pair lost their Christmas day games by a combined 46 points, "SEASON'S BEATINGS."
The Pack is Back
Left for dead in the NFC Central and minus their injured MVP quarterback, Aaron Rodgers, the Green Bay Packers overcome a 26-3 halftime deficit at Dallas to win, 37-36. Two weeks later Rodgers, back in uniform at Chicago, converts a fourth-and-eight in the final minute for the 48-yard game-winning touchdown that knocks the Bears out of the playoffs, and puts the Packers into the post-season.
8-8 is Enough
The Cowboys' loss to Green Bay is compounded by a regular-season home defeat to Philadelphia. Dallas finishes 8-8 and out of the playoffs for a third consecutive season.
Breaking Bad
In an Ultimate Fighting Championship bout (UFC 168), Anderson Silva, regarded as the greatest mixed martial arts pugilist of all time, attempts a leg kick against Chris Weidman. The kick is blocked by Weidman's knee, gruesomely cracking both Silva's left tibia and fibula.
The Best, Worst and Weirdest in Sports, 2013; Part 6 | Sports