These Are the Best and Worst Cities to Rent With Dogs, Cats in America
For pet owners everywhere looking to rent, finding a landlord who will let you keep your four-legged friend is vital. That's the hard part.
With both pet ownership and rent prices on the rise across the U.S., balancing both out in perfect harmony is a struggle.
New research however has found those states and cities that pet owners should look to when choosing their new home, whether it be a condo or house.
Researchers at home warranty company American Home Shield analyzed Zillow listings across the states in a bid to identify the states and cities with the most rentals that are happy to accept cats, small dogs or large dogs.
"Looking into the data, trends appear dependent on location. For instance, in many of the largest cities, where people live in close quarters and space is tight, like Chicago, Boston and San Francisco, more rentals allow cats than do," researcher Sarah Brady told Newsweek.
"By contrast, rentals in smaller, less dense cities in the South and West – Reno, Bakersfield, and El Paso – are more likely to allow dogs, and by a large margin.
"Therefore if you're looking for a rental for your cat, you're much more likely to find a home within a city, whereas if you have a dog it might be worth considering looking further out of town for a wider variety of pooch-friendly listings."
Best and Worst States to Rent With Pets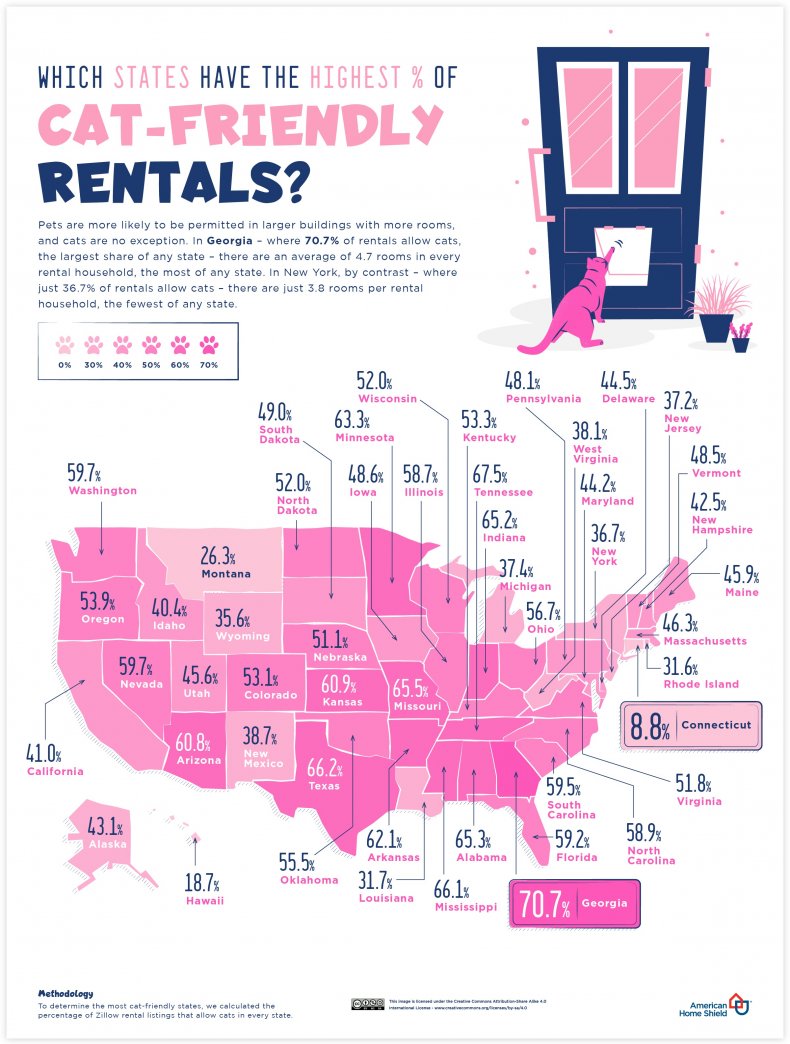 In general, landlords in north-east states are far more tolerant towards cats, while the rest of the U.S. appears more welcoming to dogs, likely due to the denser living conditions meaning less domestic space for dogs.
North Carolina, according to the new research, is the most dog-friendly state with 77.6 percent of rentals allowing small dogs and 58.6 percent allowing large dogs.
Arkansas and Missouri far prefer small dogs to larger dogs, climbing into the top ten states when it comes to small dogs. In fact, Arkansas landlords are twice as likely to let you move in with a small dog compared to a large one.
For cat owners, Georgia is the best bet, with 70.7 percent of rentals allowing cats, making it the most feline accepting state in the U.S. and just one of 15 states that allow cats more than dogs.
Dog owners should potentially stay clear of Hawaii which ranks as the lowest for dog accepting rentals (seven percent allow large dogs and 20 for small dogs) , while cat owners might find Connecticut (nine percent) a struggle too.
Best and Worst Cities to Rent With Pets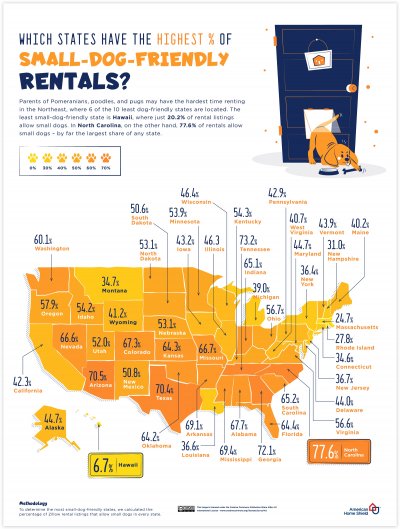 Knowing where each state stands is useful information, but those looking for more specific details can detect just how good cities are for their future pet-included plans.
The most dog friendly city, for both small and large dogs, is North Las Vegas, but the overall top tens are overtaken by Texas and North Carolina cities like Charlotte (84.3 percent) and Plano (74.3 percent).
Texas also dominates the top ten cat friendly cities with Arlington (78.5 percent), Fort Worth (76.3 percent) and San Antonio (75.3 percent), but Jacksonville, Florida is actually the most feline-inclined city with 83 percent of all rentals allowing cats.
Newark, New Jersey is a fan of neither large or small dogs, with just three and 14 percent accepting them. Fresno, California (four percent) and Honolulu, Hawaii (five percent) similarly don't favor large dogs while Honolulu is also not a fan of small dogs in rentals either (18 percent).
San Jose, California (6 percent) Reno, Nevada (11 percent) and Newark, New Jersey (14 percent) all rank as the worst cities when it comes to cat-friendly rentals.