Bestiality Bill Under Debate in Louisiana Legislature
Bestiality has caused a kerfuffle in Louisiana, as state legislators debate a bill that would clarify the law against having sexual relations with an animal. Connected to the issue is the state's laws on sodomy.
Senate Bill 236 aims to make a separate statute against sexually abusing an animal, rather than wrapping up the offense in the section of existing law that describes various "crimes against nature."
The state Senate approved the bestiality bill earlier this week, 25-10, sending it to the House for a vote.
The bill would specifically define bestiality and enforce the law; beastiality is currently described as "unnatural carnal copulation by a human being...with an animal." SB 236 would mandate that it is unlawful to have sexual contact with an animal or sell or purchase an animal with the intent to have that contact.
If the bill is passed in the House and signed into law, violating the proposed statute could be punished with up to five years in prison and a fine on a first offense, and the perpetrator would not be able to own animals.
In the Senate, an even spread of Democrats and Republicans voted in favor of the bestiality bill, but all 10 of the legislators who casted votes against it were Republican. One of those "nay" voters, the Senate president, did not return Newsweek's request for comment on the reason behind the opposition.
It's been suggested that the disagreement could be related to Louisiana's sodomy laws. In several states' lists of criminal statutes, bestiality falls under the same legal umbrella as sodomy—including Louisiana, where some see SB 236 as part of a strategy to remove the sodomy laws.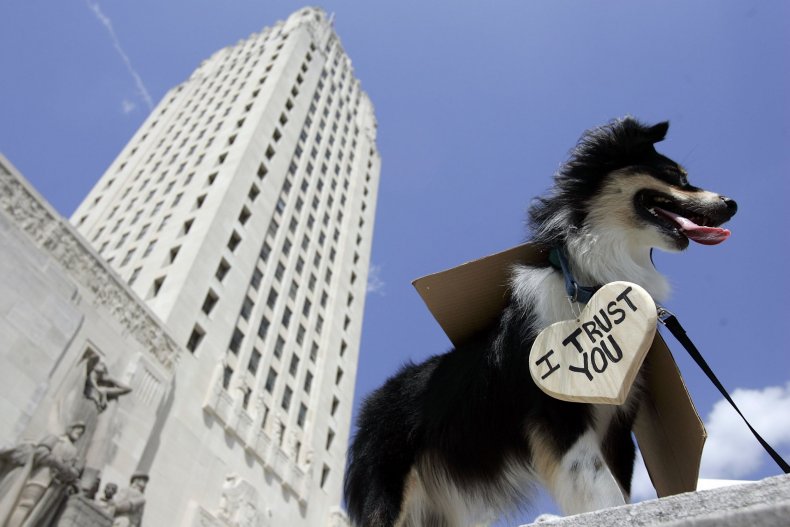 Historically, sodomy laws were often used to target gay people, criminalizing private acts between consenting adults. In some places, they are still used in this way.
In the United States, laws against consensual sodomy have been deemed unconstitutional.
When the Louisiana chamber was voting on bestiality this week, a Republican Senator suggested an amendment that would also remove the state's sodomy law. The bill's sponsor, J.P. Morrell, spoke against the amendment and it was cast aside, according to The Times-Picayune. He called for his colleagues to focus on the bestiality issue.
"This is serious, ladies and gentlemen," Morrell said during the discussion, according to that publication. "People who molest animals eventually graduate to children."
Louisiana's case would not be the first time an anti-bestiality bill has faced opposition, for a reason unrelated to the animal sexual abuse itself. Several years ago, it took several attempts to pass a similar law in Florida when some legislators contended that it was a waste of time and they should be working on other things, like job creation.