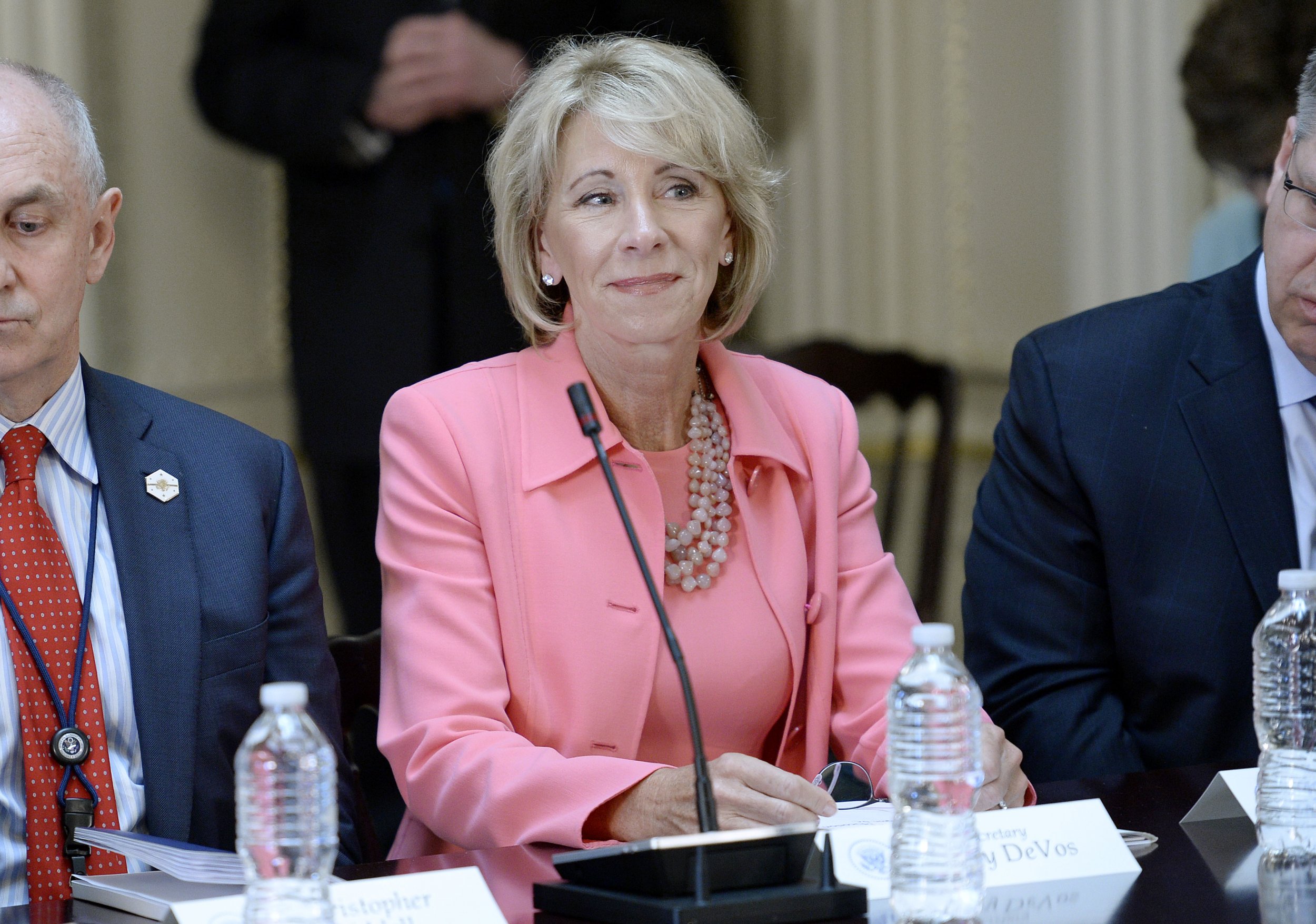 Canadian education officials are telling Betsy DeVos to "keep her backwards ideas" out of the country as the controversial U.S. education secretary gears up for a visit to Ontario later this week.
DeVos on Thursday and Friday will be heading out on a study tour of Toronto's education system, during which she will visit schools and meet with education leaders from Ontario and Canada's surrounding provinces, said U.S. embassy officials in an interview with the Toronto Star.
The Ontario Secondary School Teacher's Federation expressed deep concern over DeVos's support of school choice, which they say takes away funding from public education to pay for tuition at private and religious schools. Her support of the policy has been met with protests from public education supporters and teacher's unions.
During a Harvard speaking engagement, the education secretary compared parents choosing what school is best for their child to selecting where to eat from food trucks outside the Department of Education.
Federation President Harvey Bischof said in a statement that it would be more concerning if the Canadian education minister was visiting the U.S. to learn about DeVos's agenda.
"But it's still alarming, and frankly an affront to our members, that Ontario would allow someone who openly promotes a corporate assault on public education to visit schools in our province," Bischof said.
It unclear whether Canadian education advocates will meet DeVos with protests similar to those that have been held outside schools during her visits in the U.S. But Canadian education advocates are already riled up about her arrival.
Chris Cowley, president of the Ontario Teachers' Federation, tweeted that he found DeVos's visit to Ontario troubling.
During DeVos's first school visit, in Washington, D.C., the education secretary was swarmed by public school supporters who shouted "shame" and followed her as she escaped into her government sedan. Following the protest, DeVos began receiving protection from armed U.S. marshals.
When asked about what Canada could teach the U.S., Ontario Education Minister Mitzie Hunter told the Star that DeVos could learn a thing or two about inclusive education.
Under DeVos, the Trump administration revoked Obama administration guidelines that allowed transgender students to use the bathroom or locker room of their choice, or gave them the option to use a private facility. The move came shortly after President Donald Trump's inauguration, signaling a sharp shift away from Obama-era policies that offered more inclusive education options.
Update: DeVos canceled her trip to Canada due to scheduling conflicts, according to the Washington Post.