BET Founder Doubts Democrats Can Win In 2020: 'I Don't Think That Group Is Capable of Beating Trump'
Robert Johnson, the media mogul who founded Black Entertainment Television (BET), expressed his doubts about any of the Democratic presidential candidates chances of beating President Donald Trump in the 2020 election.
"If you take a snapshot today, I don't think that group is capable of beating Trump despite what the polls say," Johnson, who also founded RLJ Companies, said in an interview with CNBC on Friday. The media mogul also said that the election is Trump's "to lose based on his bringing a sort of disruptive force into what would be called political norms."
Johnson argued that Trump's unique "style" has resonated with voters, cautioning Democrats against getting "caught up in stylistic Trump." He asserted they should instead focus "more in substantive Trump."
"[Trump's style is] something that the president's supporters like and the reason why they voted for him and will do so again next year," Johnson said. He also pointed out that the president's ability to "dominate the news cycle" gives him an advantage over his political opponents.
Newsweek subscription offers >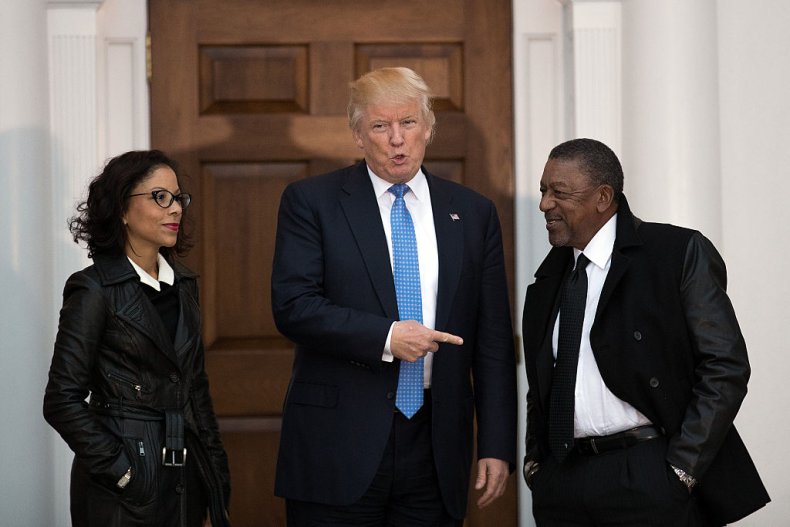 Johnson founded BET in 1980, with the goal of catering to a black American audience. As of 2018, BET was ranked as the 25th most-watched cable channel.
Newsweek subscription offers >
The media mogul, who has an estimated net worth of $550 to $600 million, also cautioned in his interview with CNBC that none of the Democratic candidates were "enough in the center." He suggested this would cause them problems with African American voters.
Johnson has previously praised Trump for his economic policies, but has described himself as a Democrat. Asked about his praise of the president, and whether it meant he would possibly vote for him in 2020, Johnson said it did not.
"It means that I'm going to speak my mind, speak in an independent way based on the facts and not try to get caught up in the politics," he said.
Despite Johnson's assessment, numerous national polls show Trump trailing all of the leading Democratic presidential candidates in hypothetical 2020 matchups. A SurveyUSA poll published on Wednesday showed former Vice President Joe Biden and Senator Bernie Sanders of Vermont beating Trump by double digits, while Senator Elizabeth Warren of Massachusetts and Mayor Pete Buttigieg of South Bend, Indiana would each beat Trump by 7 percentage points.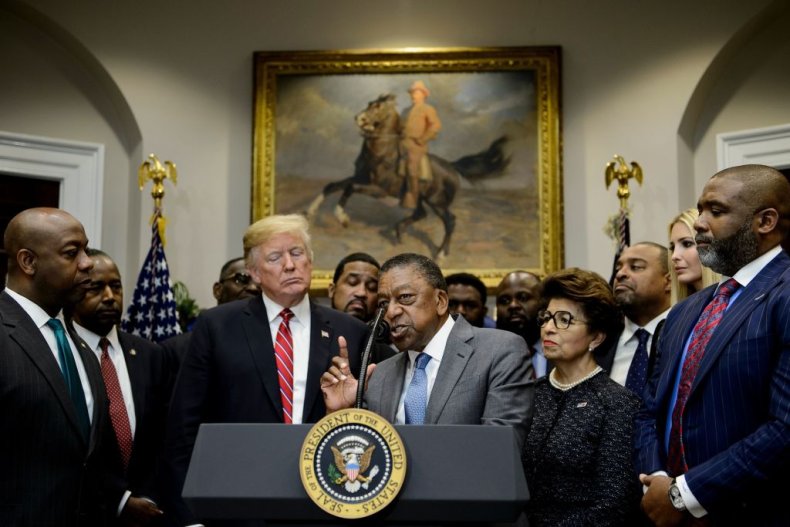 Even right-wing Fox News, which is generally seen as supportive of the president and Republicans, has published several polls showing the president trailing his political rivals. A survey conducted by the cable channel at the end of October showed Biden beating Trump by 12 percent, while Sanders beat him by 8 percent and Warren was ahead by 5 percent.
Notably, however, most national polls showed former Democratic presidential candidate Hillary Clinton leading Trump ahead of the 2016 election. While Clinton did garner nearly 3 million more individual votes than Trump, the president won the election with a wide margin due to the Electoral College system.
BET Founder Doubts Democrats Can Win In 2020: 'I Don't Think That Group Is Capable of Beating Trump' | U.S.