Beth Chapman Update: Dog the Bounty Hunter Shares Twitter Photo of Wife in Hospital Bed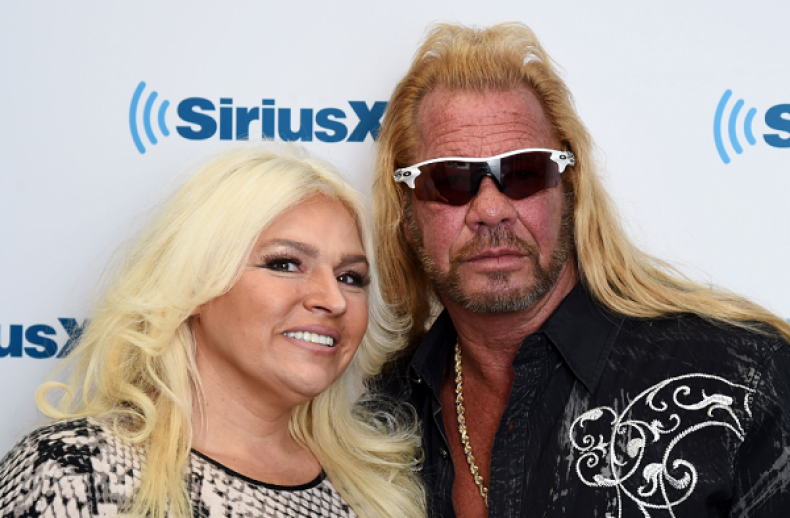 Dog the Bounty Hunter is doing all he can to make his wife feel comfortable while she's currently in the intensive care unit at Queen's Medical Center in Honolulu, Hawaii. Beth Chapman was placed in a medically induced coma following complications stemming from her cancer diagnosis on Sunday. Her husband Duane "Dog" Chapman has not only remained by her side through it all, but he's also maintained his wife's upkeep while she lays in a hospital bed, starting with keeping her manicure fresh.
"You know how she is about HER NAILS !!" Duane Chapman wrote alongside a photo of his wife's hand, shared on Twitter on Monday.
Beth Chapman's hand rests on a hospital bed, wrapped in tape and gauze. However, it's her signature nails—long and covered in crystals—that stand out the most.
If you've caught just one episode of Dog the Bounty Hunter, then you are likely well aware of Beth Chapman's love of long and fancy, often bejeweled, colorful nails. Her intricate nail designs were a staple on the A&E reality show and were often a source of fascination from fans who wondered how she managed to holster a gun and help her bounty hunting husband lock up criminals with fingers encrusted in crystals. She regularly shares photos of her manicures on social media and shouts out her longtime nail artist Danny Le.
Fans of the couple were in awe of Duane Chapman's sweet ode to his wife and offered messages of prayers and support during Beth Chapman's health crisis.
The mother-of-four first announced her Stage II throat cancer diagnosis back in September 2017. Duane Chapman has been by his wife's side every step of the way, even admitting the cancer battle has brought them even closer together.
"She woke up once in the middle of the night and she's like, 'Honey, I'm gonna die.' I said, 'No, you're not gonna die and I'm not gonna hear that.' She goes, 'Yes, I am. You're so stupid, how are you gonna make it by yourself?' It has brought us closer," he revealed to Us Weekly in November 2017. "I've been with her since she was 19, she's almost 100. Every picture I see of us together, I remember where it was. It just makes all those moments that you shared love a lot more real when that could be what you're left with: Just the moments. It was hard as s**t."
Just two months after Beth and Duane Chapman revealed her cancer diagnosis, the couple appeared on an A&E special, Dog & Beth: Fight of Their Lives, with good news. The cancer was removed.
However, the following year the couple announced Beth Chapman's cancer had returned after she underwent emergency surgery in November 2018. During the operation, doctors discovered cancer spread to her lungs.
Before being placed in a coma, Beth Chapman, 51, was rushed to the hospital after suffering respiratory issues in April. Although she started taking chemotherapy earlier in the year, she seemed to imply she discontinued treatment while delivering a Mother's Day speech at a Florida church in May.
"Chemotherapy is not my bag, people," she said. "Sorry, that's not for me. So for me, this is the ultimate test of faith. This is my ultimate lesson."