A Louisiana relief effort spearheaded by entrepreneur and philanthropist Bethenny Frankel is working to help mitigate water damage to people's homes, ensure people have the necessities, and eventually, put cash in people's pockets.
After rapidly intensifying, Hurricane Ida hit Louisiana as a category 4 storm, causing some of the worst flooding the New Orleans area has seen in years. Five days after it hit, some residents remained without power, clean drinking water or basic essentials and with a team on the ground, Frankel's $1.5 million relief effort is hoping to alleviate some of the suffering.
"You have to do it like it's a military operation," Frankel told Newsweek. "You have to know that you can get in, that it'll be safe, and have the right people doing it. We have former Green Berets helping people put roofs on their houses."
Frankel, who rose to prominence on Bravo's Real Housewives of New York City as she built her Skinnygirl empire, launched BStrong: Disaster Relief, a philanthropic effort designed to deliver aid in real-time. Starting with a $300,000 relief effort after Hurricane Harvey in 2017, BStrong's partnership with the Global Empowerment Mission (GEM) has delivered more than $110 million in aid worldwide.
Having built up their reputation as a credible relief initiative, donations have increased significantly over the years and Frankel's initiative has been able to consistently stock a warehouse in Miami. Having supplies on hand and the ability to pack survival kits ahead of Hurricane Ida making landfall, meant Frankel's team could have trucks ready to leave for the area as soon as it was possible.
"We're always ready to go ahead of time and when we can predict these storms, we can be ready to run and gun," Frankel said. "It's like a Costco how organized it is."
While kits vary based on the crisis, Frankel noted people will always need food, water, medical supplies and often battery-powered lights. At a distribution drive on Thursday, 2,000 people were given survival boxes that contained items, including personal protective equipment, that could last a family for a month.
"It's a huge turnout," Frankel said. "That's the biggest drive we've ever had."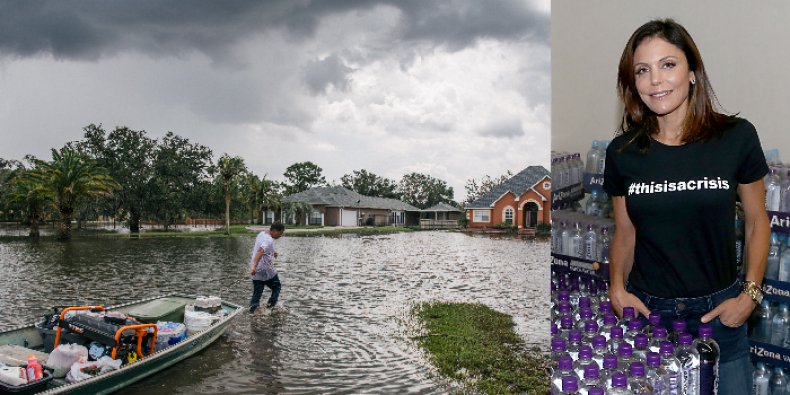 Along with monetary donations that help BStrong and GEM respond to crises, Frankel said donations from major companies have been instrumental in helping relief efforts. In Louisiana, Goya delivered a truck filled with food items to be distributed at the drive and to soup kitchens.
Frankel made clear that part of what makes their missions so successful is their dedication to keeping administrative costs low and putting the money they receive back into communities that are struggling in the wake of a disaster.
The relief effort in Louisiana will last another 10 days, according to Frankel, and includes working with towns and churches to identify the best ways to distribute aid. Part of that relief has been donating billboard size tarps and enlisting the help of former Green Berets to help people, especially those who are elderly, install them on their roofs to help mitigate water damage.
Water is one of the main dangers with hurricanes, as it can cause incredible levels of death and destruction. Frankel noted that flooding is a significant challenge to relief efforts, in part because as time goes on, still water can become contaminated and cause disease.
On top of the work BStrong is doing in Louisiana, relief efforts are underway for California, which is suffering from intense wildfires, and Haiti's earthquake recovery.
"This is unprecedented. This is the most we've had to do at one time," Frankel said. "With Harvey, it was all anybody could talk about. Then it was Hurricane Maria. You can't focus on one thing that you're interested in now. There's Louisiana, Haiti, Afghanistan, Cuba, take your pick."
One challenge to any relief effort is getting to where the crisis is. Frankel was supposed to fly out earlier this week, but Ida's arrival in New York grounded her flight. With airports closed, they were able to get a truck into the area but a team had to fly to Houston, Texas, and drive hours to Louisiana.
"This is the time of paralysis," Frankel said of the early days of relief efforts. "This is the beginning, the getting to ground zero."
While the immediate focus is on ensuring people have medical necessities, such as insulin, and food and water, Frankel's next phase will help provide people with financial assistance. A staple of her relief efforts has been the distribution of BStrong cards, prepaid debit cards, that give people "the dignity to purchase what they need."
"People want to feel someone cares. It's not about exactly what you're doing, it's that someone cares," Frankel said.