Bethenny Frankel Says Hilaria Baldwin Is 'Addicted' to Paparazzi
Bethenny Frankel slammed Alec Baldwin's wife, Hilaria Baldwin, describing her as "addicted" to being chased by paparazzi.
Baldwin was recently snapped grabbing a coffee in a t-shirt emblazoned with the word "empathy" on the front, after her husband was charged with two counts of involuntary manslaughter in the shooting death of cinematographer Halyna Hutchins in October 2021.
She spoke to paparazzi waiting outside their West Village apartment last week and asked them "to leave her family in peace," following news of the charges. Alec Baldwin was an actor and producer of the movie Rust when prop a gun he was handling discharged on set killing Hutchins and injuring writer-director, Joel Souza.
Despite Baldwin's pleas to the photographers to leave them alone, Frankel claimed the yoga instructor allegedly loved the attention.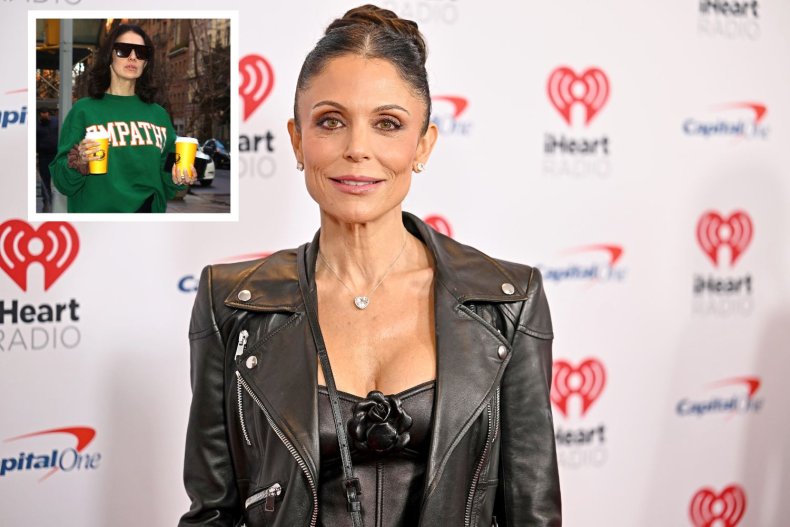 Speaking on her Just B Rant: Sugarcoating Not Included podcast, Frankel said she was not left with a great impression after meeting Baldwin at a mutual friend's dinner party.
She also addressed claims Baldwin was faking her Spanish accent and pleaded with the mom of seven to "say that it went too far," and alleged she probably enjoyed the attention.
"It's not in her character to cop [admit the fake accent] because she doesn't think that anything is gone on and also some people are addicted to paparazzi," Frankel said.
The Real Housewives of New York star added she knew other celebrities who were not "just addicted to fame," but also loved the thrill of being photographed by paparazzi.
"They love feeding into it. And it's usually somebody who is not that famous because this makes them feel like they're telling other people how famous they are," Frankel said.
"So it's my understanding that Hilaria has a specific nuanced condition where she loves the paparazzi, talking about it, the plight of it, and, like, reveling in it. And so, that means that any kind of press will get you that."
Frankel pointed out that "if she and Alec are going through this terrible situation with this gun accident," they have houses where they could have more privacy outside of the city, rather than staying in the West Village where there is a lot of paparazzi.
"Why is she going in giant sweatshirts to coffee houses in a blowout and weird outfits," the reality star asked, suggesting Baldwin should just make coffee at home because it would be easier to avoid the press.
"What does it mean? Why can't people just be accountable?"
Frankel also said she felt sorry for Alec and the kids over the "Hilaria-ousness" of the situation and branded the former model a "Hila-liar."
Baldwin spoke with waiting media on January 20 outside of the couple's apartment.
"I'm going to tell you what I'm going to say, you're not going to ask me questions," she said. "I want you guys to realize we have seven kids, and you being here to escort them to school and to be there when they come home is not good."
Baldwin added: "So on a human level, you know I'm not going to say anything to you. You know that. So please, leave my family in peace, and let this all play out, okay?"
Born and raised in Boston, Baldwin addressed the controversy around her accent in January 2021.
"My parents raised my brother and me with two cultures, American and Spanish, and I feel a true sense of belonging to both. The way I've spoken about myself and my deep connection to two cultures could have been better explained—I should have been more clear and I'm sorry," she wrote.