Bethenny Frankel Slams Halftime Show—'Rihanna Puts Business First'
Bethenny Frankel has shared her thoughts on Rihanna's Super Bowl show, saying it was more of a business opportunity for the pop star than a display of her love for music.
The Real Housewives of New York alum, 52, said Rihanna saw the perfect opportunity to help her makeup and lingerie empire by doing the halftime show at Sunday's Super Bowl in Glendale, Arizona.
Rihanna was listed as a billionaire in 2017 by Forbes magazine, thanks mainly to her Fenty Beauty cosmetics company, Fenty Skin line and Savage X Fenty lingerie brand rather than her successful music career, which began in 2005.
During her performance, Rihanna even stopped to powder her nose with the Fenty Invismatte blotting powder. Searches for the product jumped 833 percent after the performance, according to brand performance website Launchmetrics.
Frankel took to Instagram to review Rihanna's show and said that not only had the Barbadian singer "won the Super Bowl" but her brand Fenty also "won."
Speaking in a video, Frankel mentioned a Rihanna show she had seen at the Barclays Center in Brooklyn, New York, as well as a concert she saw there by the singer Pink, a few years ago.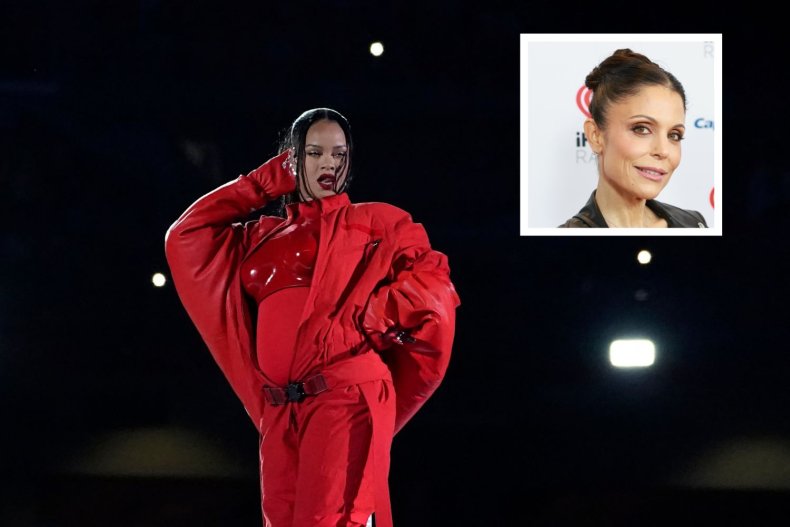 She said while "I love Rihanna," her 'vibe, songs and fashion,'" Frankel was "much less inspired by her than Pink as a performer."
Frankel said Pink was a passionate performer compared with Rihanna, but she also conceded her pregnancy may have had an impact on her Super Bowl performance.
"But Rihanna was also touching up her face with her makeup, and her whole entire makeup brand flew and paid for all these influencers to go to the Super Bowl, and they had their own Super Bowl," Frankel said.
She said that because headlining artists do not get paid to be at the Super Bowl, Rihanna may have negotiated a deal with the NFL to have private Fenty and Savage X Fenty boxes at the game for major influencers she invited to attend.
"Rihanna's big moneymaker in her life and career is Fenty. So she's touching herself up during the performance, and she's bringing the influencers there. They're gonna do hundreds of millions of dollars in sales as a result of that trip."
Frankel added: "So I think the Super Bowl overall was a win for Rihanna. Whether her performance was amazing or not, she won the Super Bowl."
Research by Launchmetrics backed up these claims, saying the mention of Fenty Beauty during the Super Bowl would have generated a total of $5.6 million in media impact value in the first 12 hours alone.
Rihanna also released a series of Super Bowl merchandise through her brands, including a clothing collaboration with the NFL and a clothing brand, Mitchell & Ness. The clothing ranged in price from $40 to $5,000 and included graphic T-shirts and sweaters.
Savage X Fenty released a limited-edition Game Day collection of clothing featuring jerseys, hoodies, sweatpants and beanies, among other items. In addition, Fenty Beauty released an exclusive range of "Game Day" makeup: lip glosses, lipsticks, football-shaped makeup sponges, mini gloss bomb key chains, undereye stickers and makeup bags.
Rihanna's performing comeback—it was her first live show in five years—was an opportunity for her to get a bump in music sales, thanks to the 118.7 million people who tuned in to watch her.
Previous performers have seen a rise in sales after performing at the Super Bowl, including Dr. Dre, who headlined the 2021 show and had a 183 percent increase in album sales and a 105 percent jump in streams, according to data from Luminate.
Besides speaking to the camera about Rihanna's performance, Frankel wrote a lengthy caption to her post.
She said: "I thought I would just 'throw it up throw it up' because Rihanna puts business first. That Super Bowl performance was good not great (and being pregnant cannot make that easy), but it was a SPECTACULAR Fenty Brand performance...that's where the big Super Bowl win was last night."
She went on: "Take all the money she has made making music and multiply that by a LOT for what FENTY is making. The rest is just a vehicle for that mega beauty brand success. She is one of the last few who will cash out that way as celebrity beauty brands are saturated. She crushed that FENTY Beauty performance...and even did a touch up of her face and a token touch (and sniff) of her vagina (which many of us could have done without)."
Newsweek reached out to Rihanna's representatives for comment.