Bethenny Frankel Takes Aim at Stanley Drinking Cups: 'Incredibly Stupid'
Bethenny Frankel has offered an unflattering assessment of Stanley's Adventure Quencher Travel Tumblers, branding the hugely popular cups "incredibly stupid" in an Instagram video.
While the insulated tumbler comes in a variety of capacities, the sizable 40-ounce version has become something of a social-media trend, with countless influencers sharing posts of themselves with the accessory.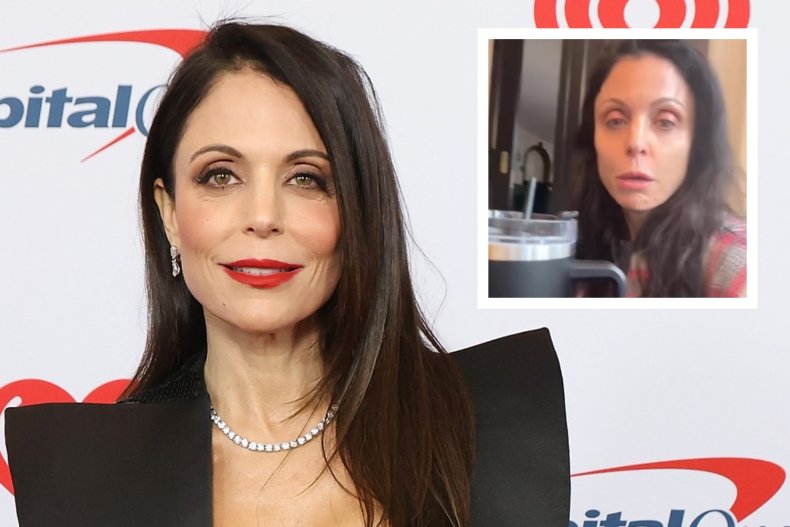 The tumbler is lauded for retaining the heat in warm drinks for several hours. It keeps iced beverages cool for up to two days and has become a must-have accessory that constantly sells out. On TikTok, the hashtags #StanleyTumbler and #StanleyQuencher have garnered hundreds of millions of views.
However, The Real Housewives of New York City alum Frankel, 52, is counting herself among the decidedly unimpressed. She shared a no-holds-barred review of the product with her 2.9 million Instagram followers on Thursday.
"This is easily the most stupid thing that people are obsessed with buying," the TV personality said as she held up the black cup while sitting at a table in her kitchen. "I was sent this one, and I'm grateful because I didn't have to pay for it."
As for the practicality of the tumbler, Frankel added: "It doesn't fit in any cup holder. It will topple over. You could smash somebody in the face with it. It looks like an industrial flashlight, so they should make one that is an industrial flashlight.
"But you must be the thirstiest b**** in the world if you think you need this. Like honestly, this is a thirsty b**** up. It is so incredibly stupid. It is like a Stanley Cup, I guess. Give it to the hockey players when they win the Stanley Cup, because they're the only ones dehydrated enough after a game to need something so stupid."
"THIRSTIEST THING YET," read a caption written over the video, in part. "Only a young person with a disposable income would want or need this."
Captioning the post, Frankel wrote: "These cups are $80 for the large size & people buy custom cup holders to fit these. I'm the most dehydrated b**** ever and I still recognize how insane this is."
"PS. Nurses & teachers are exempt from this post because they need this level of hydration in one place at work," she added. "PPS. It can also be used to p** in, thus increasing its value."
Many of Frankel's followers on the platform disputed the price that she posted for the item, writing that it costs $40, half the price she stated. An overwhelming number expressed disagreement with other points made by the native New Yorker.
One Instagram user commented: "I always support u but Bethenny leave my Stanley alone!!"
Noting that the tumblers also are popular for their tapered design, allowing the slim base to fit into cup-holders, another wrote: "She says it doesn't fit in any cup holder ummm yeah it actually does."
Another Instagram user posted: "It has a straw and I don't see how drinking 40 oz of water is a bad thing! That's half of what I need a DAY. Love my Stanleys."
"I will not tolerate the Stanley cup slander," another of Frankel's followers wrote. "I've never drank more water and I'm glowing."
While some people recommended cheaper—though also smaller—alternatives to the cup, there were some Instagram users who agreed wholeheartedly with Frankel's review.
"Well said!!! Everyone got so hyped over this cup and I refused to get one. Mainly because it's not leak proof," wrote one. "Being a Mom who is also on the go I can't worry about holding up my cup all the time. If it's not leakproof it's not for me. I need to be able to throw something in a tote or carry my 2 year old in and out of the car with a cup hanging on a finger or two."