Bethesda Launcher Not Working? Black Screen Plagues New 'Morrowind' Players
​Having problems with Bethesda's Launcher? Getting a black screen? Find out what's happening with the service and when the issues will be fixed, here.
On Monday, Bethesda Softworks announced it was giving away free copies of The Elder Scrolls 3: Morrowind in honor of the franchise's 25th Anniversary.
While players were quick to grab the limited time redemption code, there have been several issues with jumping into the game. On Monday evening some users reported issues with the free redemption code not working. Then on Tuesday afternoon, new players ran into issues with Bethesda's game launcher showing a blank black screen.
The issue has been ongoing since around 12:00 p.m. EDT and Bethesda's Twitter Support account recently tweeted that they were checking into the issue.
If you visit Bethesda.net's Status Page it also confirms a partial system outage.
"We're currently investigating issues with BethesdaNet Launcher. Thank you for your patience."
While issues with Bethesda's Launcher may be due to a problem with the service itself, Bethesda has offered a series of steps players can follow to check that their systems are capable of handling the game and are up-to-date with necessary drivers. Those instructions are as follows:
How To Troubleshoot Problems with Bethesda Launcher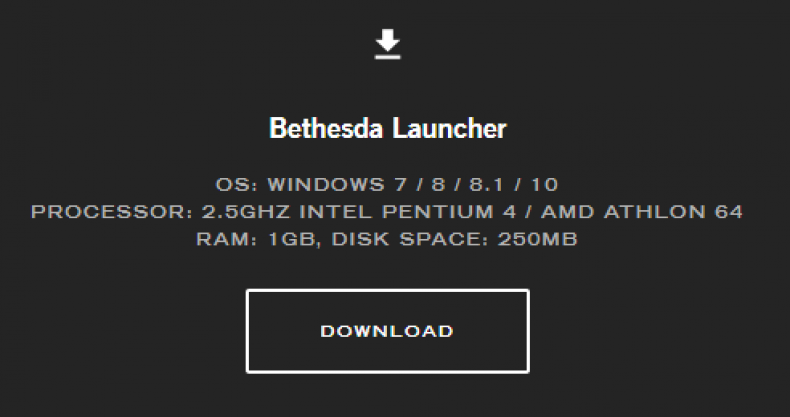 If you are experiencing an issue with your Bethesda.net Launcher showing a black screen, first make sure your computer meets the minimum system requirements :
OS: Windows 7 / 8 / 8.1 / 10
Processor: 2.5 GHz Intel Pentium 4 / AMD Athlon 64
RAM: 1 GB
Disk Space: 250 MB
If your machine meets the requirements, you should try the following troubleshooting steps:
Update Graphics Card Drivers - You Download the latest drivers for your graphics card below:
Run the Bethesda.net Launcher in Compatibility Mode

Right-click on the Bethesda.net Launcher shortcut and select Properties.
Navigate to the Compatibility tab.
Check the box that says Run as Administrator.
Choose to run the game in Compatibility Mode for Windows Vista (Service Pack 2).
Click Apply and then OK.
If you have tried all these fixes and the Bethesda Launcher still shows a black screen, the best option is to keep an eye on the company's social media accounts or the Bethesda.net server status page for updates. As soon as more is learned about the issue and when it will be fixed, we'll be sure to update this post.