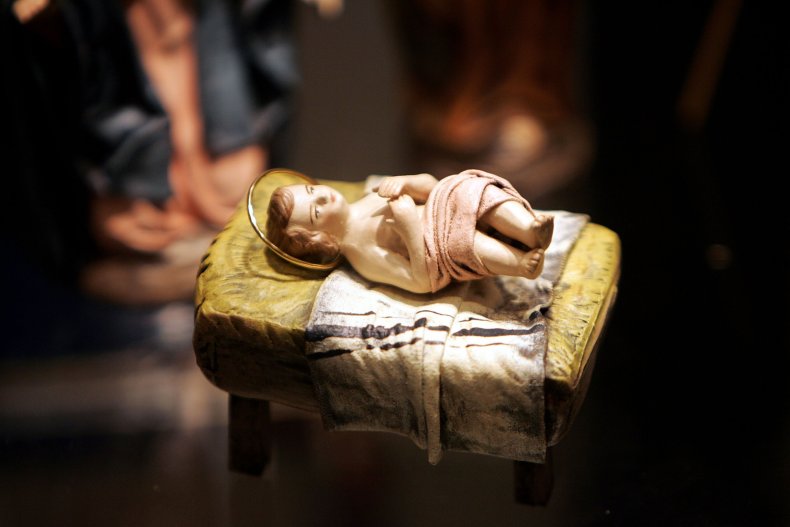 Following a procession complete with marching bands and hundreds of faithful and curious onlookers, an early Christian relic completed its journey from the Vatican to Bethlehem on Saturday, just in time for the start of Advent.
The relic, a wood fragment measuring just a few inches in length, is recognized by the Catholic Church as a piece of the manger in which the baby Jesus was laid shortly after his birth, according to the biblical narrative.
"It's a great joy," Brother Francesco Patton, the custodian of the Franciscan order in the Holy Land, told Wafa, the official Palestinian news agency, of the return.
The relic was first displayed in Jerusalem Friday before being transported to Bethlehem. The fragment arrived encased in an ornate silver frame, or "reliquary," which will be displayed in the Church of St. Catherine, next to the Church of the Nativity.
Prior to its journey back to the Middle East, the relic was carved from the larger manger piece housed in Santa Maria Maggiore church in Rome. The manger has been under the Vatican's care since the early 600s, when Saint Sophronius, then the head of the early Christian Church in Jerusalem, gifted it to Pope Theodore I during a turbulent period in the region's history that saw continual Persian, Byzantine and Arab invasions.
Bethlehem, which is currently located in the Israeli-occupied West Bank, welcomed the return of the relic, which Palestinian President Mahmoud Abbas requested directly from Pope Francis.
Abbas had hoped to borrow the entire relic for the Christmas season, according to reporting by The Associated Press. With more than 2 million visitors to Bethlehem each year, many are Christian pilgrims who flock to the city in December to see the Church of the Nativity during the annual celebration of Jesus' birth.
"A thousand years ago, Rome was busy collecting relics from the East to build itself up as an alternative Jerusalem. Now, Rome is strong enough that it can return relics to Jerusalem and Bethlehem," historian Dr. Yisca Harani told Israeli news outlet Haaretz of the repatriation, which she called an "inversion of history."
Earlier this year, the pontificate also gave bone fragments believed to be relics of Saint Peter to the Eastern Orthodox Church, an effort of goodwill his Orthodox counterpart called a "grand, fraternal and historic gesture," according to the Catholic News Service.
Palestinian officials received another boost from the Catholic Church on Saturday when the Bishops of England and Wales included a statement on Israeli settlements in their autumn resolutions, noting "we all have a responsibility to oppose the continued construction of illegal settlements, which not only fuels human rights violations, but imperils any chance of a two-state solution. We stand in solidarity with the Church in the Holy Land as it strives for justice and peace amid these increasingly difficult circumstances..."