BetMGM Massachusetts Bonus Offer Brings $200 Pre-Launch Bonus Bets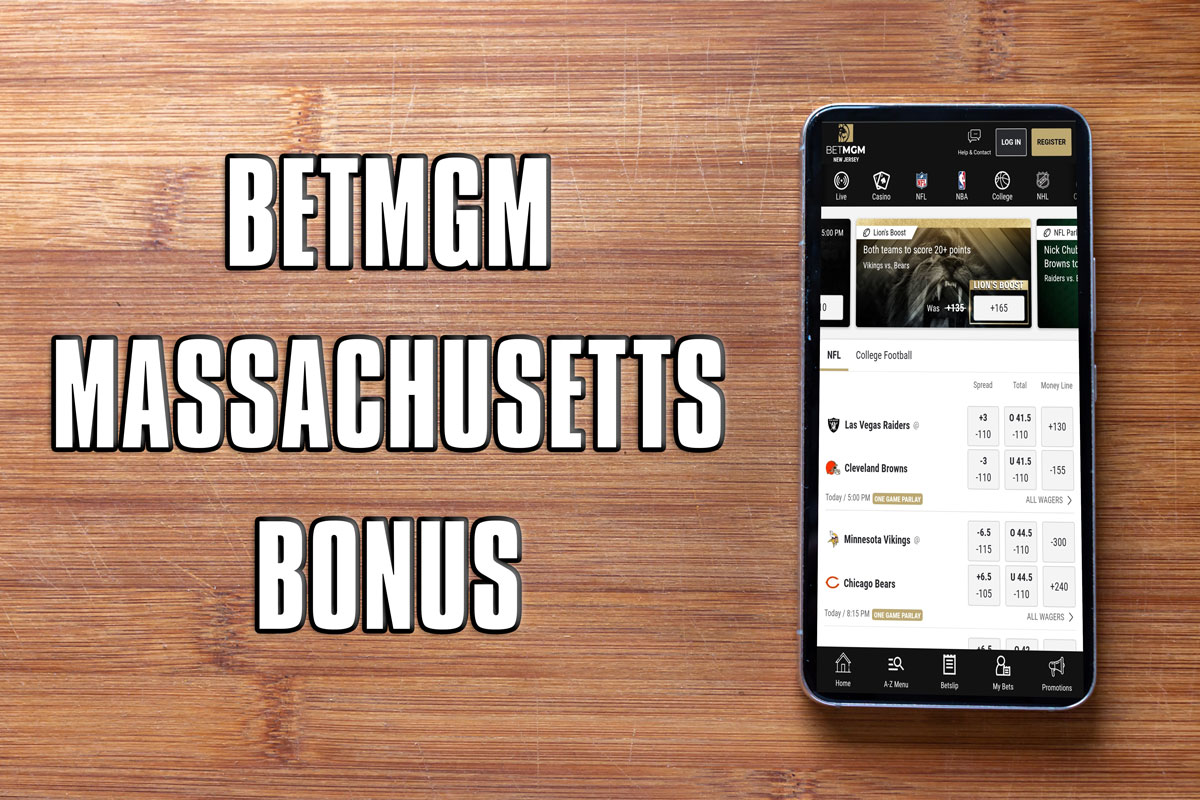 Sports Betting Dime provides exclusive sports betting commercial content to Newsweek, including real-time odds, picks, analysis and premier sportsbook offers to help sports fans get in on the action. Please wager responsibly.
There is a limited-time BetMGM Massachusetts bonus offer available to sports bettors in the Bay State. Sign up early to grab $200 in bonus bets, which you will be able to use on a variety of games this weekend.
New players who sign up early will get $200 in bonus bets with this BetMGM Massachusetts bonus offer. As soon as the app goes live, you will be able to use your bonus bets on betting markets in any league.
Since legal online sports betting is expected to launch in Massachusetts this Friday, there are only days remaining in the pre-registration window. That means time is running out on your chance to get $200 in pre-launch bonus bets.
Secure this BetMGM Massachusetts bonus offer to lock-in $200 in bonus bets by signing up early for an account.
BetMGM Massachusetts Bonus Offer Comes With $200 Bonus Bets
Sports bettors can benefit in a big way this week with BetMGM Massachusetts. From now until the moment that Massachusetts online sports betting goes live, you can sign up early for a $200 return in bonus bets. These bonus bets come at absolutely no charge, making this offer a total no-brainer.
Once the app goes live, you'll be able to make a first deposit, which will give you full access to a bevy of in-app promos and more. Given the number of NBA and NHL games on this weekend's docket, as well as next week's NCAA Tournament, loading up your account with $200 in bonus bets for pre-registering makes a ton of sense.
How to Activate This BetMGM Massachusetts Bonus Offer
Prospective bettors in the Bay State can secure $200 in bonus bets when they pre-register for an account with BetMGM Massachusetts. Complete the pre-registration process below to secure the bonus bets:
Pre-register

for this BetMGM Massachusetts bonus offer
Input your name, address, phone number and date of birth
Confirm your location via a geolocation verification
Enter an email address and create a password
You will receive $200 in bonus bets to use on games this weekend when you complete the pre-registration process.
In-App Promos This Week
The BetMGM Massachusetts bonus offer for pre-registration is a solid one. At the same time, it's important to note that there will be even more ways to find value in the BetMGM app after launch. This includes odds boosts, which appear at the top of the screen when you click on a specific league or matchup.
Another area that you should absolutely check out is the promo page. This will show you every sports betting in-app promo available for a given day. BetMGM's one-game parlay promo is a really strong offer. This promo gives players a refund in bonus bets if one-game parlay settles as a loss. Since even one leg of the on-game parlay losing will render the bet as a loss, this is a valuable promo. The great thing is that this offer is available in multiple iterations, allowing you to use it on the NBA and NHL on the same day, if you so choose.
Pre-register for an account to secure $200 in bonus bets with this BetMGM Massachusetts bonus offer.
Newsweek may earn an affiliate commission if you sign up through the links in this article. See the sportsbook operator's terms and conditions for important details. Sports betting operators have no influence over newsroom coverage. If you or a loved one has a gambling problem call the National Council on Problem Gambling 24/7 at 1-800-GAMBLER. Must be 21 or older to gamble.
21+ and present in Massachusetts. Gambling problem? Call 1-800-GAMBLER.