BetMGM UFC 285 Promo Code Unlocks $1,000 First-Bet Offer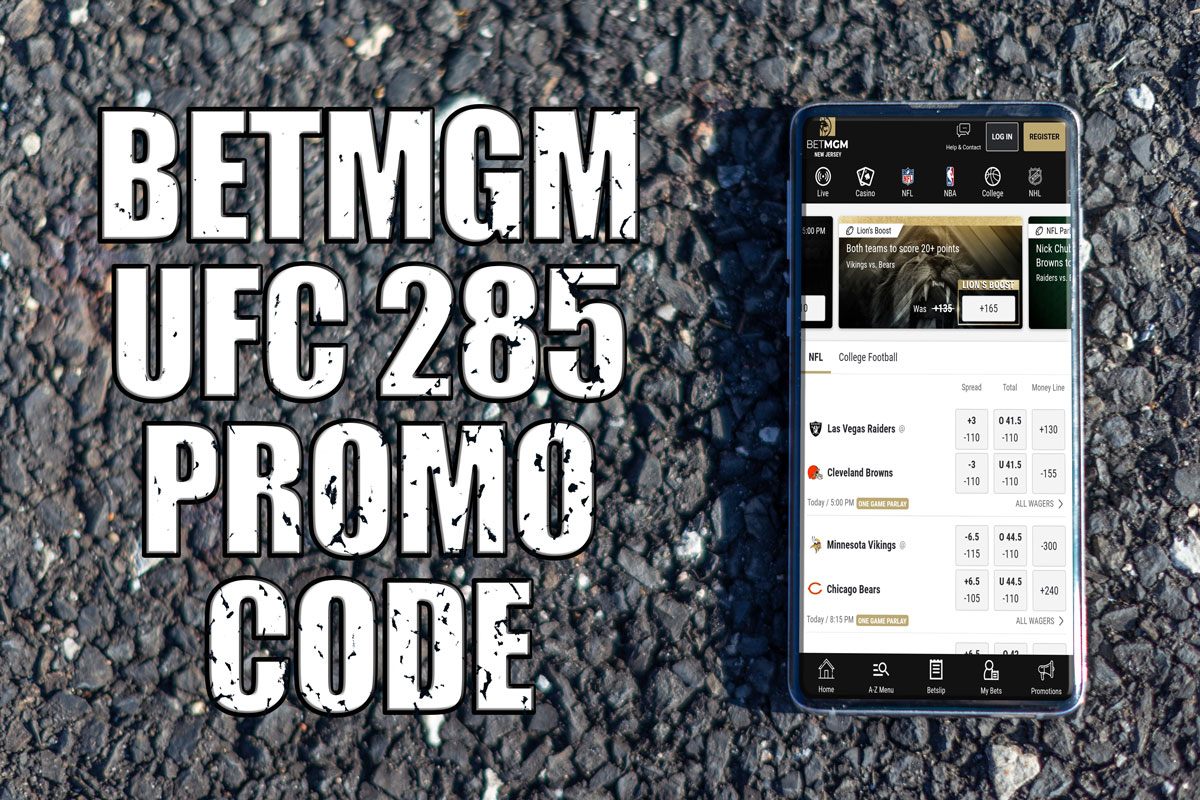 Sports Betting Dime provides exclusive sports betting commercial content to Newsweek, including real-time odds, picks, analysis and premier sportsbook offers to help sports fans get in on the action. Please wager responsibly.
UFC fans can secure a ton of value when they sign up for the latest BetMGM UFC 285 promo code offer. Players who register for an account will receive a $1,000 first-bet offer, which can be applied to any betting market in any bout.
This BetMGM UFC 285 promo code offer will back your first cash bet on the event with up to $1,000 in bonus bets. If your first bet settles as a loss, you will receive bonus bets to use on other bouts and games.
Saturday marks the return of Jon "Bones" Jones to the UFC for the first time since UFC 247. That event took place over three years ago. Despite the lengthy absence, Jones is favored to win the vacant heavyweight title in his bout against #1 contender Ciryl Gane. You can wager up to $1,000 on this or any bout knowing you'll get a second chance with this offer from BetMGM.
Lock-in a $1,000 first-bet offer when you apply our BetMGM UFC 285 promo code by signing up for an account.
BetMGM UFC 285 Promo Code Unlocks $1,000 First-Bet Offer
There are five bouts on the UFC 285 main card, as well as four prelims and five early prelims fights scheduled for Saturday night. Most of the attention entering UFC 285 surrounds the return of Jon Jones. After a three-year absence from UFC, Jones enters the main event for the vacant heavyweight title as the favorite against a skilled Ciryl Gane.
You can bet on either fighter to win, the method of victory, the round the bout will end in or any other betting market as part of this promo. If you were to wager $750 on Jones to win the bout, but he loses, you would get back five $150 bonus bets to use on other fights or games in any sports leagues.
How to Sign Up With Our BetMGM UFC 285 Promo Code
New players who sign up for an account with BetMGM will secure a $1,000 first-bet offer by registering through our links. Once you've completed the registration process, your first bet of up to $1,000 will be backed by BetMGM with up to $1,000 in bonus bets. Here's how to sign up with BetMGM:
Register

for a BetMGM account
Input your name, date of birth, address and phone number
Verify you are in a state where legal online sports betting is available
Add money to your account via one of the available deposit methods
Navigate to the UFC 285 bout of your choice
Place an initial wager of up to $1,000
BetMGM will return your first cash bet along with a profit if your first cash bet wins. However, if your bet loses, you will receive five equal bonus bets to use on other games.
UFC 20% Parlay Boost Promo
BetMGM has another great offer available to all new and existing players. This promo gives bettors a 20% parlay boost token to apply to any qualifying UFC 285 parlay. In order to qualify, you must first opt-into the promo via the promos section of the app. Then, you will need to build a UFC 285 parlay consisting of at least three legs. The final odds of the parlay must be +400 or longer. You will then need to apply the parlay token to your ticket. If your UFC 285 parlay settles as a win, you will receive an additional 20% in extra winnings on the profit you earn. The maximum bet for this offer is $25.
Sign up to activate this BetMGM UFC 285 promo code for a $1,000 first-bet offer.
Newsweek may earn an affiliate commission if you sign up through the links in this article. See the sportsbook operator's terms and conditions for important details. Sports betting operators have no influence over newsroom coverage. If you or a loved one has a gambling problem call the National Council on Problem Gambling 24/7 at 1-800-GAMBLER. Must be 21 or older to gamble.