Beto 2020? O'Rourke Invited to Iowa, Called Most 'Authentic' Democrat Since Obama as Presidential Speculation Mounts
Speculation that Beto O'Rourke may make a presidential bid in 2020 despite losing his Senate race to Republican incumbent Ted Cruz last week has swirled after he received an invitation to visit the Polk County Democratic Party in Des Moines, Iowa, the state whose caucuses are considered the first presidential votes.
The Democratic Party in Des Moines, where one-third of Iowa's Democratic voters reside, sent O'Rourke the invitation on Monday, according to The Dallas Morning News.
"We would love to host him," Polk County Democratic Chairman Sean Bagniewski told the newspaper in a report published Tuesday.
"It's real. In Iowa, everybody knows the next person that they want to meet, and by far he is the No. 1 person that's being requested right now—volunteers, elected officials, our membership base," Bagniewski said. "Everybody right now is asking for Beto."
Bagniewski called O'Rourke "unapologetically progressive" and likened O'Rourke to former President Barack Obama, who similarly rose suddenly in popularity but who'd won a Senate seat first, unlike the Texas congressman.
"He's a young face. He wasn't afraid to be himself. Democrats are often very poll tested, very consultant-driven. He was more authentic in a way that people haven't seen since Barack Obama," Bagniewski said. "So he connected with people nationwide in ways that some of our more cautious political leaders haven't."
O'Rourke reportedly has not yet responded to the invitation. He was rumored to have been in Des Moines, Iowa City or another part of the state over the weekend. Iowa caucuses are important because they are the first indicator of how much support a presidential candidate has.
"People were going crazy trying to figure where he was and what I knew and where he might be going," Bagniewski said of the O'Rourke rumor. "It was like Beatlemania, for God's sake. It was like all weekend long, supposed sightings... There's definitely some electricity there."
O'Rourke on Sunday emailed a thank you to his supporters but left a 2020 run for president up in the air.
"The loss is bitter," he wrote. "At the very least our campaign reflected a change already underway in Texas that hadn't yet been seen in statewide campaigns. Future campaigns will be won, influenced by the one we built. Candidates will run who otherwise wouldn't have.
"Just know that I want to be part of the best way forward for this country—whatever way I can help in whatever form that takes."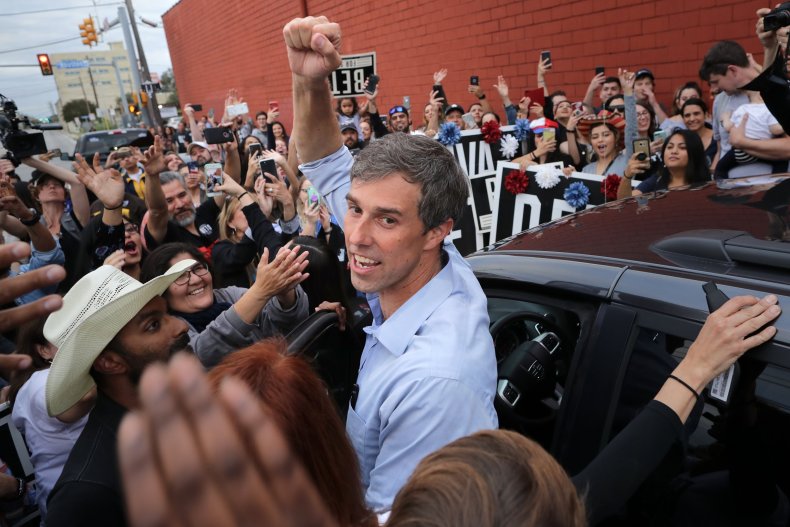 O'Rourke was third—behind former Vice President Joe Biden and Vermont Senator Bernie Sanders—on Democratic voters' wish lists for presidential candidates in 2020, according to a Morning Consult/Politico poll released Monday.