Beto 2020? O'Rourke Spoke to Former Obama Adviser Al Sharpton As He Considers Running for President
Texas Representative Beto O'Rourke appears to continue serious considerations for a 2020 presidential run after he reportedly spoke with Democratic activist Reverend Al Sharpton, who was an adviser for former President Barack Obama.
"They spoke and agreed to meet within the next couple of weeks and they had a great conversation," Rachel Noerdlinger, a spokesperson for Sharpton, told BuzzFeed News on Monday about the Democrats' talk on Friday.
Noerdlinger did not elaborate on what O'Rourke and Sharpton discussed. O'Rourke's contact with Sharpton shows he is interested in garnering support from Obama's camp.
Sharpton, who was a 2004 Democratic presidential campaign briefly, has become a key player in Democratic primaries. He drew major candidates to the National Action Network's annual convention in New York, which in 2007 saw a significant showing for Obama.
Though he lost his Senate race in the November midterm election to Republican incumbent Ted Cruz, O'Rourke drew national attention for the massive amount of funds he raised, how close the race was in the red state and comparisons to the energy that Obama garnered.
O'Rourke met with Obama on November 16 at his Washington, D.C. offices, according to The Washington Post.
The Texas Democrat apparently spoke with Sharpton after former Massachusetts governor Deval Patrick announced he will not make a 2020 bid. Patrick indicated he would consider supporting other Democratic candidates.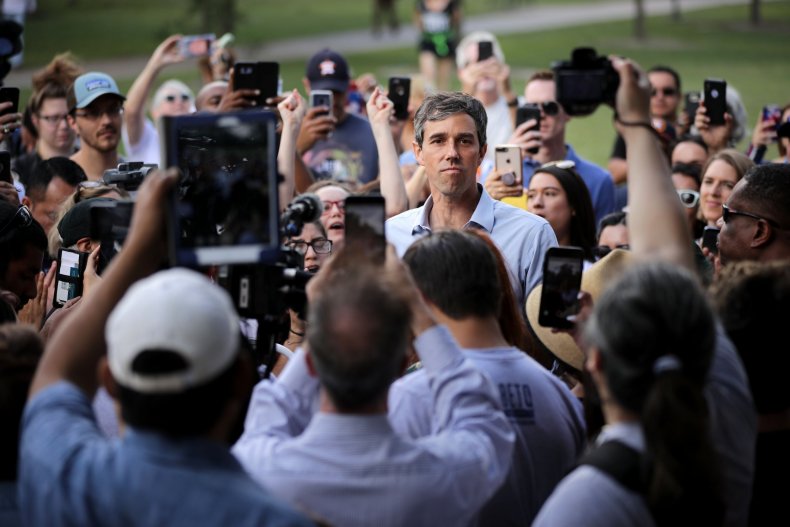 Speculation that O'Rourke may run in 2020 started quickly after his midterms loss. Several days before he apparently met with Obama, O'Rourke was invited by the Democratic Party in Des Moines to visit Iowa, the state with caucuses that are viewed as the first presidential votes.
"He's a young face. He wasn't afraid to be himself. Democrats are often very poll tested, very consultant-driven. He was more authentic in a way that people haven't seen since Barack Obama," Polk County Democratic Chairman Sean Bagniewski told The Dallas Morning News at the time. "So he connected with people nationwide in ways that some of our more cautious political leaders haven't."
In late November, the New Hampshire Young Democrats invited O'Rourke to engage with political operatives and speak with voters.
"When he's on the stump, it's engaging," the organization's president Lucas Meyer told CNBC on November 29. "When he speaks, you're excited, and you know he believes in it. You want to buy into that movement. That's why people are excited."
O'Rourke initially said he did not plan to seek the presidency but at a recent town hall meeting did not write it out.