Beto Latino Outreach 'Disappointing,' While Abbott Won't be 'Outspent'
When Beto O'Rourke launched his uphill campaign for governor against Greg Abbott in November, his campaign and allies used the shortcomings with Latino voters in his 2018 senate campaign against Ted Cruz to help explain how 2022 would be different.
His senate campaign grew too big, too quickly, they said, surprising even Beto himself.
As a result they didn't do a good enough job reaching Hispanics, who comprised 30% of eligible voters in the state in 2018, and instead focused primarily on white voters. There also wasn't enough literature in Spanish for voters, and the campaign could have done better with Latinos on virtually every metric, they said.
The 2022 midterm cycle was supposed to be different for O'Rourke — but so far it appears to be more of the same.
Those concerns are not coming from the activists and volunteers who always push campaigns to do more in their communities, but from within the campaign itself.
Two O'Rourke campaign sources described the Latino voter outreach as disappointing, saying it was falling "below expectations," calling it a "bad idea" to wait to run ads while letting Republicans and Abbott allies define O'Rourke on Spanish-language TV.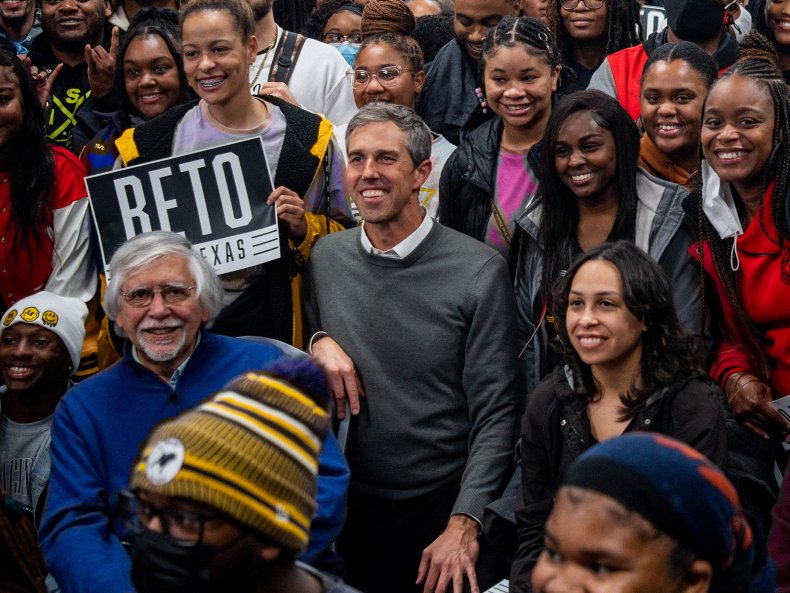 O'Rourke has what many Democrats taking on a Republican incumbent during a very difficult cycle wish they had.
In an expensive and widely watched statewide race, O'Rourke can bank on his celebrity and propensity to make headlines, devotion from grassroots supporters who backed him in previous cycles, and vital email lists and election data from his previous runs for senate and president.
A Quinnipiac poll released Wednesday showed a tight race, with Abbott at 48% support and O'Rourke at 43% with Texas voters. O'Rourke led with Hispanics 50% to 41%, a much closer margin than the 64% to 34% edge he enjoyed against Cruz in 2018 when he lost by 2.5 points.
His campaign told Newsweek that having proudly represented a more than 80% Latino community on the El Paso City Council and in Congress, the bilingual O'Rourke values Hispanics and the importance of amplifying their voices.
The campaign and its allies have consistently stressed that their most important resource is the candidate's time, and O'Rourke's first public event of the race was held in San Antonio, followed by another in Laredo and a third in McAllen.
He has continued showing up in Latino communities in the past month, the campaign said, making a dozen visits to multiple cities with significant Latino populations including the Rio Grande Valley (Rio Grande City, Brownsville and McAllen), El Paso, Uvalde, Houston and San Antonio.
The campaign is prioritizing organizing, with more than 75,000 volunteers, and boasts a majority-bilingual campaign team. Those advantages have allowed it to make over 13 million voter contact attempts in the Latino community, including knocking on doors, making calls, writing letters and other forms of direct outreach.
Still, while multiple sources said O'Rourke has launched bilingual programs and is making coalition hires, the campaign would not provide specifics when asked about the shape of the outreach and financial investment aimed at Latino voters
And Greg Abbott is far from idle when it comes to the Latino vote.
His campaign is not just going through the motions in engaging Hispanics as Republicans have in the past. Abbott said he aims to win the Latino vote with at least 51% support.
Dave Carney, the campaign's general consultant, is also leading its Latino strategy. In an interview with Newsweek, he said the campaign's spending targeting Hispanics is "seven figures" so far, and Abbott — who launched his reelection campaign in McAllen — "is not going to get outhustled, outworked, or outspent" on Latino outreach by O'Rourke.
"Nationally, the president and his party are bleeding Hispanic support," he said, "and we intend to triage that and pick those people off and put them on our bandwagon."
Hispanics in Texas care about the same issues Republicans and "Anglos" in Texas care about, Carney said, from the economy and inflation and gas prices to border security and crime, as well as education and parental rights.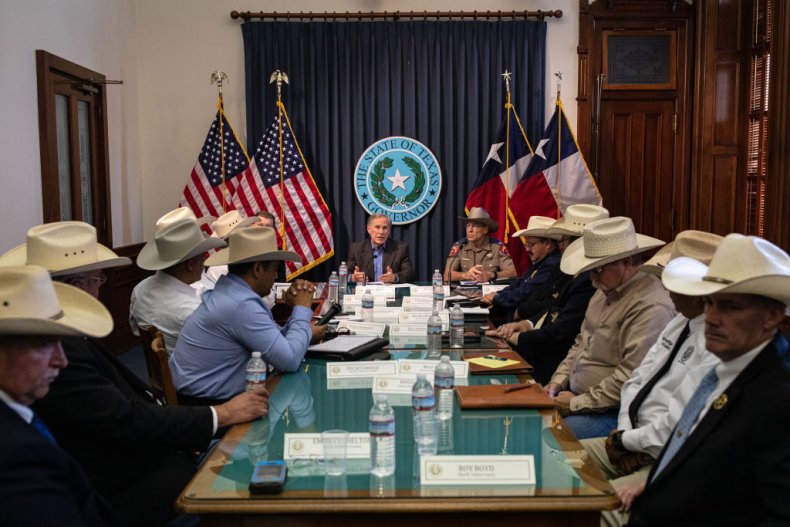 In private conversations, O'Rourke supporters, including voters at rallies and super-volunteers doing the unsung, nitty gritty work that winning campaigns need, plead that O'Rourke needs to counter Republicans running Spanish-language TV and radio ads with a "God, family, and country" message.
"Everybody who has a mouth is telling us we need ads in Spanish," one O'Rourke aide told Newsweek. "Republicans have been doing big and little media buys, from Univision during novelas, to teeny tiny AM stations in the barrio."
The "God, family, and country" ads that every South Texas Democrat told Newsweek they've seen do resonate with Latinos, according to a post-2020 election report by progressive group Cambio Texas that focused on the Rio Grande Valley (RGV).
While the report found "empathy" and "compassion" to be ineffective persuasion concepts, specifically referencing "family" did work. Lending credence to the idea that Texas Hispanics must receive a more tailored message than Democrats use elsewhere, the report found that in the RGV, people are apt to believe "that if something bad happened to someone, they likely did something to deserve it."
Conversely, "work ethic," "pride," "respect" and "family" resonate "strongly within our community and are more likely to earn support," the report stated, a message similar to what Republicans are pounding on the airwaves in South Texas.
O'Rourke campaign volunteers have also complained that they can't get enough BETO lawn signs for everyone that wants them, which provokes eyerolls from some political operatives, while others who spoke with Newsweek said they used to be sign skeptics but have come around on their importance.
In some ways, lawn signs are like football jerseys, helping the grassroots army O'Rourke prioritizes over ads and polling feel connected to the campaign team.
"I was anti-signs, but you can see the psychological effect on the electorate," said Abel Prado, the executive director of Cambio Texas, who partnered with O'Rourke's group Powered by People for a $100,000 field program to help bring out voters in the RGV. "It's one of the best ways to make your voters feel included."
Multiple sources inside and outside the campaign agreed that complaints about things like signs are really about ineffective communication between the campaign and the grassroots supporters it values.
"I don't like that people are whining about signs," the first campaign aide added. "I also know my gente and they like to see their colors, they like representing."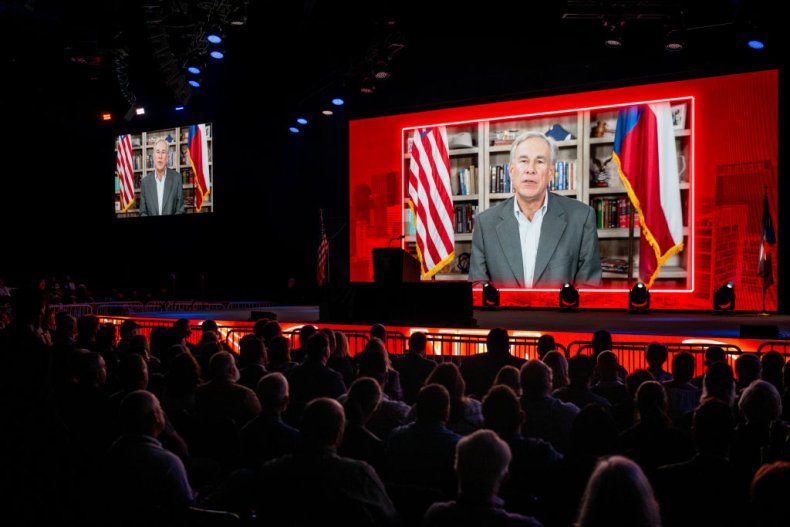 A Democratic veteran of multiple presidential and Texas campaigns zeroed in on O'Rourke's lack of TV ads in general, including Spanish-language ads, with a gloomy assessment of his prospects.
"It's an ugly year and a doomed campaign," the source said.
"They do not believe in TV advertising, no matter how low-information most Hispanic voters are, and no matter how much they over-index on media consumption," they added.
O'Rourke's campaign is all about organizing, but they have to be fighting on multiple fronts because of the scale of Texas, the source said.
"He can get on the stump and rail against Abbott, but voters are not seeing negative ads against Abbott," the source said, arguing that Abbott has to be put further on the defensive, including by everyday Texans explaining how his policies have hurt them.
"It's a Beto-centric campaign," the source said, "but they need more testimonials, more Texans standing up and telling their stories."
As for TV ads, the second campaign aide said campaign leadership is "really trying to save their money for the final stretch."
"I would argue it's a bad idea," the source said. "You want to define yourself before they are able to define you, but a lot of it goes back to fundraising."
Richard Gonzales, the Hidalgo County Democratic Party chair, represents a 92% Hispanic county, and has been working on coordinated efforts with the campaign to reach Latinos, including fundraising.
He acknowledged seeing the Republican ads airing in South Texas, but said the campaign is on the right track.
"Don't get me wrong, people like to see TV ads," he told Newsweek, "but honestly what I've seen down here, the boots on the ground are what wins elections."
Abbott's campaign said they will likely buttress Republican Spanish-language ads beginning in August with their own and with "Hispanic-focused TV ads" in English, and plan to do more of it in 2022 than Abbott did during his first campaign.
They won't do patronizing ads, Carney said, and will likely have 90% positive ads on Abbott's record, though they will hit O'Rourke with contrast ads as well.
And while the Abbott campaign believes it can beat O'Rourke in Texas with just 40% support from Hispanics, it wants to win the Latino vote to help down-ballot Republican candidates.
"We're not going to come up short on our goal because we didn't ask Hispanic voters to support us," Carney said.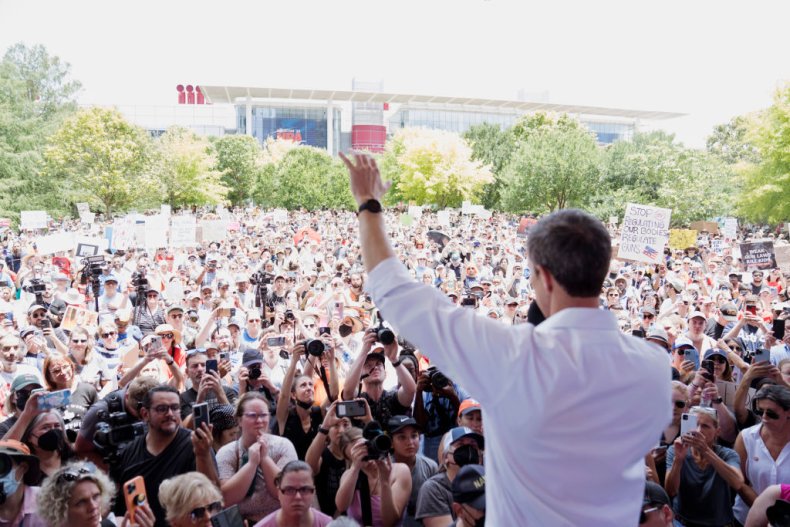 One of those down-ballot candidates is Republican Mayra Flores, who shocked political observers Tuesday by winning the Texas 34th congressional district special election against Democrat Dan Sanchez to replace Democrat Filemon Vela.
Giancarlo Sopo, a Republican media strategist who led Donald Trump's national Hispanic advertising in 2020, said her win in South Texas is "very problematic for Team Beto."
"There is no pathway for them without Hispanics in the Valley, and come November. O'Rourke will be on the same ballot as Mayra and other talented Mexican-American Republicans, like Cassy Garcia and Monica De La Cruz," Sopo said, calling the trio a "nightmare" for Democrats in the state.
"The three will almost certainly draw support from some Hispanic Democrats," he added, "and if those voters are willing to cross a psychological threshold and vote GOP down-ballot, little keeps them from also supporting Gov. Abbott, especially in this environment."
But Prado with Cambio Texas said that after starting on home plate in 2018, O'Rourke began 2022 on second base due to two election cycles-worth of donor and email lists, which are core to what a statewide campaign needs to do to win.
He said O'Rourke's image took a ding during the presidential campaign, but he's still the best resource the campaign has.
"In terms of enthusiasm level, maybe Beto isn't a shiny object like he was in 2018, but he's a known quantity," Prado said. "He has the innate political gift of making people feel included when he's talking to them."
In recent weeks O'Rourke has once again shifted gears, as he has in previous campaigns when tragedy struck, traveling to Uvalde, Texas, where a gunman killed 19 children and two teachers in a predominantly Hispanic elementary school nestled in an 80% Latino town.
Gonzales said O'Rourke has taken a more "offensive approach" in the wake of the shooting, one that is noticed by Hispanic Texans, who saw him do the same thing in the wake of the El Paso hate-crime shooting that targeted Mexican-Americans.
"People like that he's not afraid to get in Abbott's face," Gonzales said. "What he did after the horrific events in Uvalde is he got in Republicans' faces, he was the voice for the people, the voice for the parents, the voice for people that don't have one."
The Quinnipiac poll found the Uvalde shooting has had harrowing effect on Texans, with 61% of parents saying they are concerned there will be a shooting at their child's school.
Cristina Tzintzún Ramirez, a former senate candidate and the president of NextGen America, said her organization is targeting 2.6 million young people in Texas, more than one-third of whom are Latino, in support of O'Rourke.
She said that while Democrats have often taken the Latino vote for granted, "Beto understands how critical they are."
"He has gone to speak to parents," she said. "He's a unique candidate because he's bilingual, and in Uvalde, which is a majority Latino community, he has spent time there and shown he cares deeply about what their families and communities are facing."
An O'Rourke staffer said it's difficult for staff and leadership on the campaign because of the daunting issues facing them, including Roe v. Wade and abortion protection hanging in the balance, the power grid failing, and now with Uvalde, people actually dying because of Abbott's policies.
The first campaign aide argued that while it is a "fact" that Abbott is more likable than O'Rourke's past opponent Ted Cruz, a senator's decisions are far removed from the lives of Texans, while Abbott's hit very close to them.
"Top donors are encouraging Republicans to do gun reform, that's why the hope for me is different here," the aide said, while worrying that another Texas tragedy could come in the next month, before comparing the psyches of campaign staffers in Beto's first and current campaigns.
"In 2018 people were excited and motivated," the campaign aide said. "Now people are crying, they're broken, they're exhausted. But they're ready to raise hell the same way they were in 2018."
The second campaign aide said that while Latinos are a large part of the Texas electorate, campaign leadership sees that Hispanics vote at lower rates than other groups, which affects the attention given to them. Still, the aide said O'Rourke could have won in 2018 if he had the same level of Hispanic support as Hillary Clinton did in 2016.
They said their reason for speaking up was a hope that "it wakes people up" before it's too late.
"I hope they will prioritize Latinos," the campaign aide said. "There's still time to turn it around."