Beto O'Rourke Has 'Nothing to Lose' With 2020 Election Bid and That Makes Him 'Dangerous,' Says Democratic Strategist
Democratic Representative Beto O'Rourke of Texas missed out on upending incumbent Senator Ted Cruz in a surprisingly close 2018 Senate race. And while O'Rourke wasn't able to pull off the upset, his campaign sparked a ton of energy—and it has folks wondering about a potential White House bid for the defeated Senate candidate in 2020.
Should he decide to run for president, O'Rourke, who will be missing from the next Congress as he relinquished his seat to run for the U.S. Senate, might prove a serious contender. One Democratic strategist told The Hill that O'Rourke would be "dangerous"—especially for some of the well-trod Democratic figures like former Vice President Joe Biden and Massachusetts Senator Elizabeth Warren.
"If I'm more of an established kind of candidate, If I'm a Biden or a Warren, you can't wait. You've got to be out there really fast with a strong message. The advantage someone like Beto has is that he has nothing to lose," Democratic strategist Chris Kofinis told The Hill. "That is a dangerous candidate in a multi-candidate field. Same as [former President Barack] Obama. Look at the kind of campaign he ran. He had nothing to lose."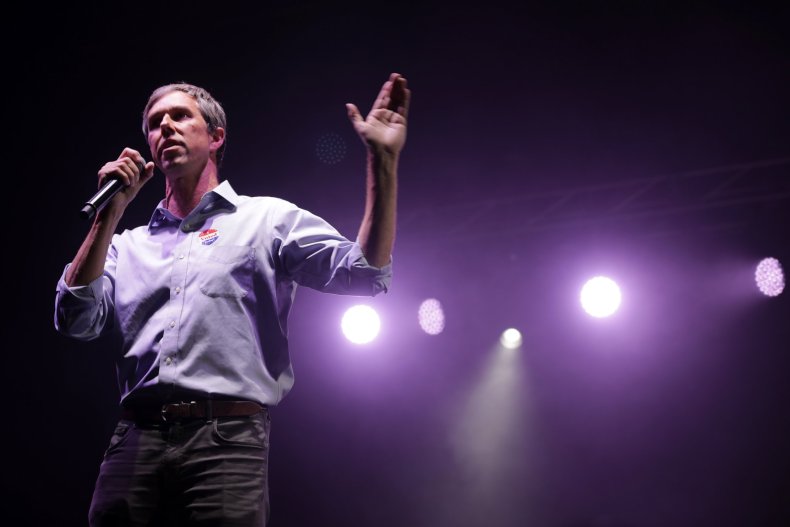 While we're still a ways off from 2020—the 2018 midterms, in which Democrats made big gains and took back the House, just wrapped after all—that doesn't mean speculation will stop. And O'Rourke's ability to gin up support has earned comparisons to Obama, even from folks who worked for the former president.
"If Beto were to go to Iowa City next week, I am confident he would draw a crowd three times larger than any candidate has since Obama first stumped there," Dan Pfeiffer, Obama's former communications director, wrote late last month. "The whole conversation around Beto has been eerily familiar to me, because these are the exact arguments people made to me when I told them I was considering working for Barack Obama 10 years ago."
Even Obama said he could see some of himself in O'Rourke. "It felt as if he based his statements and his positions on what he believed," Obama said in an interview on CNN's The Axe Files. "And that, you'd like to think, is normally how things work. Sadly, it's not."
If O'Rourke does decide to run, he'll most likely be one of many candidates vying for the Democratic nomination and the chance to take on President Donald Trump. A very early Politico poll last month showed Biden and Vermont Senator Bernie Sanders were favorites for the Democratic nod in 2020, earning 26 percent and 19 percent support, respectively. As for O'Rourke, he was third at 8 percent.