Beto O'Rourke Policies: 2020 Candidate's Positions on Immigration, Health Care, Gun Control, Abortion and More
Three-term congressman and failed Texas senatorial candidate Beto O'Rourke announced on Thursday morning that he was running for president of the United States.
The announcement followed a text to KTSM, a local El Paso station, on Wednesday night. The Democratic candidate wrote: "I'm really proud of what El Paso did and what El Paso represents. it's a big part of why I'm running. This city is the best example of this country at its best."
The text message followed shortly after O'Rourke sent an email to volunteers of his 2018 Senate bid against Senator Ted Cruz, asking them to help with sending some "text messages tomorrow morning."
O'Rourke has been gearing up for his presidential run since he lost to Cruz last November. He recently embarked on a road trip where he sought out the voices of everyday Americans, met with former President Barack Obama and told Oprah Winfrey that he would make a decision by the end of February.
While the candidate has been propelled into the national spotlight and billed as a Kennedy-esque savior for the Democratic Party despite no landmark legislative accomplishments, his views on national policy issues are not that well-known. More will likely be revealed during his trip to Iowa this weekend and in the 12 subsequent Democratic primary debates, but here's what we do know so far.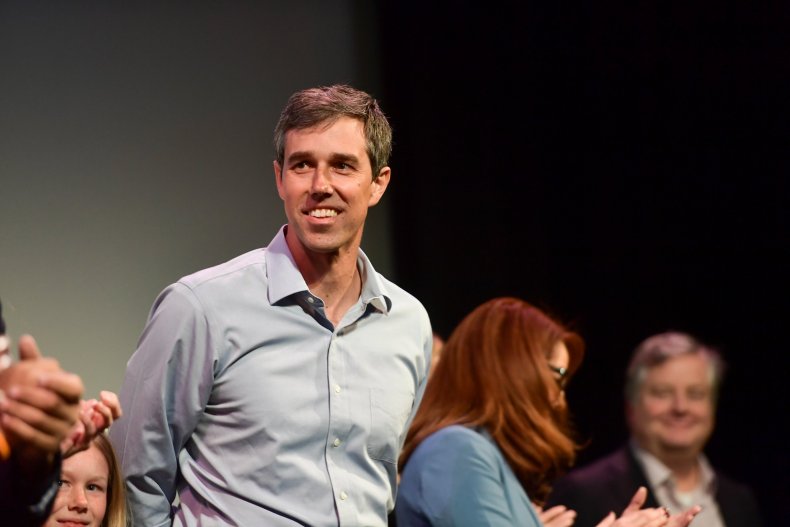 Economy/Trade
O'Rourke has spoken out against President Donald Trump's trade wars with China and countries in Europe, saying they would have a negative effect on the economy.
In a Facebook post last summer he wrote: "These trade wars and tariffs have a real life impact on Texans. Potentially no state could see as terrible of an impact. Prices for washing machines, refrigerators, oven ranges and barbecues are all spiking. Our agricultural, auto, and energy industries hit hard too."
During his debates with Senator Ted Cruz, O'Rourke spoke out against the president's stated intention to leave NAFTA. "I don't think we had to threaten to leave NAFTA to improve NAFTA," he said. "What he's done and the way he's done it has been incredibly unhealthy," O'Rourke said of Donald Trump. "You're talking about millions of jobs in the United States and nearly a million in the state of Texas. That's a lot to gamble with."
Marijuana
O'Rourke believes so strongly in the legalization of marijuana that he wrote a book about it. He even performed "Roll Me Up and Smoke Me When I Die" onstage with Willie Nelson last summer.
O'Rourke said he views the federal legalization of marijuana as an essential part of criminal justice reform because people of color are disproportionately imprisoned for low-level drug offenses.
"Giving low-level offenders a second chance no matter the color of their skin or the economic status they hold can create opportunity for all of us," O'Rourke wrote in an email to supporters. "It will help build a future that is more just, more fair and more prosperous for every single person in this state and this country."
Abortion
O'Rourke falls squarely in the abortion-rights camp, but he told Newsweek in a December 2017 interview that he respects the views of those who don't agree with him. In Congress, O'Rourke voted against a bill that would ban abortion after 20 weeks because, he said, "it would endanger the lives and health of women in Texas."
Guns
O'Rourke has stood up for what he calls common sense gun laws, such as bans on assault weapons and universal background checks. He has also voted against concealed carry permit reciprocity between states.
"There is no reason that weapons of war should be sold to people in this country," O'Rourke said during a Senate campaign event in Houston last year. But he reassured audience that he had no intention of taking away their guns—his uncle was a deputy sheriff and taught him how to shoot at a young age, O'Rourke said. "We have this great proud honorable heritage and proud tradition of gun ownership in Texas."
Climate Change
O'Rourke discussed his views on climate and environmental policy last month during a talk at Columbia University. His approach, he said, would be to tell a story that conveyed the urgency of the problem because "there's a discount, economically and politically, on anything that's decades down the road."
He told the crowd that "Adam Sobel from Columbia University has told us that there will be more [Hurricane] Harveys. They will be more intense, more frequent, dump more rain, kill more people. I don't know how you get any more immediate than that."
O'Rourke said he supported the Green New Deal, which has been trumpeted by Represenatives Alexandria Ocasio-Cortez and Ed Markey, but was not sure it was politically feasible.
Either way, he said, climate change was an economic issue and should be presented that way because "whatever it is that we want to do, we'll no longer have the capital or the resources to achieve it, we've squandered the future."
Health Care
O'Rourke aligns with Senator Bernie Sanders on a universal health care system that covers all Americans. During a campaign event last year, O'Rourke called for "universal, guaranteed, high-quality health care for all."
He has also called for the strengthening of former President Barack Obama's Affordable Care Act and for the expansion of Medicaid.
Immigration
O'Rourke has campaigned heavily against President Donald Trump's border wall and has gone so far as to say he would "absolutely take the wall down" if elected president.
"Walls don't save lives, they end lives," he said.
O'Rourke argued that a militarized border would backfire and increase the level of illegal immigration. "As we made it harder for people to cross into the United States, we made it less likely that once here they would attempt to go back to their home country," he wrote. "Fearing an increasingly militarized border, circular patterns of migration became linear."
O'Rourke has also called for a pathway to citizenship for immigrants brought into the country at a very young age.