Beto O'Rourke Says if America Doesn't 'Wake Up' to Trump's Rhetoric, the Country 'Will Die in Our Sleep'
Returning to the presidential campaign trail on Thursday after spending more than a week in his hometown of El Paso, Texas, to console those impacted by the mass shooting there earlier this month, Beto O'Rourke took the fight directly to President Donald Trump.
He accused the president of using divisive, anti-immigrant rhetoric that emboldens extremists to commit violence, citing the man who gunned down nearly two dozen people and injured another two dozen at a Walmart in El Paso on August 3. The manifesto which the alleged gunman posted online just before committing the massacre contained similar language about immigrants to that which Trump has used in recent months and years, leading law enforcement officials to classify the shooting as domestic terrorism.
The former Texas congressman described what he felt was a bleak outlook should people not stand up to what he classified as a threat to America's future: Trump's rhetoric.
"I'm confident that if at this moment, we do not wake up to this threat, then we, as a country, will die in our sleep," O'Rourke said in a speech before a small group of El Pasoans impacted by the shooting. "The response to this has to be that each of us make a commitment, to see clearly, to speak honestly and to act decisively in this moment of truth."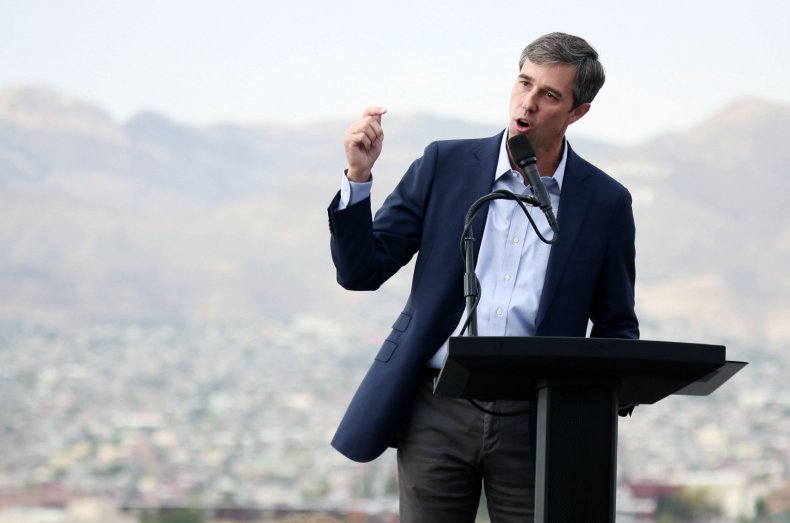 O'Rourke pointed to events and remarks made throughout Trump's presidency that he believed has emboldened the type of violence that occurred in El Paso.
"When we allow this country to be defined, along lines of race, and ethnicity, and religion, we allow a commander-in-chief to not only welcome that, but the violence that follows to defy our laws, our institutions and any ethical or moral boundaries," he elaborated. "The end of that road is the end of this idea of America, the end of an America where every single one of us could belong and have a future."
As examples, O'Rourke pointed to the president's travel ban on Muslim-majority countries, his comments that there were "very fine people, on both sides" of the deadly white nationalist rally in Charlottesville, claims during his 2016 campaign launch that Mexican immigrants are "rapists" and "criminals" who bring high crime rates to America, warnings about an immigrant "invasion" at the U.S.-Mexico border, the administration's migrant detention policies and a recent incident at a campaign rally in the Florida panhandle where Trump laughed at the suggestion by a supporter to "shoot" any immigrants who attempted to illegally cross the border.
In the manifesto, the El Paso gunman spoke of an "Hispanic invasion of Texas" in his manifesto and expressed white nationalist views.
"We have a racism in America that is as old as America itself and intolerance towards those who do not look like, or pray like, or love like or speak like the majority in this country," O'Rourke said. "We have always tried, until now, to change that. Until this president, who so openly speaks in racist terms, so openly favors one race, one religion, one kind of people in this country over every other kind of people in this country."
O'Rourke continued: "It's almost as if the bigger the lie, the more obvious the injustice, the more furious the pace of this bizarre behavior, the more incapable we are of seeing it and clearly naming it and acting against it. This attack on El Paso is an attack on America."
O'Rourke currently stands at sixth in a Real Clear Politics average of the 2020 Democratic candidates. His next campaign stop will be in Mississippi, where his campaign says he'll meet with community members affected by recent Immigration and Customs Enforcement raids that led authorities to detain hundreds of immigrants believed to be in the country illegally.
As Congress and Trump search for a path forward on passing new gun control legislation in the wake of the El Paso shooting and another in Dayton, Ohio, O'Rourke called for an assault weapons buy-back program, as have many of his Democratic colleagues. The assault weapons ban should be implemented on top of universal background checks and so-called "red flag" laws that would allow law enforcement to temporarily confiscate firearms from individuals suspected to be an imminent threat to themselves or others, O'Rourke said.
"We have too many guns, too many people who own them and use them and threaten us with them right now," he said. "For the good of this country, for the good of the 40,000 of our fellow Americans, our fellow human beings, who will lose their lives to gun violence this year and every year going forward until we change course."