As if Texas wasn't already a steep climb for Democrats, a new spate of thousands of ballot rejections in the recent primary election has darkened the mood of organizers and activists on the ground who now see the scope of the challenge ahead of them in November.
An Associated Press analysis found that 23,000 ballots were rejected, roughly 13% of all ballots from the 187 counties that responded to the inquiry.
The newly arduous process to vote comes after the passage of the SB-1 election law by Republicans in the Texas legislature. State Republicans like Governor Greg Abbott said no one eligible to vote would be denied the right to vote, and upon its passage Lt. Governor Dan Patrick said it would make it "easier to vote."
What happened instead, as The New York Times found, was that in Harris County, which includes Houston and is the state's most populous county, "areas with large Black populations were 44 percent more likely to have ballots rejected than heavily white areas."
Of the nine zip codes with the most ballot rejections, Black voters were the majority in six of them.
"This voter suppression is on purpose and by design, working exactly as Greg Abbott intended," Beto O'Rourke, the Democratic candidate for governor told Newsweek. "Now it's on us to stop voter suppression and ensure every Texan has a say in our future."
But Newsweek conversations with activists and organizers on the ground made it clear there is no magic bullet to overcome this latest obstacle placed in front of Black voters and other voters of color as November inches closer.
One approach, they say, is to increase voter education around the changes. In the past, for example, a signature on a mail-in ballot was enough, but now voters must include the last four digits of their social security number or their driver's license number. For voters who have voted the same way for four election cycles in a row, the changes can be dispiriting.
"When you don't know, you don't go," said Ashton Woods, of Black Lives Matter Houston, who worked for the Harris County Democratic Party years ago, of the importance of educating voters.
He said another form of misinformation is that of omission, which is why he goes from apartment to apartment in Houston helping members of the community.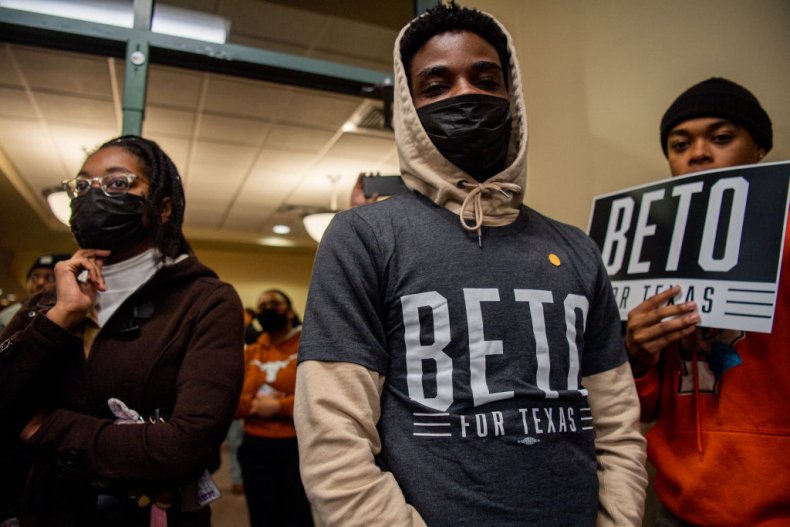 But activists must also be extremely careful under the new law because of restrictions enacted on how Texans can assist voters. These restrictions include new paperwork that must be filled out to disclose the help, and an oath that must be recited under penalty of perjury expressing they did not "pressure or coerce" the voter.
Woods said he has seen Republicans try similar tactics for years in previous legislative sessions.
"It failed a lot of times, but this time around they're on a tear," he said, "and their Trumpism is at an all-time high."
Jen Ramos, the political specialist for JOLT Action, a progressive organization that works to mobilize Latinos in Texas, said the rejection of mail-in ballots also affects voters over 65, military veterans, overseas voters, and college students who live in different counties.
Latino voters were affected by the ballot rejections as well, she noted.
While the ballot rejection rate was 19% in Harris county, it was 15% in El Paso during the primary, a county that is 83% Hispanic.
"We're going to work hard and try our best," Ramos said. "What motivates us is 20,000 young Latinos turn 18 every year in a state that is majority-minority, so you can't deny this state is becoming younger and more diverse, but there will be a lot of questions about voting."
Delilah Agho-Otoghile, the executive director of the Texas Future Project, an alliance of progressive Texas donors, said her organization is gearing up to start voter education earlier in the election cycle to combat the effects of the new law, so activists have informed donors of this new need to raise money.
"We're encouraging folks to invest earlier so it can be used in an impactful way," she told Newsweek, recalling that in 2020 "millions poured into Texas during the last three weeks, but you can't strategize in the last three weeks."
Her donor alliance is working with everyone from labor, to campaigns, and advocacy organizations to prepare for contingencies in November.
Regarding messaging about vote by mail in the critical final weeks, for example, she has discussed what Democrats would do if early voters are having their ballot rejected again. "Do we switch messaging and tell people to go vote in person?" she asked.
Democrats and activists know they have a lot of work ahead of them, but they also understand that just the existence of these new barriers to voting makes it difficult to corral the voters the party desperately needs in a state like Texas.
Ed Espinoza, the president of Progress Texas, cited a 2015 study by Rice University and the University of Houston in the wake of the loss by Democrat Pete Gallego to Republican Will Hurd in the Latino-majority 23rd Congressional District.
The study found that 13% of those registered who stayed home "thought they lacked proper ID under a state law considered the strictest in the nation," the Texas Tribune reported.
But most of the voters actually had the proper documentation, the study found.
"The barrier is a psychological one," Espinoza told Newsweek. "Many people eligible to vote and who have proper ID may decide not to vote — either because they think they're not eligible or the outcome is decided."