Beto O'Rourke Meets Barack Obama, but Is His 2020 Ambition to Become President or Joe Biden's VP?
Beto O'Rourke met with former President Barack Obama in his Washington D.C. offices this November, just four days before Obama publicly commented that O'Rourke was a "very impressive young man" who reminded him of himself. The meeting and subsequent comments fueled speculation that O'Rourke is preparing for a 2020 presidential run.
Less than two weeks after the meeting, former Obama senior adviser Dan Pfeiffer penned an opinion piece comparing Obama and O'Rourke, making the case for the latter's potential ascent to the Democratic nomination. "I have never seen a Senate candidate—including Obama in 2004—inspire the sort of enthusiasm that Beto did in his race," he wrote, further fueling speculation.
President Obama has already met with a number of potential 2020 candidates, including Senators Elizabeth Warren and Bernie Sanders. But his public praise of O'Rourke, encouraged by his former senior adviser David Axelrod, strikes a uniquely supportive tone. "I don't remember Obama saying anything like that after his other meetings," Brad Bannon, a Democratic strategist, told Newsweek.
The Washington Post first reported details of the meeting between O'Rourke and Obama on Tuesday, more than three weeks after it took place, and the same day former Vice President Joe Biden called himself "the most qualified person in the country" to be president. Both Obama's office and O'Rourke's office declined to comment on the details of the meeting to Newsweek and to the Post.
Bannon speculated that the information about the meeting likely came from one of two sources: the O'Rourke campaign trying to take advantage of the El Paso Congressman's D.C. buzz, or a former Obama staffer "looking for a horse to ride" into 2020.
"It might have been a Obama person trying to push him into the race," he said. Some former Obama staffers were strongly pushing Deval Patrick to run, explained Bannon, but the former governor of Massachusetts formally bowed out of the race Wednesday.
"I know for a fact some of the old Obama people were already advising [Patrick] and encouraging his candidacy. They've known for a few weeks he's not going to run and now they need an alternative," said Bannon.
Either way, the meeting legitimizes O'Rourke as a candidate.
Becoming a 2020 candidate is "like the stations of the cross, you've got to hit each of the stations," Bannon explained. "Going and speaking at a Democratic fundraiser in Iowa is one, meeting with Obama is another one, raising a lot of money is another. If you're a Democrat running for president, you have to check it off the list. If you don't get the meeting with Obama, it sends a signal you're not a serious candidate."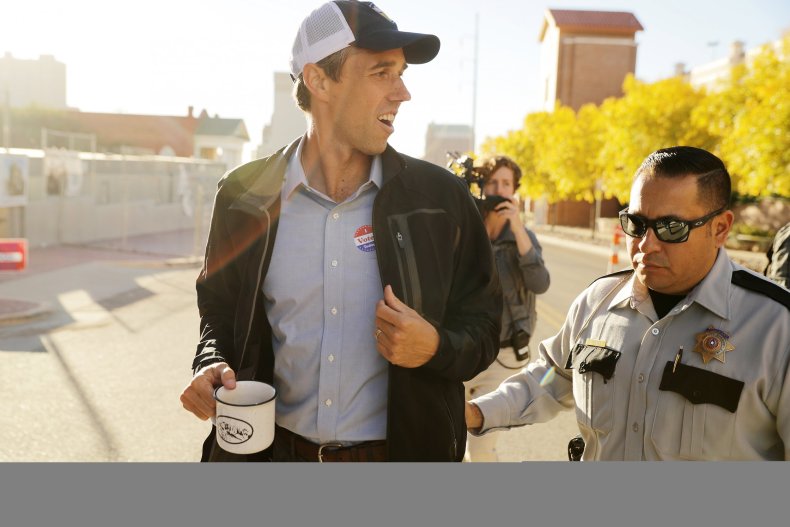 Pfeiffer, who penned the op-ed praising O'Rourke, joined CNN on Wednesday to discuss the meeting. "I suspect every Democrat thinking about running for president is going to make a pilgrimage to President Obama," he said.
O'Rourke did not receive an endorsement from President Obama during his high-profile Texas Senate race against Senator Ted Cruz last month. "I don't think we're interested," he said in October when asked about why he was left off the former president's list.
But a senior official working in the office of Barack Obama told Newsweek there was more to the lack of endorsement than O'Rourke let on.
Obama took cues from groups like the Democratic Senatorial Campaign Committee and from candidates who asked specifically for his endorsement, they said. Obama understood it would be easy to create a foil in a red state, the official said, and didn't want to galvanize a candidate he intended to help.
In a Democratic primary, there isn't much risk of that. "I don't see how it hurts to meet with Obama, he's still the most popular figure in the Democratic party," Republican strategist Ford O'Connell told Newsweek. "He's still the leader of the Democratic party as long as Trump is in the White House."
O'Connell, however, isn't so sure that Obama was meeting with O'Rourke to discuss the presidency. He thinks Obama had another position in mind.
"Obama could have the biggest sway in helping him become vice president," said O'Connell. "O'Rourke is much more likely to be in the parlor game for vice president."
News of Obama's meeting with Tallahassee mayor and failed Florida gubernatorial candidate Andrew Gillum only fuels O'Connell's suspicions. "Obama is looking for fresh faces to balance out Joe Biden. He's doing some legwork for the vice president side, rather than letting horses run on the presidential side."
O'Rourke said at a town hall meeting last week that he was not ruling out a presidential run, and would discuss it over the holidays with his family.