Beto O'Rourke Says He Isn't 'Interested' in Barack Obama's Endorsement: This Election 'Is on Texas'
U.S. Senate candidate Beto O'Rourke of Texas said Thursday that he was not interested in an endorsement from President Barack Obama.
Obama released a list of nearly 300 endorsements of Democratic candidates in state and local midterm elections last week, from which O'Rourke's name was notably missing.
At a Thursday town hall campaign event, O'Rourke told the crowd at a local high school that "I don't think we're interested [in an endorsement]. I am so grateful to him for his service, he's going to go down as one of the greatest presidents. And yet, this [election] is on Texas."
The El Paso congressman then recounted the story of how he beat eight-term incumbent Representative Silvestre Reyes, an eight-term congressman, who had the endorsement of President Bill Clinton.
"Bill Clinton fills up the county coliseum and a screaming El Paso Times front page headline [said] 'President urges El Paso to stick with Reyes,'" said O'Rourke. "And we won. And what that drove home for me is that someone else's popularity is not transferable to a given candidate."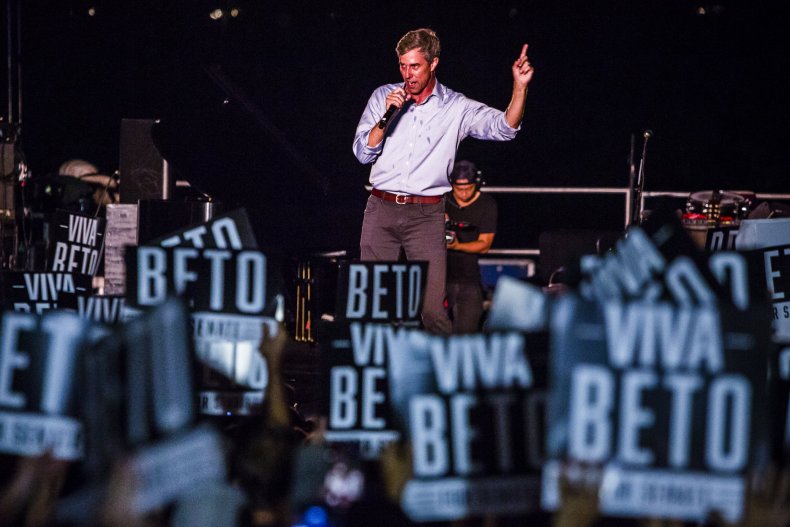 A senior official working for the Office of Barack Obama echoed O'Rourke's views to Newsweek last week. President Obama did not want to galvanize any candidates, the official said, and understood that in red states like Texas, he could be seen as a foil.
O'Rourke's opponent, incumbent Senator Ted Cruz, has tried to paint the Democrat as a coastal liberal and an outsider, even though O'Rourke has lived in Texas all his life and has represented Texas's 16th Congressional District since 2013. If O'Rourke is elected, Cruz said recently, Texas would be like California, "right down to tofu and silicon and dyed hair." O'Rourke is a fourth-generation Texan.
Donald Trump Jr. flew to Texas to stump for Cruz in Wichita Falls this week, where he repeated the same message. O'Rourke's platform, he said was even too liberal for New York City's progressive mayor Bill de Blasio. "I'm, like, Wow, that's a pretty extreme position, if you're Bill de Blasio," he said to a room full of laughter.
Later this month both President Donald Trump and Vice President Mike Pence are expected to campaign in Texas on behalf of Cruz.
Trump won Texas by nine points in 2016, and the state's voters haven't elected a Democrat to a statewide office in a quarter of a century. But polls have suggested that O'Rourke and Cruz are locked in a tight race. A recent poll had Cruz up by just one point.
O'Rourke also outraised his competitor by several million this summer, bringing in $17 million between July and September to Cruz's $12 million. O'Rourke does not accept money from PACs or corporations.
"We've raised over $12 million, which is a record," Cruz told The Dallas Morning News Thursday in Plano. "That's good news. That is a sign of conservatives all over the state of Texas...stepping forward and engaging in this fight. We're grateful for that. That bad news is I think it is very likely that Beto O'Rourke is going to report a quarter north of $30 million."