Beto O'Rourke Blasts Biden's Handling of Migrant Surge: 'We Should Have Seen Them Coming'
Former Texas Congressman Beto O'Rourke criticized President Joe Biden's response to the surge of migrants at the U.S. in Del Rio, Texas, writing in an op-ed Friday that what transpired in the town "didn't have to happen."
"The scores of Haitian immigrants who were living in filth under the city's bridges, corralled and charged by mounted Patrolmen like they were animals, had in many cases been on an odyssey lasting more than a decade," O'Rourke, a Democrat and former presidential candidate, wrote in the op-ed published by El Paso Matters.
"We should have seen them coming and ensured that the people of Del Rio, the women and men of the Border Patrol and especially the refugees themselves would not have to endure what has shocked the world over the last week," he added.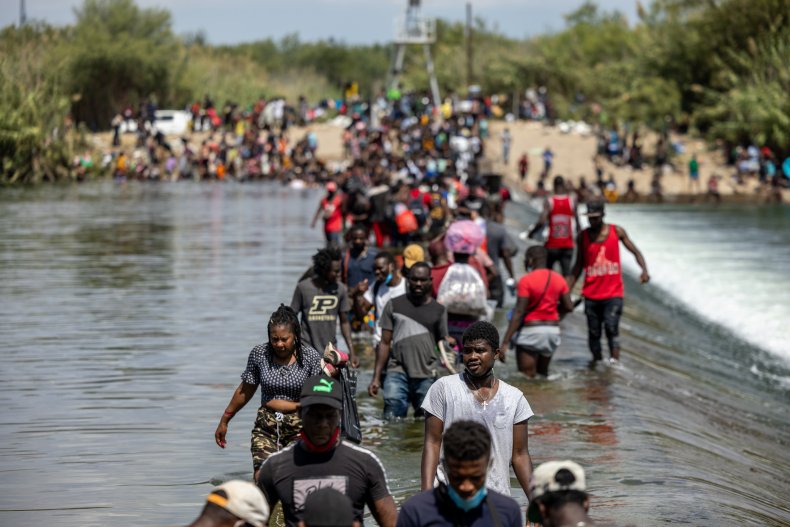 The former congressman, who is considering a run for governor of Texas, wrote that after the 2010 earthquake in Haiti in 2010 that killed more than 200,000 people, many Haitians fled to South American countries. But he said that as these countries, which were "no longer desperate for immigrant labor," experienced "high levels of COVID deaths (more than 600,000 in Brazil alone) they became more dangerous and less hospitable to these refugees."
"With the compounding problems in Haiti over this past year, including the unsolved assassination of President Jovenel Moïse, preventing a return to their home country, the Haitians in exile began their trek to America," he wrote.
"None of this should have been a surprise to our government," O'Rourke added.
O'Rourke wrote that the Biden administration used "a cynical Trump-era policy (known as Title 42) to immediately, and without due process, repatriate Haitians back to the country they left a decade ago, one whose streets are now ruled by gangs and criminals."
He mentioned Special Envoy for Haiti Daniel Foote's decision to resign this week over the deportation of migrants.
"We need some leadership at this moment. Not the photo ops favored by our governor and GOP congressmen, hungry to pose tough in front of suffering people," O'Rourke wrote.
"Not the quickie deportations that will only exacerbate the problems in Haiti and likely produce more outbound refugees who will appear on our border in a future year," he added.
The Biden administration has faced backlash over the treatment of migrants at the border in Del Rio.
The Department of Homeland Security moved to suspend the use of horse patrol in Del Rio, this week after footage circulated showing border patrol officers' hostile confrontations with migrants.
"The disregard for border communities, and the over-reliance on already stressed federal law enforcement, produced conditions that ultimately led to the unforgettable and unforgivable scene of mounted officers charging into the mass of unarmed immigrants," O'Rourke wrote.
Newsweek has reached out to the White House for comment.
Update - 9/24/21 4:45 PM ET -This story was updated with additional information.