Beto O'Rourke Calls for Removal of Confederate Plaque From Texas State Capitol: 'Take it Down Today'
Beto O'Rourke is calling for the removal of a controversial Confederate plaque hanging in the Texas State Capitol building, tweeting on Tuesday to "take it down today."
The plaque contains the Children of the Confederacy's creed, which is a statement that pledges "to study and teach the truths of history (one of the most important of which is, that the War between the States was not a rebellion, nor was its underlying cause to sustain slavery)."
Texas Democratic lawmaker Eric Johnson has demanded the marker be taken down, arguing that it is inaccurate and offensive. Last month, Johnson filed a request with the Capitol's art curator to relocate the plaque so that it would not be in a "public space of honor."
Last week, the state's attorney general released a statement pointing out several officials who had the power and legal authority to remove the plaque. Those officials include the building's curator, the State Preservation Board and the state legislature. As a result of the statement, the State Preservation Board is currently reviewing the procedure for removing a historical item.
"The AG has spoken. The Capitol curator can unilaterally remove the plaque. No need to politicize this issue or bog down the 86th #TxLege. Remove it and let's move on," Johnson tweeted on Monday evening.
O'Rourke retweeted Johnson's tweet on Tuesday morning, writing "I'm with Eric on this one. Take it down today."
It's not the first time that the congressman has suggested that public confederate monuments in the state of Texas be taken down. "If there is some place to house them, such as in a museum where they can be presented in context with a full telling of the history, that's one thing. But to be in a place of public honor that sends the message that these are people whose actions we honor, that cannot stand," he said last year.
The comment comes as O'Rourke continues to make national headlines after narrowly losing his Senate race against Ted Cruz earlier this month. The Democrat, who many have compared to former President Barack Obama, announced on Monday that he has not ruled out a presidential run in 2020.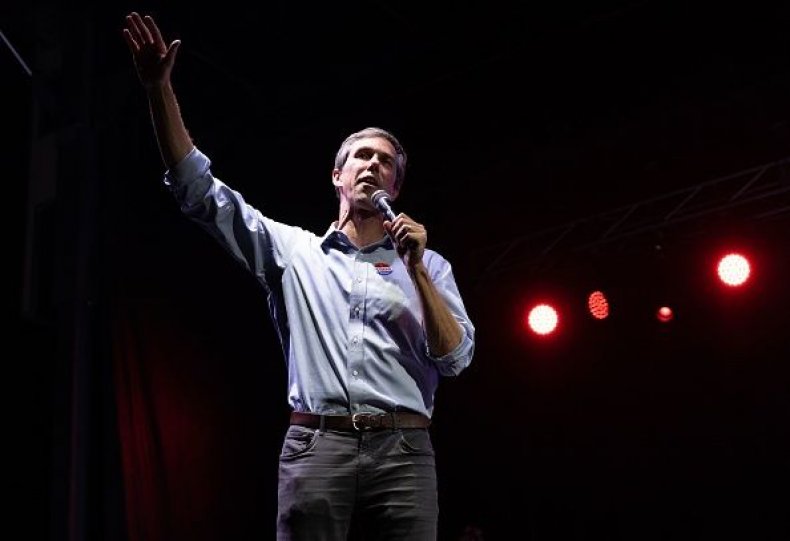 In a Medium post written shortly after the midterm election, O'Rourke described running for the White House—literally. He chronicled a morning run through Washington D.C. writing: "There were in some places no tracks, mine were the first footprints down in the new snow. At other points I'd see someone walking in front of me, once another runner ("only the crazies come out today!" he said)."
The blog post went on to describe O'Rourke running past World War II memorials, the Lincoln Memorial and Washington monument while encountering supporters from across the country.
"We're thinking through a number of things and Amy and I made a decision not to rule anything out," O'Rourke told members of the press on Monday. "The best advice I received from people who've run for and won and run for and lost elections like this, is don't make any decisions about anything until you've had some time to hang with your family and just be human. And so I am following that advice."