Beto O'Rourke Admits 'Vanity Fair' 2020 Cover Was a Mistake as He Attempts to Relaunch Struggling Campaign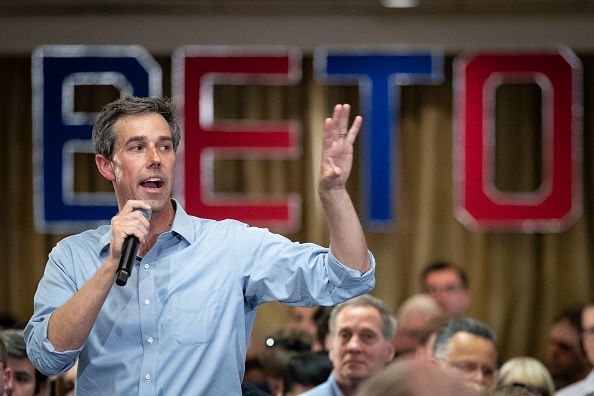 Texas Democrat and 2020 candidate Beto O'Rourke said Tuesday he regretted the way he began his presidential campaign, admitting his appearance on the cover of Vanity Fair was a mistake and that "no one is born to be president."
O'Rourke appeared on The View on Tuesday in his first daytime television interview since launching his 2020 bid in mid-March. Hours before he officially announced his campaign, the 46-year-old Democrat was featured on the cover of Vanity Fair magazine quoted as saying "I want to be in it. Man, I'm just born to be in it."
The View co-hosts jumped on O'Rourke's decision to announce his 2020 presidential bid on the cover of the magazine, with Meghan McCain and Joy Behar asking if it was a "mistake" that came off as "elitist."
"I think it reinforces that perception of privilege," O'Rourke replied. "That headline that said I was 'born to be in this'—in the article's attempting to say that I felt my calling was in public service. No one is born to be the president of the United States of America, least of all me."
O'Rourke's appearance on the show came just one day after he told MSNBC's Rachel Maddow that he "can do a better job" of communicating his message on the crowded campaign trail.
"I have an opportunity to answer your questions, Rachel, and address those who may not have been able to attend them and make sure that they can hear what this campaign is about and how I answer the questions that are put to me," O'Rourke, who has held more than 150 town halls mainly in early primary states, said. "So I hope that I'm continuing to do better over time."
In addition to his appearance on The View, which has hosted other 2020 presidential candidates like Joe Biden and Pete Buttigieg, O'Rourke also added a CNN town hall event to his list of national media appearances this month as a part of his campaign reboot.
O'Rourke rose to national stardom during the 2018 midterm election cycle in his Senate race against Republican Ted Cruz. Despite running as a Democrat in a deeply red state, O'Rourke narrowly lost to Cruz by less than two percentage points.
But after his campaign announcement, O'Rourke has slid down in the polls among the crowded field of candidates vying for the Democratic Party's nomination. As of May 14, there were 22 Democrats running for president.
In an average of national polls, O'Rourke has fallen to just 5 percent support. In a recent Monmouth University poll of likely 2020 New Hampshire Democratic primary voters, O'Rourke was tied for sixth place with just two percent support.
"I have my work cut out for me to be a better person and ensure that I'm more mindful to the experiences that others have had," O'Rourke said on The View when addressing the mistakes of his campaign.